Introducing Falun Dafa in Burlington, Vermont
June 23, 2017 | By Cheng Xin in Burlington, Vermont
(Minghui.org) With mild temperatures, white clouds floating in a deep blue sky, and sailboats dotting beautiful Lake Champlain, June 17 was a typical day in Burlington, Vermont, and one that exemplified why this small town in the Northeast United States is such a beloved summer tourist destination.
Saturday, June 17 was a little different than most Saturdays in Burlington, as several newcomers appeared in this community, including a number of Chinese. They had come to tell people about Falun Dafa (also known as Falun Gong) and demonstrate the exercises near City Hall and on a downtown pedestrian street.
For many residents, this was their first time to hear about Falun Gong. They were pleased to receive fliers and immediately began to read them.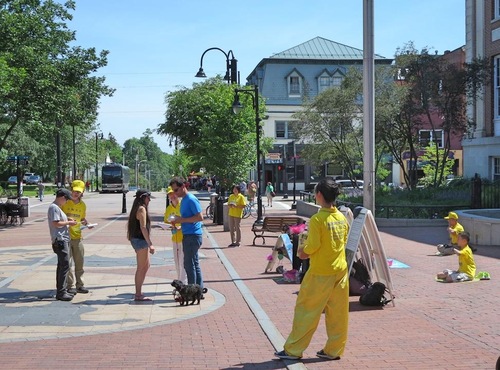 Falun Dafa exercise demonstration and introduction in downtown Burlington, Vermont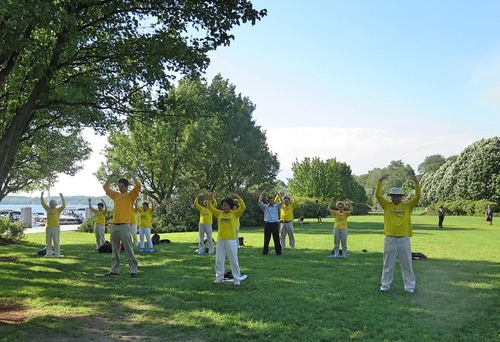 Falun Dafa exercise demonstration in a park in Burlington
Several of the practitioners went to a park where they demonstrated the exercises and collected signatures protesting the Chinese Communist Party's forced organ harvesting from persecuted Falun Dafa practitioners.
Several residents learned the exercises at the park and signed up for the upcoming 9-day teaching session.
David, who is currently studying psychology at the University of Vermont, has had a strong interest in a number of different spiritual beliefs since very young. He has read many books about Eastern and Western religions and has been looking for some kind of enlightenment regarding a higher mission in life.
Falun Dafa, a profound ancient spiritual practice from China, resonated in his heart. He asked many questions about Falun Dafa, the fact that it is widely practiced in China and throughout the world, and the persecution that has been ongoing in China since 1999.
He signed a petition calling for the Chinese Communist Party to stop persecuting Falun Dafa. He said that he planned to read more about Falun Dafa online.