"Leg-splitting" Torture at Wangling Prison
June 23, 2017 | By a Minghui correspondent in Hunan Province, China
(Minghui.org) Wangling Prison in Hunan Province has developed a new torture method against Falun Gong practitioners, which causes excruciating pain. As illustrated below, the method involves splitting the legs of practitioners to make them into a straight line.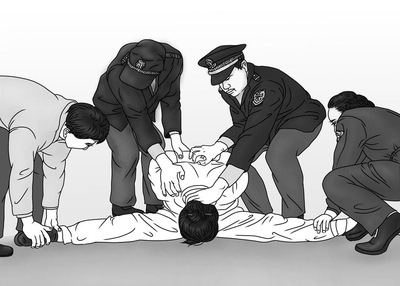 Illustration: leg-splitting torture
Screaming from the Torture
Mr. Hu Wenkui was tortured with the leg-splitting method because he had tried to meditate. His screaming could be heard throughout the entire building.
Practitioner Mr. Mo Qibing refused to wear the prison uniform and did the five Falun Gong exercises in the prison workshop. The guards then took him to the "intensive training" unit. They took off his clothes and made him sit on a concrete bench. Unit captain Xiang Jinyuan punched his eyes and nose. When Mr. Mo did not react, Xiang ordered six inmates to press him down and split his legs.
Elderly practitioners, including 67-year-old practitioner Mr. Wang Shengliang and 75-year-old practitioner Mr. Liu Erli were also tortured with this method.
Intensifying the Torture
The prison has refined their "leg-splitting" torture process. The method is adjusted to individual practitioners. Some practitioners could split their legs without much pain. The guards would force those practitioners' legs into straight lines and then pull the legs upwards until they hurt. Some people felt pain long before the legs were aligned. The guards pause at one's most painful point and then slowly increase the pressure.
The prison previously used electrical shocks, hanging, beating and burning to torture practitioners. But those methods left marks and caused people to pass out. "Leg-splitting" has become the preferred method.
Since the onset of the persecution, Wangling Prison staff have tortured Falun Gong practitioners. Two practitioners were tortured to death and countless others have been severely injured.
The Wangling Prison officials, guards and inmates involved in torturing practitioners have denied ever harming practitioners.