Guard Discloses Torture of Heilongjiang Woman Approved by Higher-ups
June 22, 2017 | By a Minghui correspondent in Heilongjiang Province, China
(Minghui.org) Ms. Li Erying has been detained at the Heilongjiang Women's Prison since June 8, 2016 simply because she practices Falun Gong. Her family was denied visitation twice between June 5 and 12. The guard in charge, Ge Xuehong, admitted the torture used on Ms. Li was approved by his supervisors.
The family requested to have her released, but was turned down. Her family is gravely concerned about the torture that she is being subjected to.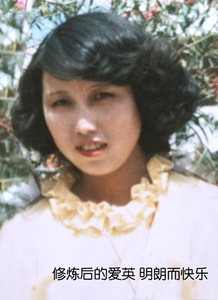 Ms. Li Erying
Ms. Li's Arrests and Detention
Ms. Li was first arrested on September 27, 2013 in front of her home. She was tortured in the police station and her health quickly deteriorated. She became critically ill a month later and was released. She recovered after she started practicing Falun Gong again.
Her next arrest happened on November 4, 2015. The police used a master key to break into her house and arrested her. She was tried on March 4, 2016 and her family was not notified.
She was sentenced to four years in prison with the pretext of "using a cult organization to undermine law enforcement," a standard ploy used by the Chinese communist regime to frame Falun Gong practitioners.
She was taken to the Prison Division No. 11 on June 8, 2016 and incarcerated in Heilongjiang Women's Prison.
When her family visited her four times between August and October, 2016, she told of the torture she suffered in the prison.
On the first visit on August 25 after being denied visitation rights for weeks, Ms. Li pointed to an inmate and said the inmate beat her all the time. On the third visit, the guards played loud music to drown out the conversation. Though they could not hear well, they could see that she was in dire physical condition.
At the last visit on October 24, guard Ge told them that Ms. Li had been diagnosed with high blood pressure and heart problems. However, Ge denied that Ms. Li was ever tortured.
Family Denied Visitation
After the family was kept from visiting Ms. Li on June 5, they submitted a written request to release Ms. Li on June 12.
They talked to many guards and officers on that day but were still denied a visit with Ms. Li.
Head of Division 11
When the family reached the prison at 9 a.m., the guards called division 11, where Ms. Li was held. However, no one came out to meet them. They started shouting loudly to passersby, telling people guard Ge told them previously that the prison will not be held responsible if Ms. Li commits suicide.
Just then, the head of the Division 11, Wang Xiaoli, drove out of the gate. The family stopped in front of her car, asking for Ms. Li. They refused to move and handed the documents for requesting release to Wang. Wang took this opportunity to drive back into the prison.
Guard Ge
Guard Ge came to meet the family at the prison gate at 11a.m. Their conversation went as follows:
Ms. Li's family: We have three requests. We must see Ms. Li. We request to see the warden. We want to take Ms. Li home.
Ge: The warden is busy. Ms. Li's situation is better than before. Compared to the past, her legs can now move and are not as painful. The swelling in Ms. Li's arms was not caused by beatings, but she should not be moved around. If she is moved around and something happened to her, will you take responsibility?
Ms. Li's family: We will not take responsibility, as everything was caused by you. We have the right to visit Ms. Li.
Ge: Ms. Li has heart disease, high blood pressure and something seems to be wrong with her brain.
Ms. Li's family: Ms. Li was very healthy and all illnesses she has now is due to the torture. We want to see the video footage of her cell since we are not allowed to visit her.
Ge: Viewing the surveillance footage is impossible due to prison rules.
Ms. Li's family: Beating people is illegal. Ms. Li was forced to wear a constraining belt that caused fractures.
Ge: The torture was approved by higher-ups.
Ms. Li's family: Since we cannot visit Ms. Li, you must write a statement for us to guarantee that her life will not be in danger.
Ge: I can't write this. I'm leaving.
When the family refused to let Ge leave without agreeing to their requests, Ge shouted loudly for other guards. Wang then came to lead Ge away, saying that they will check with their supervisors.
After waiting for a while, the guard at the gate told the family that the prison warden would not meet with them. Just then, they saw Yang Libin, the head of the local 610 office, stepping out of the gate.
They went up to her and wanted to give her the release request, but she refused to accept it, saying that she was not in charge of the case.
Secretary to Prison Warden
The family called the prison warden, Sun Jiujie, and the call was picked up by a secretary. The family told the secretary what Ge told them. Upon hearing this, the secretary falsely claimed that everyone in the prison knew that Ms. Li fell off the bed, whereas Ge had admitted the fractures were caused by torture.
The secretary told the family to look for Division 11 to hand in their request. The family said that the division refused to address their problem. The secretary then hung up the phone upon hearing this.
Man in Corporal Punishment Section
Next, the family called the corporal punishment section and a man picked up the call. They told him that they wanted to give him the release request. He told them to give it to Division 11 instead, and the family explained that they had been turned away repeatedly already.
The man decided to let the guards at the gate accept it on his behalf and informed the guards. The family felt uneasy about this arrangement and called him again, asking him to collect it personally from them. The man came in a bus and sent the bus driver to collect it for him.
After waiting for another day, the family still barred with meeting with Ms. Li or the prison warden.