Falun Dafa Teaching Welcomed in a Library in Aventura, Florida and Mayor Issues Proclamation
(Minghui.org) May 13 is the 25th anniversary of Falun Dafa's public introduction. Mayor Enid Weisman of the City of Aventura, Florida recognized the anniversary and issued a proclamation for World Falun Dafa Day.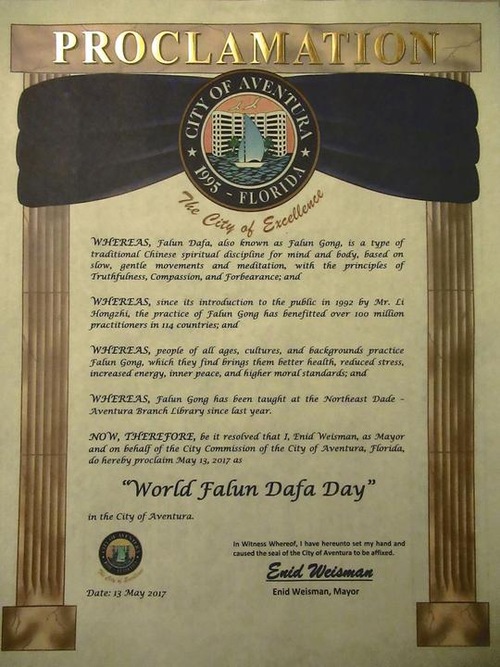 Proclamation of Falun Dafa Day from Mayor Enid Weisman of the City of Aventura, Florida
Library manager Nicolas Rodriguez was pleased to accept the proclamation and said, "Falun Dafa has been taught for more than a year in our library. It is very welcome and we want it to continue."
The Falun Dafa teaching session is held from 1 to 3 p.m. every Tuesday. Many participants speak highly of it.
Juan Pulido, a student, said, "For me, Falun Dafa directs my life and teaches me how to deal with others better." He said he was excited as learning Dafa changed his life style and relived stress in study and work. He benefited from practicing Dafa to have inner peace and stress relief. He read Zhuan Falun, the main book of Falun Dafa, since February and has decided to continue practicing Dafa.