Calls for Former Chinese Leader Jiang Zemin to be Brought to Justice during the Trump-Xi Summit
April 09, 2017 | By Minghui correspondent Liu Wenwu
(Minghui.org) On Friday, April 7, 2017, American Falun Gong practitioners held a peaceful protest to call on visiting Chinese president Xi Jinping to end the 18 years of persecution against the spiritual discipline in China. They also called for former Chinese Communist Party leader Jiang Zemin to be brought to justice. Jiang launched and personally directed the persecution of Falun Gong.
The temperature in Palm Beach dropped suddenly the day before the protest, and it became very windy. Despite this, practitioners held up banners and demonstrated the five sets of Falun Gong exercises along the route from Xi Jinping's hotel to Mar-a-Lago in Palm Beach, Florida, where he met with President Trump.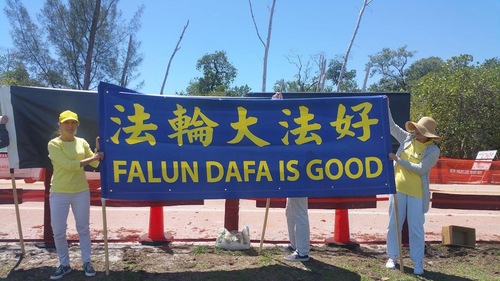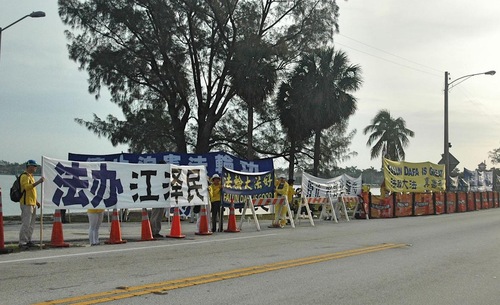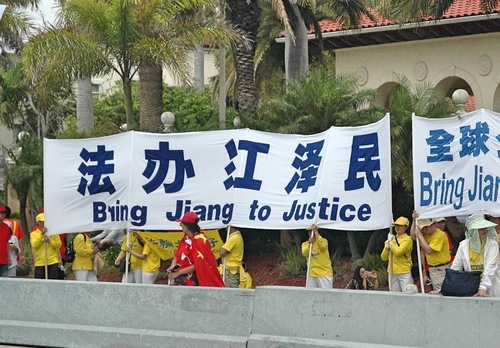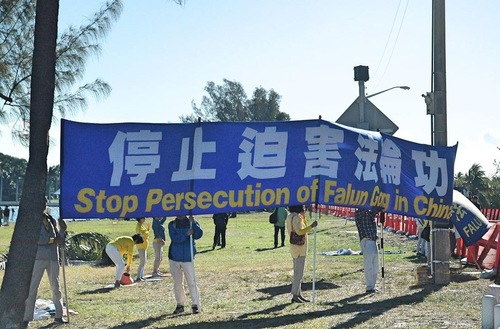 Falun Gong practitioners in Palm Beach, Florida call for an end to the persecution.
The banners featured messages such as "Falun Dafa Is Good," "Stop the Persecution of Falun Gong," and "Bring Jiang Zemin to Justice." Practitioners explained to passersby what Falun Gong is and why the Chinese Communist Party (CCP) persecutes the practice.
Vivian Van, a medical doctor and Vietnamese American, came to participate in the peaceful appeal. She said that she benefited from practicing Falun Gong through improvements to both her health and her relationships with family members and colleagues. She joined the appeal to call for an end to the CCP's persecution and to bring Jiang to justice.
Ms. Wu, a resident of south Florida, is originally from Beijing. Since she started practicing Falun Gong in 1997, she has followed the principles of Truthfulness-Compassion-Forbearance in her daily life and her health has improved. In China, she worked at a university and was commended by her colleagues and supervisors, but after Jiang Zemin initiated the persecution, she was arrested, persecuted, and forced to leave China.
Ms. Wu said that Xi Jinping knows Falun Gong is good and would stop the persecution and bring Jiang to justice because it would benefit Chinese people and is the right thing to do.
She also expressed hope that President Trump will safeguard human rights and raise the persecution of Falun Gong in the dialogue with his Chinese counterpart to help stop the ongoing abuses.
The practitioners' peaceful appeal drew the attention of passersby. The principal of a local Catholic high school was appalled that such a peaceful practice is being brutally persecuted in China. She said that she stood with Falun Gong practitioners in condemning the persecution.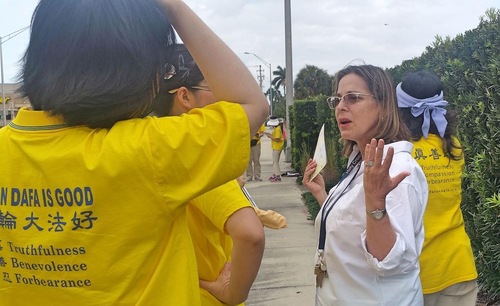 The principal of a Catholic high school (first from right) talks with Falun Gong practitioners.
In addition to Falun Gong were other groups protesting in Palm Beach. A police officer on duty said that the Falun Gong group was very peaceful.