Members of Congress Urge U.S. President to Pressure China on Human Rights
April 14, 2017 | By Minghui correspondent Liu Wenwu
(Minghui.org) Congressional members recently wrote to U.S. President Donald Trump, requesting that he raise the issue of human rights during his meeting with Chinese president Xi Jinping. They include House Minority Leader Nancy Pelosi, Florida Senator Marco Rubio, New Jersey Representative Chris Smith, and Florida Representative Dennis Ross.
Millions of practitioners have been negatively affected since former Chinese leader Jiang Zemin launched the persecution of Falun Gong in 1999. A large number of high-ranking officials involved in the suppression have been punished under Xi's anti-corruption campaign, but the suppression continues.
Nancy Pelosi wrote in her letter, "But human rights are also integral to a fair trading relationship in countries like China that exploit prison labor, engage in other unfair labor practices, and stifle free speech and dissent."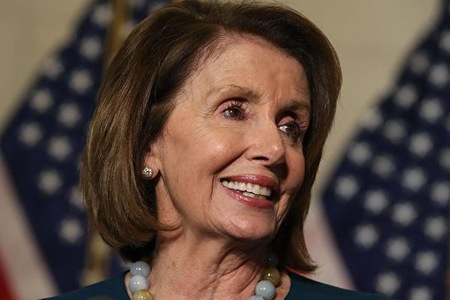 Democratic Minority Leader Nancy Pelosi said the U.S. needs to pay attention to the human rights issues in China.
She said the poor human rights record in China has been monitored through bipartisan efforts in Congress since the Tiananmen Massacre in 1989. "...if we do not speak out clearly for human rights in China because of commercial interests, we lose all moral authority to speak out for human rights anyplace in the world,"wrote Pelosi.
Moral Obligations and National Interest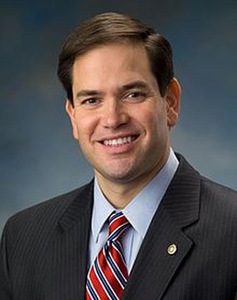 Senator Marco Rubio, who chairs the Congressional-Executive Commission on China (CECC), worked with co-chair Chris Smith to launch the "Free China's Heroes" initiative on April 3, 2017. The initiative highlights cases of individuals who are imprisoned, detained, or missing in China.
"As President Trump welcomes Chinese President Xi to Florida, we cannot forget the men and women who languish unjustly in prison, the family members who do not know the fate of their loved ones, and the professionals who have disappeared for simply doing their job," said Rubio in a statement on the Congressional-Executive Commission on China website.
"These people are not statistics, they are booksellers and pastors, writers and Nobel Laureates, lawyers and rights defenders... No nation that flouts the rule of law at home and disregards the basic rights and inherent dignity of its own citizens can be trusted to be a responsible stakeholder on economic and security issues," stated Rubio.
Both Rubio and Smith said addressing human rights issues in China is not only part of moral obligations, but also conforms to American national interests. In his statement, Smith called for "a serious, candid, and robust exchange" with Xi on human rights, and said, "The president should not make the mistake of his predecessor and believe that silence on human rights will get concessions from the Chinese government in other areas." He believed the poor human rights status in China would negatively affect trade relationships and regional security.
Urgent Release of Detained Practitioners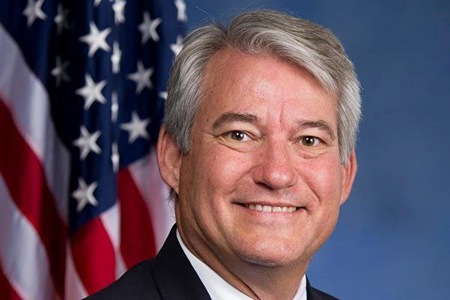 Florida representative Dennis Ross has written several letters requesting the release of a constituent's mother detained and tortured in China for her faith.
After learning that his constituent Iris Lu's mother Cuiping Deng had been detained and tortured in China for practicing Falun Gong, Florida congressman Dennis Ross wrote a letter to Xi in August last year expressing concern about Deng's arrest. In October, he and three other representatives signed a letter requesting the release of Deng and seven other Falun Gong prisoners.
"We ask you to respect their rights of freedom of their chosen belief and allow them to reunite with their families as soon as possible," the letter said.
According to the Tampa Bay Times, the largest newspaper in Florida, Ross recently sent a third letter highlighting Ms. Deng's reported ill health and requesting her "urgent release."
Based on reports from Minghui.org, Ms. Deng was detained for one month in 2001 and then imprisoned between 2006 and 2009. She suffered severe physical and mental abuse in prison. After being detained for the third time, Ms. Deng was sentenced on February 24, 2017 to six years of imprisonment. Her family requested medical treatment for her because of her poor health, but the request was dismissed by officials.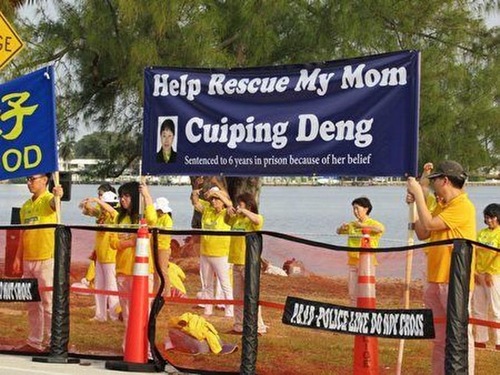 Falun Gong practitioners in Florida raise awareness of the persecution in China.
"We in the Congress should assert ourselves in the name of human rights and say this is unacceptable," Ross said. "These oppressions should cease, especially in the name of Iris's mother."
In an article published by The Wall Street Journal on April 6 with the title of "Trump Shouldn't Let China Off the Hook for Human Rights," Senator Rubio talked about Falun Gong and other suppressed groups in China.
"History teaches that when a government tramples its people, it won't be a responsible global citizen," he wrote, "... it would be a mistake for the U.S. to view its relationship with China only through the lenses of economics or security."