150 Sign Petition Seeking Release of Beijing Woman Detained for Her Faith
March 26, 2017 | By a Minghui correspondent in Beijing
(Minghui.org) A total of 150 supporters have signed a petition seeking the release of a Miyun County resident who was arrested on January 2, 2017 for refusing to renounce Falun Gong, a spiritual discipline being persecuted by the Chinese communist regime.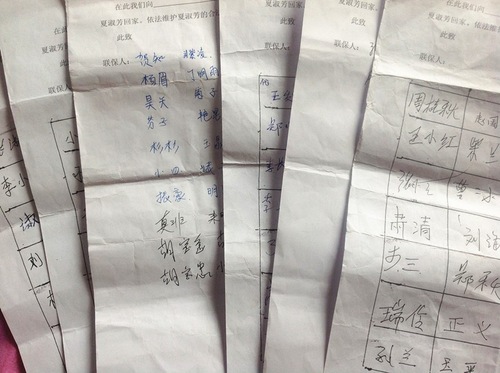 Supporters' signatures calling for the release of Falun Gong practitioners Xia Shufang.
The latest arrest of Ms. Xia Shufang followed her earlier arrest in July 2015, when she was detained for filing a criminal complaint against former Chinese dictator Jiang Zemin for ordering the persecution of Falun Gong.
Even though Ms. Xia was released one week after her 2015 arrest, the local police kept harassing her at home, trying, unsuccessfully, to get her to give up her belief in Falun Gong.
Ms. Xia firmly refused to cooperate with the police, as no law in China criminalizes Falun Gong. The police ultimately came back at her this January.
One of the arresting officers, Hu Jinwei, claimed that a tipster reported Ms. Xia for handing out Falun Gong materials, but Ms. Xia said she never gave anything to the said person on the said day. In addition, she noticed that the police had fabricated much of the content of the interrogation record.
Ms. Xia's brother Mr. Xia Fuli, also a Falun Gong practitioner, was arrested on August 2016 and sentenced to 1.5 years in prison four months later. Her family worries that she may also face sentencing.