2,536 More Citizens in China Give Support for Falun Gong Practitioners' Lawsuits Against Jiang Zemin
March 01, 2017 | By a Minghui correspondent in China
(Minghui.org) Since May 1, 2015, more than 200,000 Falun Gong practitioners have filed criminal lawsuits against former Chinese dictator Jiang Zemin with the Supreme People's Procuratorate and the Supreme People's Court. They hold him responsible for ordering the persecution of Falun Gong that resulted in illegal arrests, torture, and the deaths of innocent people for their faith.
Practitioners have been collecting signatures from the general public to support these lawsuits. In the past two months, 2,536 more signatures have been collected in three provinces.
In Jilin City, Jilin Province, 682 people signed and affixed their fingerprints to a letter in January 2017. One said, "Jiang ... ignores the laws and persecutes good people like Falun Gong practitioners."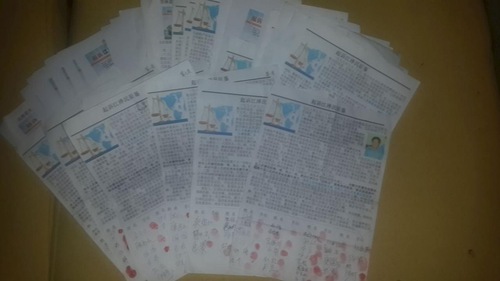 Signed and fingerprinted letters from Jilin
In Zhangjiakou City, Hebei Province, 1,453 people signed the letter. More than 200 called for an end to the communist regime's killing of practitioners for their organs.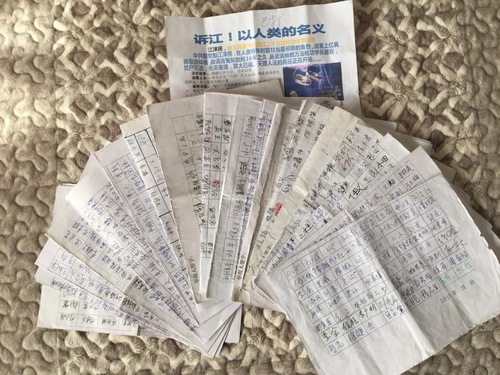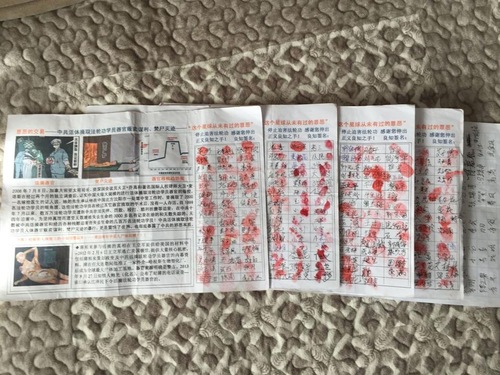 Signed and fingerprinted letters from Zhangjiakou City
In Nanchang City, Jiangxi Province, 401 signatures have been collected. The signers urged the Supreme People's Procuratorate to launch an investigation and bring Jiang to justice.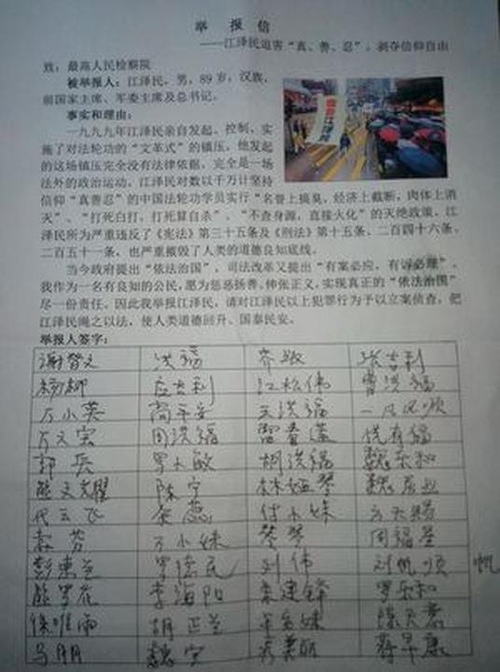 Signed letter from Nanchang City
A man in his 60s said that Jiang was hundreds of thousands times worse than Daji in the Shang Dynasty, who was said to have plucked a beating heart out of a person she disapproved of.
"While everyone outside of China knows how awful Jiang is, people in China sometimes don't know the truth of the situation when it comes to Falun Gong because the news is censored. I support the lawsuits," said a man in his 30s.
A retired veteran said, "The CCP is despicable. They deceived us into fighting in Vietnam and then handed over a large piece of our land to a foreign country. Jiang and his regime are corrupt. I will quit the CCP and support the lawsuits."
Background
In 1999, Jiang Zemin, as head of the Chinese Communist Party, overrode other Politburo standing committee members and initiated the suppression of Falun Gong.
The persecution has led to the deaths of many Falun Gong practitioners over the past 16 years. More have been tortured for their belief and even killed for their organs. Jiang Zemin is directly responsible for the inception and continuation of the persecution.
Under his personal direction, the Chinese Communist Party established an extralegal security organ, the 610 Office, on June 10, 1999. The organization overrides the police and the judicial system in carrying out Jiang's directive regarding Falun Gong: to ruin their reputations, cut off their financial resources, and destroy them physically.
Chinese law allows for citizens to be plaintiffs in criminal cases, and many practitioners are now exercising that right to file criminal complaints against the former dictator.