Fujian Man Taken Away Prior to Release from Prison—Whereabouts Unknown
February 02, 2017 | By a Minghui correspondent in Fujian Province, China
(Minghui.org) Falun Gong practitioner Mr. Zuo Fusheng was to be released from Fuqing Men's Prison on January 18, 2017. However, he was taken away before the official release time, and his current whereabouts are unknown.
Mr. Zuo's friends arrived to pick him up at the prison one hour before his release, when a group of police officers approached them. They informed them that Mr. Zuo had been taken away by agents from his community at 7 a.m. that morning, claiming that the community had rented an apartment for him.
When his friends tried to meet with the Fuzhou City community director, they were told that the director was out of the office. Responding to text messages from Mr. Zuo's friends, the director gave an invalid address for Mr. Zuo, and eventually the director stopped responding to questions about Mr. Zuo's whereabouts.
Mr. Zuo, in his sixties, was arrested on January 19, 2011, and sentenced to six years in prison as retaliation for helping hire a lawyer to defend several of his friends.
Prison guards at the Fuqing Prison ordered inmates to physically abuse Mr. Zuo. As a result of beatings, his left eye was blinded. He was also tortured by being hung up by handcuffs for six hours.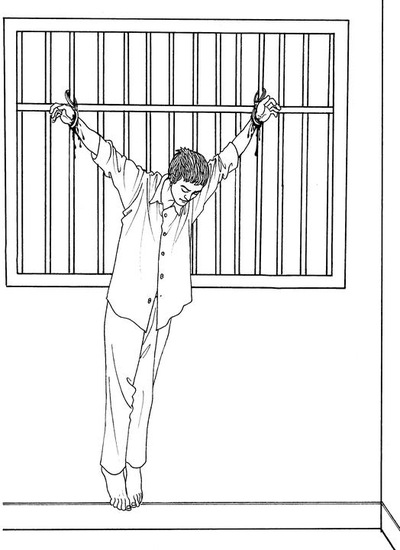 Torture illustration: hung up by handcuffs
Mr. Zuo was twice incarcerated in forced labor camps for upholding his right to practice Falun Gong.
He is a former employee of the Fuzhou City Railway. Under the unrelenting pressure of the persecution, his wife left him, taking their daughter.
Sister Incarcerated
Mr. Zuo's sister, Ms. Zuo Xiuyun, was arrested in December 2015 and is still detained.
She was sentenced to three-and-a-half years in prison in 2011, for filing criminal complaints with the police chief and the director of the Fuzhou City 610 Office about Mr. Zuo's arrest.
Ms. Zuo was sentenced to a six-year prison term in 2004, and prior to that, to a three-year term in 2001.
Traumatized and overcome with grief, their mother, who was in her eighties, died in 2015.