France: Health Expo Welcomes Falun Dafa, Stands Up to Chinese Consulate's Intimidation
October 31, 2017 | By Minghui correspondent Zhou Wenying
(Minghui.org) The Falun Dafa group was invited to hold a booth at Salons Bio & Co Wellness and Organic Product Exhibition on October 27-30. Held in Strasbourg, France, this event features over 200 exhibitors and draws about 17,000 attendees.
This was the second time the Falun Dafa group participated in the event, so when the Chinese Consulate attempted to interfere, the organizer knew how to respond.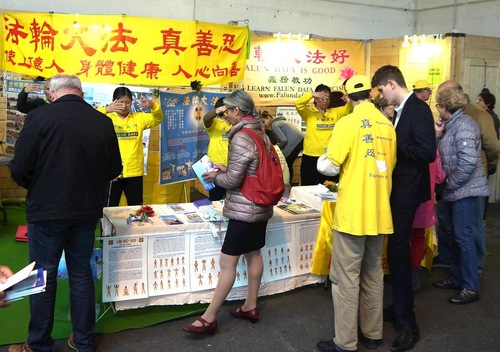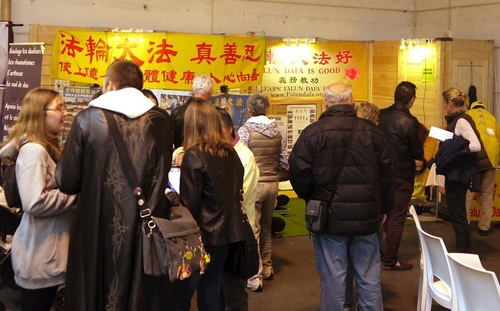 People learn about Falun Dafa at Salons Bio & Co Exhibition in Strasbourg between October 27 and 30, 2017.
Failed Attempt from Chinese Consulate
About a week before the expo, officials from the Chinese Consulate in Strasbourg contacted the host requesting a meeting to discuss Falun Dafa, said Patrick Viot, presenter of the event. They also told him that Falun Dafa is banned in China.
Realizing that the officials were trying to pressure him to deny the Falun Dafa group's participation, he said to them, "You cannot tell me what to do and what not to do. We are in France, and we have our own thoughts and freedom."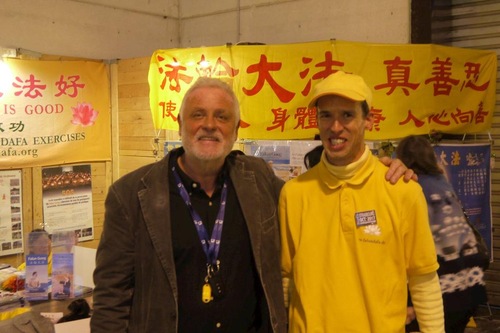 Patrick Viot, presenter of the Salons Bio & Co Exhibition, said the Chinese Consulate failed to interfere with practitioners' participation.
Viot told the Falun Dafa group that he understood that the Chinese Communist Party persecuted the group because the number of practitioners in China exceeded that of the Communist Party members. "In China, people are put in prisons for having different opinions. This is unacceptable," he said.
"What the Chinese Consulate did is intimidation," he added. "I will not give in to them. I support Falun Dafa."
At the exhibition, practitioners were assigned a place close to the entrance with a large space to demonstrate the exercises and offer free instruction. A photo of a group performing the Falun Dafa exercises was also included in the event brochure.
Feedback from Exhibition Attendees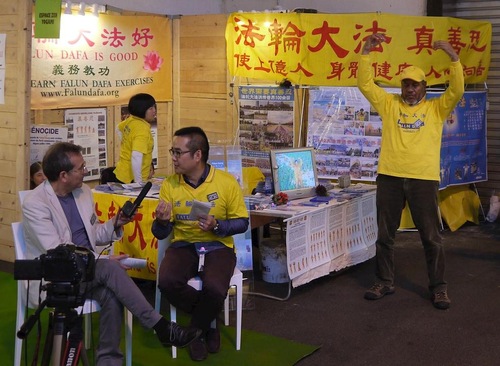 One of the organizers (left) interviewed a practitioner and said the interview would be published on the organization's website, Facebook, and Twitter pages.
One woman said she wished she had learned about Falun Dafa earlier. "Some of my friends have pain from head to toe. They need this ancient wisdom."
Another woman named Dipankara had heard about Falun Dafa from an expo in Strasbourg last spring. "I planned to learn the exercises back then, but somehow it did not work out," she said. She was glad she came across the group again and stayed at the booth to learn all five sets of exercises.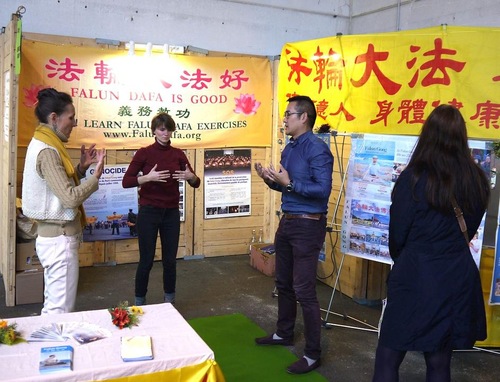 Two women (left and middle) learn exercises from a practitioner during the expo.
Many people said they had learned Taichi, Yoga, or other types of meditation. They took flyers and signed up to be informed of exercise sessions in Strasbourg.