Delhi, India: Human Rights Lawyer Seeks Support from Decision Makers and the Media to Fight Forced Organ Harvesting in China
January 09, 2017 | By Falun Gong practitioners in India
(Minghui.org) David Matas, renowned Canadian immigration and human rights lawyer, was in Delhi recently on invitation from the O.P. Jindal Global Institute to make a presentation at the 18th World Congress of Criminology on December 17, 2016.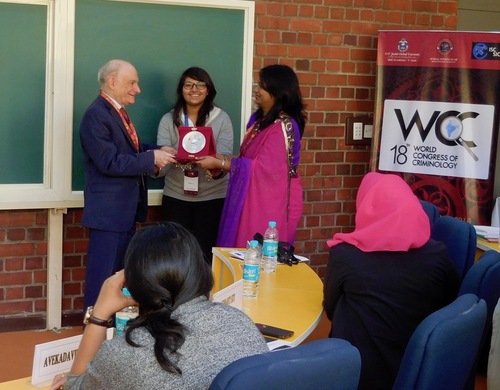 Human rights attorney David Matas being thanked by organizers at a forum held at Jindal University.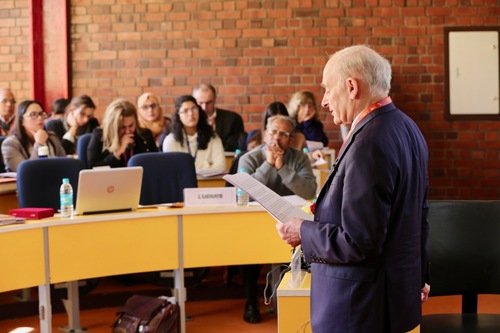 David Matas presenting at Jindal University.
Mr. Matas spoke on "Transnational crime: Organ transplant abuse."
Dr. Sanjeev Sahani, principal director of the Jindal Institute of Behavioural Science, warmly welcomed Mr. Matas, a Nobel Prize nominee, citing his body of work and status in the field of human rights law.
There was an international audience including students of criminology from Macao.
At a Q&A session, students from Macao University said that they doubted whether there was anything at all like illegal organ harvesting in China.
Falun Gong practitioners who were present told them about China's internet blockade and asked them to search the words "Falun Gong" while in China or China-controlled Macao and see for themselves if they got any response. The students were pleased to be given copies of the Nine Commentaries on the Communist Party.
David Matas met the Jt. Secretary of the Ministry of External Affairs (MEA) and apprised him of the illegal organ transplant trade in China. He requested that the Indian government consider adopting measures, as have other countries, to stop medical tourism to China and to have resolutions passed to stop illegal organ transplantation.
Mr. Matas also met the local press and other news agencies. There was coverage of the forum and the situation in China in several newspapers and their online editions.
Mr. Matas concluded his visit by meeting the Dean of the All India Institute of Medical Science and twelve doctors and surgeons. The doctors were impressed with David Matas' knowledge of Indian Organ Transplant Law and several reassured Mr. Matas that they would try to initiate a move to have a resolution against China's forced organ harvesting passed by the Indian government.