Taipei, Taiwan: A Thousand Practitioners Gather to Do the Exercises and Spread the Facts of Falun Gong at Freedom Square
January 18, 2017 | By Minghui correspondent Zheng Yuyan in Taipei, Taiwan
(Minghui.org) A grand scene of about a thousand Falun Gong practitioners doing the exercises at Freedom Square, a famous tourist site in Taipei, drew the attention of tourists from around the world, especially from mainland China.
Practitioners from the Greater Taipei Area gathered on January 15, 2017 to display the beauty of Falun Gong (also known as Falun Dafa), and raise awareness about the persecution of this ancient spiritual practice by the Chinese Communist Party (CCP).
They informed the tourists of the regime's state-sanctioned killing of Falun Gong practitioners for their organs in China and the global effort to bring the chief perpetrator, former head of the CCP Jiang Zemin, to justice.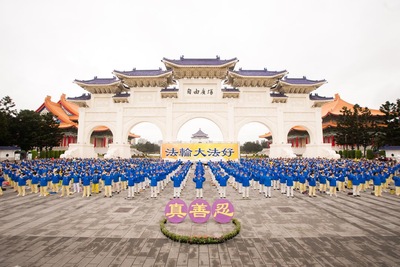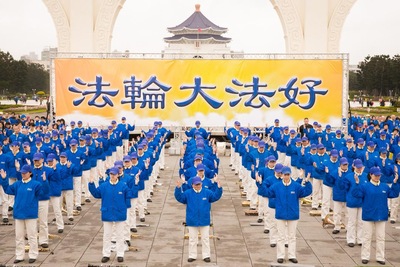 Group exercise at Freedom Square.
Many tourists took photos of the rarely seen large group practice. Some tour guides brought their teams to view the display boards, and some guides asked volunteer practitioners to clarify the facts to the tourists about Falun Gong.
Some tourists were curious about practitioners' handmade lotus flowers and bookmarks and took the initiative to approach practitioners to learn the facts about the practice.. Some western tourists learned to do the exercises with practitioners.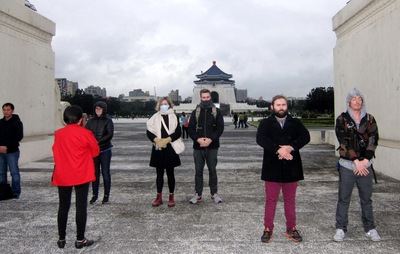 Learning the Falun Gong exercises.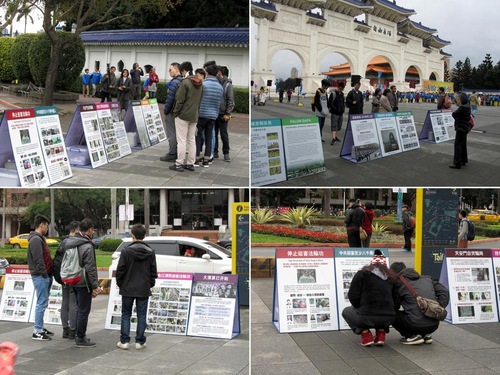 Chinese tourists read information about Falun Gong on display boards.
A Stark Contrast Between Free Taiwan and Mainland China
Mr. Sun, a 21-year-old Chinese man from Australia, visited Taiwan with three other friends. They were curious and happy to come across Falun Gong practitioners' activities.
Mr. Sun said he was impressed by such a grand scene of so many Falun Gong practitioners doing the exercises together, which was the first time for him to see.
He said his parents immigrated to Australia from China more than 20 years ago and many of their relatives and friends had experienced adversities during the Cultural Revolution and other political movements in mainland China. He said he could see the big difference between Taiwan and the mainland China.
"Truthfulness-Compassion-Forbearance is the hope for mankind," said Mr. Sun.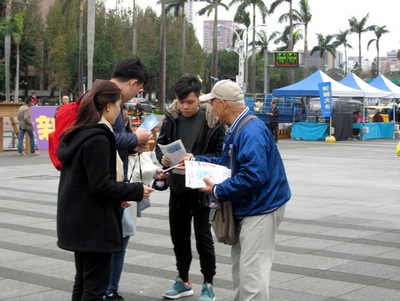 Tourists learn about Falun Gong.
"People Should Not Be Persecuted for Living By Truthfulness-Compassion-Forbearance"
Mr. Yan and Mr. Yu from Hong Kong saw Falun Gong activities while visiting Taiwan. They said that they often saw practitioners distribute informational materials and talk to people about Falun Gong in Hong Kong, but it was the first time for them to see such a grand scene of exercises. They both said it is "cruel and unreasonable" that the CCP persecutes people who follow the principles of Truthfulness-Compassion-Forbearance.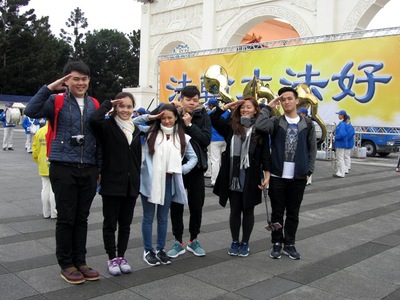 Young people from Malaysia pose for a photo after listening to the performance of the Tian Guo Marching Band
Six young men and women from Malaysia were taken in by the Tian Guo Marching Band at Freedom Square on their visit in Taiwan. They were impressed by the resounding performance of the band and the marching to the band's joyful music. They kept saying, "Great! Wonderful," as they took photos.