Shandong Woman in Precarious Condition, Denied Medical Parole
September 04, 2016 | By a Minghui correspondent in Shandong Province
(Minghui.org) A Jinan City resident incarcerated again for her faith is in serious condition, yet the authorities have refused to release her on medical parole.
Ms. Jiang Xinying, 60, was arrested on July 3, 2016 while talking to people about Falun Gong, a spiritual discipline being persecuted by the Chinese communist regime. Her health quickly declined from mistreatment she received in detention.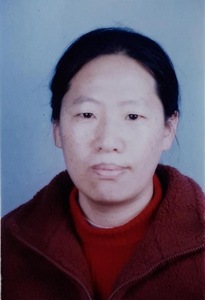 Ms. Jiang Xinying
This is not the first time Ms. Jiang has been targeted for her faith. She was twice given forced labor, in 2004 and 2007, and suffered brutal torture each time. She contracted lung tuberculosis, lymphatic tuberculosis and spinal tuberculosis during her second term of forced labor. She had holes in her lungs, and several of her vertebral bones were dead.
The authorities released her three months earlier but refused to cover her astronomical medical expenses.
Ms. Jiang managed to survive but was never able to straighten her back, where the doctors put in two metal plates to support her spine.
Her latest arrest resulted in a relapse of her already-fragile health, and her family reported she had excruciating pain in her back. Their request to have her seek treatment outside of the detention center has been repeatedly denied.
While Ms. Jiang's family feels extremely anxious about her condition, the local procuratorate has approved her arrest and is due to indict her.
Slave Labor
Ms. Jiang was unlawfully arrested the first time on December 22, 2004 and was detained in Shandong Women Forced Labor Camp. She was deprived of sleep and forced to stand still for seven days and nights straight. Both her legs became badly swollen, and her mind became delirious.
She was also forced to do 17-18 hours of slave labor every day, cutting thick plush fabric to be used in toys. She was exposed to a large amount of fiber lint, which led to bad skin irritation and severely damaged her lungs.
A Narrow Escape from Death
Ms. Jiang was arrested again on September 15, 2007 for telling people about the persecution of Falun Gong and was sent to Shandong Women Forced Labor Camp for the second time.
She was locked up in solitary confinement and monitored by assigned inmates day and night.
Sitting On a Small Stool
This is a cruel form of torture widely used in the persecution of Falun Gong practitioners. Under the instruction of police guards, inmates forced Ms. Jiang to sit still on a small stool for long periods of time until her buttocks festered. The rotten flesh stuck to her clothes. Each time she used the toilet, she had to tear open the bloody wounds, which could not heal for a long time.
Deprivation of Toilet Use and Personal Hygiene
The guards allowed Ms. Jiang to use the toilet only once a day for a very short time in the evening, after everyone else had gone to sleep. Over time, she developed severe constipation and abdominal distention. It was so severe that she could hardly eat; as soon as she ate something, her belly would become bloated, as if it would break open. It was very painful.
She was also allowed very limited time to wash herself. On one occasion, she was not allowed to take a shower for three months in a row.
Deprivation of Food and Water
Because she refused to renounce Falun Gong, she was given very limited food and water as a form a punishment. Her lips were covered with blisters, and her gums were red and swollen. Her constipation worsened, and sometimes she could not have a bowel movement for more than ten days.
Forced to Stand for Long Periods of Time
Ms. Jiang was often forced to stand still for long hours, including once for around ten days straight. Her whole body swelled up badly. One day, she felt a sharp pain in her heart and fell to the ground. The guards accused her of feigning sickness and threatened to shock her with electric batons if she failed to stand still.
On another occasion, after 15 days of being forced to stand still, her feet were badly swollen, and her legs turned blue and lost feeling. Her weight dropped rapidly, from 66 kg (146 pounds) when she first arrived to less than 40 kg (88 pounds).
She started to have severe pain in her back and could not walk properly. A big lump appeared in her neck; she was sweating all over, and her body gave off a sickly odor. She had become extremely fragile.
The labor camp took her to a police hospital for a check-up. Afterwards, they told her family to take her home without telling them anything about the checkup details. It was later discovered that the labor camp released her three months in advance to avoid liability after learning that she had a severe contagious illness.
Severe Disability
Her family members took her to hospital for an examination. The diagnosis was shocking: she had lung tuberculosis, lymphatic tuberculosis and spinal tuberculosis.
Her lungs had several holes due to erosion of mycobacterium tuberculosis. The biggest hole was 7 cm in diameter. The skin on her back had turned black, and on either side of the lumbar vertebra was a tuberculosis mass, with a diameter of more than ten centimetres. Her gums were also deformed and smelled badly.
The third and the fourth vertebras had been largely eroded by mycobacterium tuberculosis, and the dead vertebra bones pressed against the cauda equian. When she moved her legs, she would experience unbearable pain that could not be reduced by painkillers.
Doctors said she would become paralyzed without an operation. However, she was too weak to undergo surgery at the time. They had to control the spread of the tuberculosis first.
She had an operation three weeks later, which lasted over nine hours. Doctors had to remove the tuberculosis focus and the dead vertebra bones and link her spine with two steel plates fixed by four screws. The whole operation cost her family over 100,000 yuan, putting her family under enormous financial pressure.
It was very hard for her to recover from such a major operation, which left three big cuts on her back–each over 20 cm long. The wounds were itchy and painful, and even today she cannot straighten her back.