Sweden: Guides Introduce Falun Gong on Tours of Stockholm City Hall
August 07, 2016 | By a Falun Dafa practitioner in Sweden
(Minghui.org) Demonstrations of the Falun Gong exercises and informational display boards have become a part of Stockholm City Hall tours. Accompanied by soothing exercise music, guides explain to the tourists what Falun Gong is and the reason practitioners come here each day–to tell the public about the ongoing persecution of the meditation practice in China.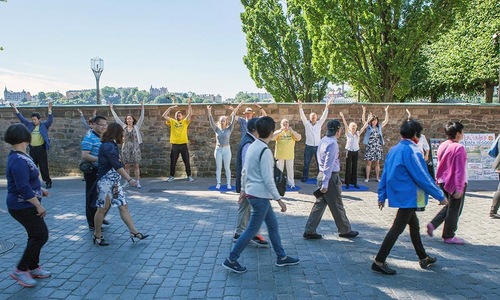 A Chinese tour group walks by Falun Gong practitioners demonstrating the exercises along the route to the Stockholm City Hall.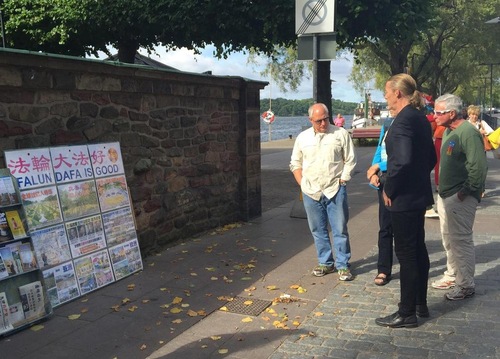 A tour guide explains Falun Gong to his clients.
Stockholm's City Hall is one of Sweden's most famous buildings and one of the capital's most visited attractions. Famous for its grand ceremonial halls and unique art pieces, the venue hosts the Nobel Prize banquet held on the 10th of December each year. It also houses offices for 200 people, including the Municipal Council.
Since the tour season started in May, thousands have visited City Hall.
Many tourists from China going abroad for the first time were surprised to see people doing the Falun Gong exercises in public. The spiritual discipline and meditation practice has been persecuted by the communist regime in China since 1999.
"Ah! This is Falun Gong! How do they dare to exercise in public here? Look! There are so many Westerners, too!" some would comment.
Those who go abroad often would explain to their fellow tourists, "Falun Gong is everywhere in other countries. It's very popular."
Some were excited to see Falun Gong again and read out the words on the banners, "Falun Dafa is good."
After noticing how Westerner practitioners had their legs crossed perfectly in meditation and how elegant their exercise movements were, a few said they wanted to learn Falun Gong, too.
Other Chinese tourists stayed quiet, returned practitioners' greetings with a smile, and happily accepted pamphlets explaining Falun Gong and the persecution in China, including the state-sanctioned killing of practitioners for their organs.
Winning Support with Compassion
The tour guides have come to understand and support the practitioners' demonstrations over time.
Stockholm City Hall is on the bank of Lake Mälaren, where the weather changes abruptly. If a tour guide encounters a sudden temperature drop and doesn't have a heavy coat, a practitioner would often give his/her scarf to the guide.
Sometimes a guide wouldn't have time to eat breakfast, and practitioners would share their food with him or her.
The kindness demonstrated in their actions and words changed the tour guides. Some Chinese guides became good friends with practitioners and often help them give out papers to tourists.