Elderly Couple Not Allowed to Visit Their Son in Jidong Prison
August 13, 2016 | By a Minghui correspondent in Hebei Province, China
(Minghui.org) Falun Gong practitioners Mr. Wang Zhanqing, Ms. Wen Jie, Mr. Ma Weishan, and Mr. Kang Jingtai from Sanhe City, Hebei Province, were arrested on April 22, 2014, for talking to people about the persecution of Falun Gong. After five hearings that spanned 19 months, they were sentenced by the Sanhe City Court: Mr. Wang Zanqing, six years in prison; Ms. Wen Jie and Mr. Ma Weishan, five years; and Mr. Kang Jingtai, three years, with three years of probation.
All four immediately appealed their verdicts and sentences. The Langfang City Intermediate Court dismissed their appeals on May 13, 2016.
Two days later, Mr. Wang Zhanqing's mother, Ms. Wang Lianshuang, was told by Wang Chaohe, the head of Sanhe City Detention Center, that her son would be sent to Shangbancheng Prison in Chengde City. Ms. Wang called the prison and asked when she could visit him.
She was told that May 23 was the prison visitation day, and she could visit him then. However, they told her that her son was not on the inmate list, and she needed to confirm if her son had been sent to that prison.
Ms. Wang called the detention center and inquired about her son's whereabouts. A female guard on duty confirmed that her son had indeed been sent to Shangbancheng Prison.
Ms. Wang and her husband, both around 70, caught a 4 a.m. bus on May 23. Shangbancheng Prison is about 150 km (93 miles) from their home. When they arrived, they were told that their son was not there.
Ms. Wang called Wang Chaohe at the detention center. He told her that Shangbancheng Prison had not accepted her son and that he was taken to Jidong Prison in Tangshan City instead. The prisons are about 250 km (150 miles) apart.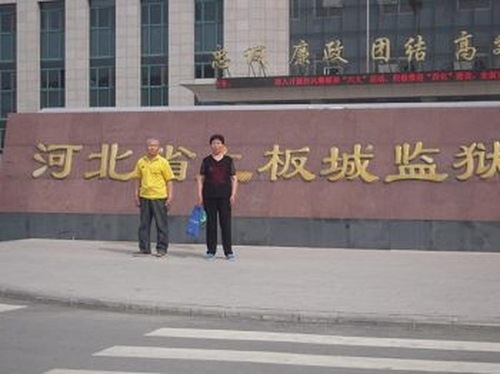 Ms. Wang Lianshuang and her husband went to Shangbancheng Prison, but their son was not being held there.
The couple returned home. Ms. Wang then called Jidong Prison and was told that June 23 and June 24 were their visiting days and they could come then. When she later called to confirm the dates, she was told that their son was not allowed to have visitors for two months. Ms. Wang was worried about her son and decided to go to Jidong Prison to try to visit him anyway.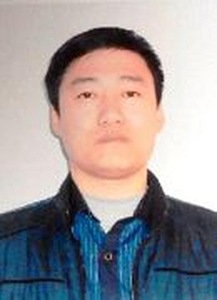 Mr. Wang Zhanqing
The couple got up at 5 a.m. on June 23 to catch a bus to Tangshan City and a taxi to the Jidong Prison administration section. They arrived during the lunch break. The afternoon visiting hour started at 2:30 p.m.
A man in casual clothes spoke to them in the afternoon, confirming their son was there. He then asked whether Ms. Wang also practiced Falun Gong and who had started first. Ms. Wang refused to answer his questions. The man then told the couple that they could not see their son since he had not written a guarantee statement to renounce Falun Gong.
The man left, and two other employees, one male and one female, took over. The man told Ms. Wang that her son had to get permission from the head of the prison division before he would be allowed to have visitors. The woman told them that their son was in the No.4 Division of the prison, which was more than 50 km (30 miles) away. When the couple decided to go there, the woman said, "You will be disappointed."
Jidong Prison has a new name: Jidong Branch of Hebei Prison Administration Bureau. The bureau has eight prisons under it. The No.4 Division is the "re-education" section for new inmates. It specializes in brainwashing Falun Gong practitioners. Only when practitioners renounce Falun Gong are they regarded as "thought stable" and are then sent to other prisons to do slave labor.
The couple arrived at the No.4 Division after 4 p.m. The guard at the gate told them that visiting hours were over. Rather than give up and go home, they found a hotel in a small town nearby and stayed the night.
They left early the next morning and got to the No.4 Division around 8 a.m. Many people were already waiting in line. Ms. Wang learned that everyone in line was there to visit new prisoners. They had all been informed by the prison staff to come and visit their family members.
The gate opened at 9 a.m. When it was the couple's turn, the guard told them their son, Mr. Wang Zhanqing, was not on the "Visitors Allowed" list. Ms. Wang said, "The prison voicemail message says today is a visitation day; the prisoners are allowed visitors."
The guard made a call and then told them that they could not see their son since he had not applied to have visitors. The couple then asked whether they could leave some money and clothes for their son. They were told they could not since they did not have permission to visit.
Article 20 of Chinese Prison Law states that the prison will notify the family of an inmate within five days from the date of imprisonment. Jidong Prison violated this rule in Mr. Wang Zhanqing's case.
Article 48 of Chinese Prison Law states that inmates in detention are allowed visits by their family. However, Falun Gong practitioners are deprived of this right, and it is used as a blackmail tool to try to force them to renounce their spiritual belief.
Without such visits, Falun Gong practitioners cannot get money from their family, and without money, one cannot purchase essentials, such as toilet paper. Most important, family members are prevented from seeing how the Falun Gong practitioners are being treated, physically and mentally. Countless practitioners have been tortured and killed.
Jidong Branch, Hebei Province Prison Administration BureauAddress: Nanbao Development District, Tangshan City, 063305Tel: +86-315-8515105Prison Administration Section, 86-315-8327131Hou Baochen (侯宝臣), head of bureau, 86-315-8327666, 86-315-8519996No.4 Prison (original No.4 Division), Jidong BranchHead of prison, 86-315-8313600, 86-315-8313688