Ms. Chen Xiurong and Ms. Liu Gexin and Her Four-year-old Son Arrested
July 30, 2016 | By a Minghui correspondent in Beijing, China
(Minghui.org) Ms. Liu Gexin, her four-year-old son, Ms. Chen Xiurong, and another practitioner were reported to the police for talking to people about Falun Gong in Mapo in the Shunyi District of Beijing. They were arrested and taken to the Mapo Police Station on the evening of June 3, 2016.
They refused to tell the police their names and were interrogated until late at night. After being at the police station for more than 20 hours, Ms. Liu's young son was taken to a children's welfare home. He remained there for more than 10 hours, until Ms. Liu's family came to get him.
Ms. Liu and Ms. Chen are detained in the Nihe Detention Center in the Shunyi District, Beijing.
Ms. Chen Xiurong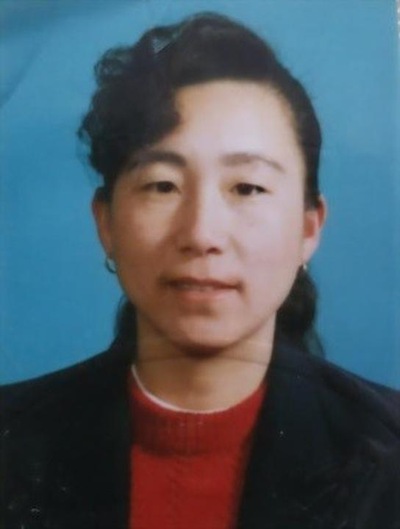 Ms. Chen Xiurong
Ms. Chen Xiurong is a Falun Gong practitioner in the Shijingshan District of Beijing. She and her family have been persecuted since July 1999.
Ms. Chen went to Tiananmen Square to do the exercises in the spring of 2000. She was arrested and taken to the Tiananmen Square Police Station. The police beat her and pulled out a lot of her hair.
She was taken to the Beidaihe Brainwashing Center in the summer of 2000 for two weeks. At that time, her husband was being held in the Tuanhe Forced Labor Camp for one year of forced labor because he refused to give up Falun Gong. For two weeks, their young child was at home on his own with no one to take care of him.
Ms. Chen was given forced labor in 2002 and again in 2005 for a total of four years. While in the Beijing Woman's Forced Labor Camp, she was deprived of sleep and made to do forced labor. Her hands were injured in the labor camp.
After she returned home, she was harassed by the authorities. On a "sensitive day," such as the National People's Congress, the Chinese Political Consultative Conference, July 20, or National Day, the local police threatened and at times even arrested her.
Ms. Liu Gexin
Ms. Liu Gexin is a Falun Gong practitioner from the Miyun District in Beijing. She started to practice Falun Gong in 1997.
Ms. Liu and her husband were given one-and-a-half years of forced labor each in 2001. At that time, their child was only six years old. Ms. Liu was so brutally force fed in the labor camp that she lost a tooth.
After she was released, she was arrested and detained in a detention center several times. To avoid further persecution, Ms. Liu went into hiding and moved frequently since 2009.
Her husband was given forced labor twice and taken to a brainwashing center after his release from the labor camp.
The local village refused to turn over 20,000 yuan that the government assigned to Ms. Liu's family as compensation for the demolition of their home. They have been using that money to persecute Ms. Liu's husband.
Ms. Liu's father died in March 2016. She was unable to see her father before he died.
Her father knew that Falun Gong was good. He suffered a lot during the 17 years the practice has been persecuted. His oldest daughter has been in hiding to avoid arrest since August 2009, and his second daughter was again detained in a forced labor camp. Ms. Liu's mother is also a Falun Gong practitioner and has been persecuted.
Participants in the Persecution of Ms. Chen and Ms. Liu:
Mapo Police StationNo.3 Xiangyang St., Mapo, Shunyi District, BeijingTel: +86-10-69401859
Shunyi District Police DepartmentNo.8 Shunpingxilu, Shunyi District, Beijing, 101300Tel: +86-10- 69440212Email for head of the police department: Sygafj69466641@126.com
Shunyi District Political and Legal Affairs CommitteeNo.27 Xinshunnan St. Shunyi District, Beijing, 101300Zhou Yingbo (周颖博), head of the party committee
Shunyi District Domestic Security Division and 610 OfficeHead of the division, Xi Lei (席雷)Head of 610 Office, Li (李)
Shunyi District Nihe Detention CenterNihe Village, Mapo Town, Shunyi District, Beijing, 101300