Sweden: Protest in Front of the Chinese Embassy Calls for Prosecuting Chief Perpetrator of the Persecution
June 08, 2016 | By a Falun Gong practitioner in Sweden
(Minghui.org) Falun Gong practitioners in Sweden peacefully protested the 17 years of brutal persecution of the practice on June 4, 2016.
With banners and flyers, they informed passersby of the Chinese Communist Party's state-sanctioned forced organ harvesting from living Falun Gong practitioners for profit, and called for bringing former Chinese dictator Jiang Zemin to justice. Jiang initiated the suppression of Falun Gong in 1999.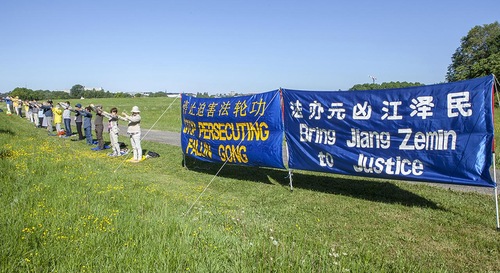 Practitioners gather across the street from the Chinese Embassy in Sweden to protest the 17-year brutal persecution of Falun Gong, and call for bringing Jiang Zemin to justice.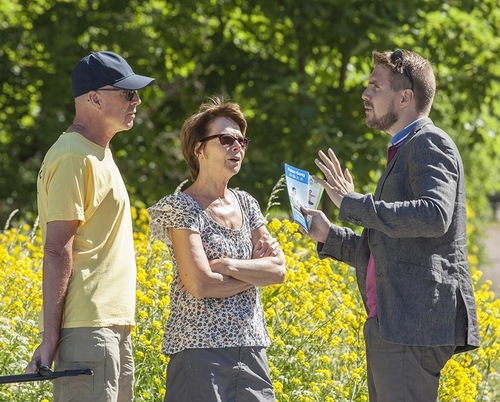 A couple stops to learn more about the persecution of Falun Gong.
A middle-aged couple was outraged upon learning that the Chinese Communist regime has been harvesting organs from living Falun Gong practitioners for huge profit. They planned to read more about it and help spread the word.
Police officers on duty were impressed by the practitioners' peaceful protest. A female police officer said, "I've seen you before and you're great! I wish you success!"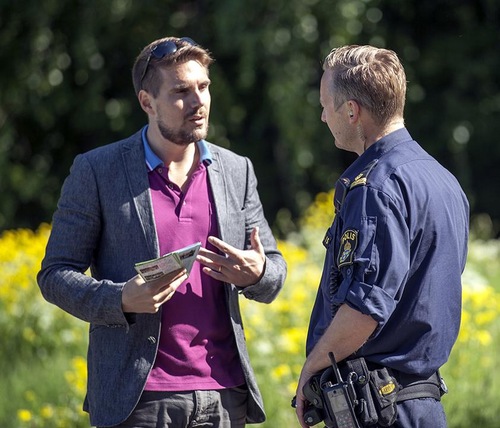 A police officer talks with a Falun Gong practitioner about the persecution in China.
Since May 2015, more than 200,000 Falun Gong practitioners have exercised their legal right to sue Jiang Zemin for launching the persecution of Falun Gong and causing them great harm and tremendous suffering during the past 17 years. More than one million people worldwide have signed petitions reporting Jiang Zemin's crimes.
However, the remaining force of the Jiang's clique has harassed, detained and sentenced many practitioners who filed criminal complaints against Jiang Zemin for severely violating the citizens' constitutional rights.
According to a Minghui website report, from January to May, 2016, in Harbin City, Heilongjiang Province alone, 95 Falun Gong practitioners were arrested for suing Jiang.
Mr. Zheng from Gothenburg who participated in the day's event said, "The attempt to stop people from suing Jiang will not deter the charges against Jiang's clique for the crimes they have committed. Evildoers must pay. No one can escape."