Liaoning Province: Nearly 5,000 in Chaoyang Sign in Support of Prosecuting Jiang Zemin
June 28, 2016 | By a Minghui correspondent from Liaoning Province
(Minghui.org) An additional 4,929 residents in Chaoyang City have signed petitions to support the prosecution of former Chinese leader Jiang Zemin since May 5, 2016, when the tally for such signature drives was last taken.
These residents are joining Falun Gong practitioners in calling for Jiang to be held accountable for initiating the persecution of Falun Gong 17 years ago.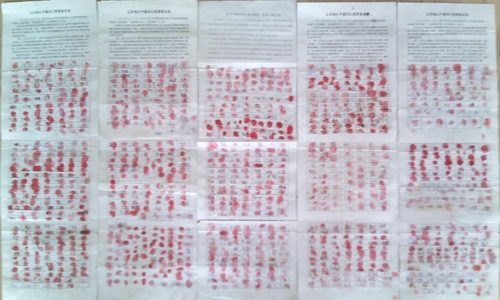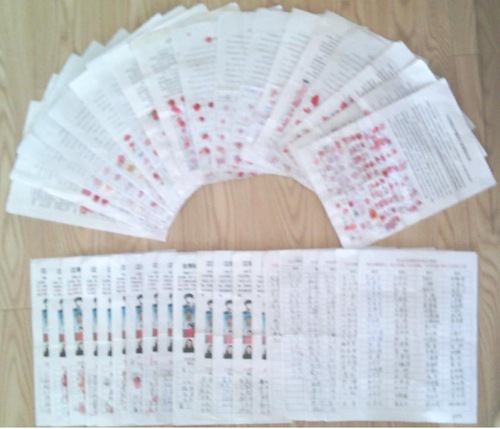 People in Chaoyang sign petitions with their fingerprints to show their support for the criminal complaints being brought against Jiang Zemin, who ordered the persecution of Falun Gong.
Voices of Support
One Falun Gong practitioner's brother is a college professor. He supported his sister in filing criminal complaints against Jiang: "I like your legal complaint because it lists evidence and facts to prove the illegal acts that Jiang has done. People should be given the right to follow their faith. I support you. The Chinese have been fooled by the Communist Party government."
A retired college administrator told his student, "I support you. I hope Jiang will be brought to court soon. You're a great person with integrity, so if you practice Falun Gong, I believe Falun Gong must be beneficial to people. An instructor in our college also practices Falun Gong. Like you, he is a very good person, too."
After learning about Falun Gong and the persecution, a person commented, "I've met many Falun Gong practitioners, and they're all very kind. Jiang manipulated his power to persecute the group of good people. Many practitioners have been illegally persecuted, tortured to death, or even killed for their organs. Jiang will be brought to trial for sure."
Background
In 1999, Jiang Zemin, as head of the Chinese Communist Party, overrode other Politburo standing committee members and launched the violent suppression of Falun Gong.
The persecution has led to the deaths of many Falun Gong practitioners over the past 17 years. More have been tortured for their belief and even killed for their organs. Jiang Zemin is directly responsible for the inception and continuation of the brutal persecution.
Under his personal direction, the Chinese Communist Party established an extralegal security organ, the "610 Office," on June 10, 1999. The organization overrides police forces and the judicial system in carrying out Jiang's directive regarding Falun Gong: to ruin their reputations, cut off their financial resources, and destroy them physically.
Chinese law allows for citizens to be plaintiffs in criminal cases, and many practitioners are now exercising that right to file criminal complaints against the former dictator.