Liaoning Man in Coma After Second Prison Sentence for His Faith
June 14, 2016 | By a Minghui correspondent from Liaoning Province
(Minghui.org) A Fushun City resident was again sentenced for his faith, five years after he was released from a ten-year imprisonment for practicing Falun Gong, a spiritual discipline being persecuted by the Chinese Communist regime.
Mr. Hu Guojian was arrested on July 7, 2015 and tried on September 25. His family received a notice on December 9 informing them of his 4-year sentence.
None of the local law firms dared to file appeals on Mr. Hu's behalf. They all gave the same reason–that Fushu City Judicial Bureau had threatened to revoke license of anyone who gets involved in Falun Gong cases.
Mr. Hu was first transferred to Shenyang Prison and later Benxi Prison. When his family visited him on May 23 this year, they noticed that he had lost about one-third of his body weight.
He fell into a coma three days later and was rushed to Benxi Central Hospital. A CT scan revealed a severe hemorrhage inside his brain. The prison did not notify his family until the next morning. After consulting with doctors, his family agreed to a craniotomy, or removal of a portion of the skull for surgeons to access the brain.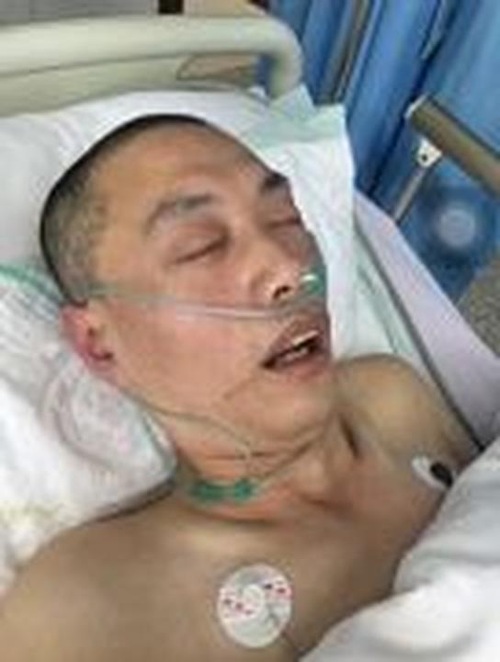 Mr. Hu Guojian was rushed from prison to Benxi Central Hospital on May 26, 2016.
Doctors removed his ventilator on June 5, and Mr. Hu is now able to breathe on his own. However, he remains in a coma after the brain surgery.
Related Report:Mr. Hu Guojian's Ten-Year Prison Term