4,000 Additional Residents in Jinzhou City, Liaoning Province, Petition to Support Lawsuits Against Jiang Zemin
June 11, 2016 | By a Falun Gong practitioner in Liaoning Province, China
(Minghui.org) On May 1, 2015 the Supreme People's Court implemented a new "Registration System Reform," which specified that, upon receipt, all criminal complaints must be registered with the court.
Since then, more than 200,000 Falun Gong practitioners and their family members have filed criminal complaints against Jiang Zemin, the former head of the Chinese Communist Party (CCP) responsible for initiating the persecution of Falun Gong.
After learning what Falun Gong is and about the persecution the Communist regime is waging against it, many people have supported the lawsuits being filed against Jiang.
As of May 2016, more than 4,000 people in Jinzhou City, Liaoning Province, have signed the petition to support suing Jiang. They hope the Supreme People's Procuratorate will investigate these crimes against humanity and bring Jiang Zemin to justice.
According to the Minghui website, 1,162 people in Jinzhou City had previously signed a petition.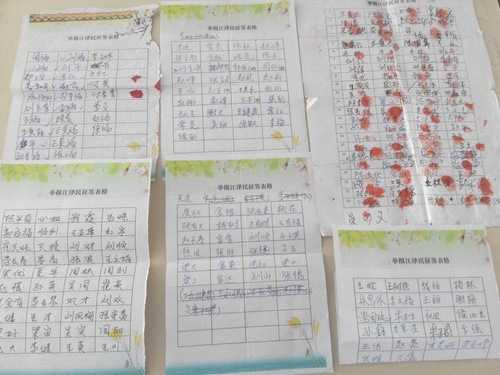 Signatures of petitioners
When the name, "Jiang Zemin," is mentioned, almost everyone, from common folks to veteran cadres, openly criticize him. A taxi driver commented, "Jiang Zemin has done nothing good for the people."
The movement to sue Jiang seems to be awakening people in China.