Falun Gong Practitioner Almost Dies from Torture in Prison
June 10, 2016 | By Minghui correspondent reports from Liaoning Province
(Minghui.org) Falun Gong practitioner, Ms. Lin Guilan, has been imprisoned for her faith many times since the onset of the persecution of Falun Gong in July 1999. She was sentenced to nine years of prison and was sent to Liaoning Provincial Women's Prison until March 21, 2016. She was tortured and almost died in prison.
Following Falun Gong's teachings, Ms. Lin strove to be a good person
A co-worker introduced Ms. Lin to Falun Gong in December 1998, and after practicing Falun Gond for a month, her physical health improved. As a result of better health, she no longer lost her temper with her husband. Her family thus benefited from Falun Gong too.
Her friends and co-workers were all impressed by how she had changed. They came to respect her for her good character and high moral standards.
Almost Tortured to Death in Liaoning Provincial Women's Prison
After the intermediate court upheld the original verdict, Ms. Lin was transferred from Fushun City No.2 Detention Center to Liaoning Provincial Women's Prison where she was forced to stand against a wall for ten hours straight. She soon had severe headaches, hearing loss, and her legs trembled uncontrollably.
She was forced to sit 24 hours a day on a small stool which was four inches (10 cm) wide by 15 and a half inches (40 cm) long. After two days sitting like that, she vomited and collapsed.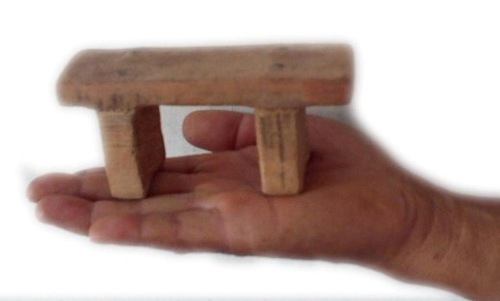 The small tool
The prison doctor said Ms. Lin was in critical condition and must be taken to the emergency room. Instead, she was transferred to the prison factory to do hard labor.
She would faint. As soon as she gained consciousness, she was made to work. Guards had criminal inmates monitor her around the clock even for use of the restroom. In the evening, the prisoners would check to see if she was still alive.
In 2010, she was unable to walk because of excruciating pain in her legs. Guards forced two inmates to carry her to work in the factory.
Illegally Incarcerated for Practicing Her Basic Rights
Ms. Lin had been imprisoned several times before her nine-year sentence in Liaoning.
After the persecution began in July of 1999, she was arrested for the first time in Beijing when she appealed for Falun Gong.
Her second arrest happened at Fushun City Train Station in October 1999 when she planned to take the train to Beijing. She was released after her family paid 1500 yuan to the local "610 Office". After her release, however, she was sent to a brainwashing center for a month.
Ms. Lin went to Beijing again in October 2000 and was arrested on Tiananmen Square for practicing Falun Gong exercises. A female police officer threw her to the ground, kicked her, and slapped her face.
She was given three years of forced labor, and was brutally tortured in a forced labor camp. At the labor camp she was subjected to the "flying an airplane" torture, forced to stand straight for a long period of time, and shocked with electric batons.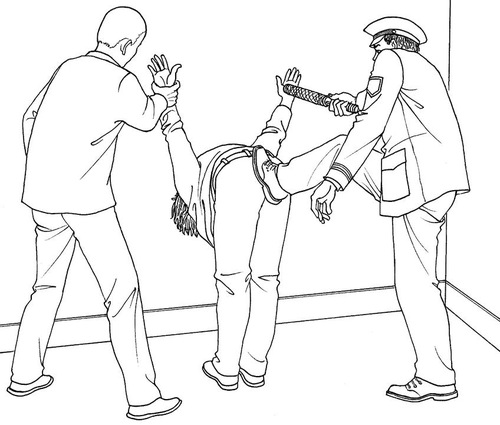 Torture Illustration: "Flying an Airplane"
Incarcerated in Fushun City No. 2 Detention Center
Several plainclothes policemen kicked Ms. Lin's apartment door open at 4:00 on the morning of March 15, 2005. They arrested her along with four other practitioners who were there to visit. They ransacked her apartment and took 20,000 yuan cash.
She was detained for a week in a temporary location, and then transferred to Fushun City No.2 Detention Center where she was forced to make crafts with toxic materials.
A few days later she felt dizzy and her head hurt excruciatingly. She was detained there for nearly a year, from March 2005 to March 2006, until she was transferred to Liaoning Provincial Women's Prison.