1,516 Qingdao Citizens File Charges Against Jiang Zemin
May 05, 2016 | By a Minghui correspondent in Shandong Province, China
(Minghui.org) 1,516 Qingdao City citizens in Shandong Province have signed criminal complaints against the former Chinese dictator, Jiang Zemin, who launched the ongoing and brutal persecution of Falun Gong in 1999.
This effort resulted from local Falun Gong practitioners persistently educating the citizens of that area about Falun Gong and the ongoing persecution.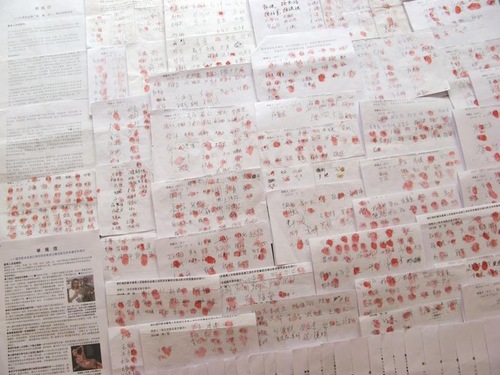 Qingdao citizens signed criminal complaints against former dictator Jiang Zemin
The full report against Jiang Zemin was sent to the Supreme People's Procuratorate. The complaints accuse him of depriving the Chinese people of freedom of belief and committing genocide against practitioners of Falun Gong.
The main theme throughout the complaints is the call for an investigation by the authorities into the crimes of organ harvesting from living Falun Gong practitioners, committed by Jiang Zemin and his allies.
Speaking Out Against a Corrupt Ruler
A man who manages a group of laborers was told that Jiang Zemin had persecuted many innocent people during his term in office and was instrumental in the murder of practitioners for their organs.
He said, "It is beyond evil. It is not enough that 200,000 people have filed legal complaints against Jiang, I think that 200 million should sue him. I want to be included in the list of people who sue him." He signed the forms. He also applied his fingerprints, which is a means of verifying signatures in China.
A practitioner talked to father and son, a vegetable merchant team, about Falun Gong and the persecution.
The practitioner asked, "About 200,000 people have filed criminal complaints against Jiang Zemin. Do you want to report him also?"
"Jiang has done so many terrible things," said the father. "People should have sued him a long time ago." Both father and son signed the forms.
An elderly couple in their 60s listened when a practitioner explained the facts about the persecution.
The wife said, "Jiang Zemin is truly corrupt. He should have been imprisoned a long time ago." Both signed and put their fingerprints on the form.
Background
In 1999, Jiang Zemin, as head of the Chinese Communist Party, overrode other members of the Politburo Standing Committee and launched the violent suppression of Falun Gong.
The persecution has led to the deaths of many Falun Gong practitioners over the past 16 years. More have been tortured for their belief and even killed for their organs. Jiang Zemin is directly responsible for the inception and continuation of the brutal persecution.
Under his personal direction, the Communist regime established an extralegal security organization, the 610 Office, on June 10, 1999. The organization overrides police forces and the judicial system in carrying out Jiang's directive regarding Falun Gong: to ruin their reputations, cut off their financial resources, and destroy them physically.
Chinese law now allows its citizens to be plaintiffs in criminal cases, and many practitioners are exercising that right to file criminal complaints against the former dictator.