Over 14,000 More People Call for Prosecution of Jiang Zemin
(Minghui.org) Since May 2015, more than 200,000 Falun Gong practitioners have exercised their legal right to sue Jiang Zemin for launching the persecution of Falun Gong and causing them great harm and tremendous suffering during the past 16 years.
Many non-practitioners have also joined forces in calling for the former Chinese dictator to be brought to justice for his crimes against practitioners. They have showed their support by signing petitions prepared by practitioners.
According to information compiled by the Minghui website, a total of 14,408 more people are confirmed to have either filed criminal complaints against Jiang or signed petitions by May 2016.
They include: 7,484 people in Yueyang, Hunan Province; 1,522 in Linquan, Anhui Province; 1,207 in Wuhan, Hubei Province; 2,707 from Laizhou, Shandong Province; and 1,488 in Teiling, Liaoning Province.
Signatures and fingerprints of people from Yueyang on petition to sue Jiang Zemin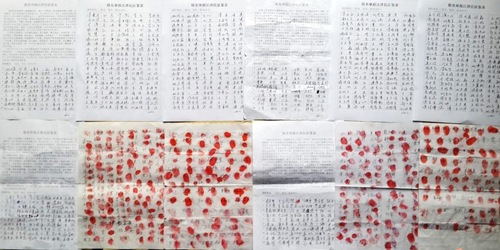 Signatures and fingerprints of people from Linquan on petition to sue Jiang Zemin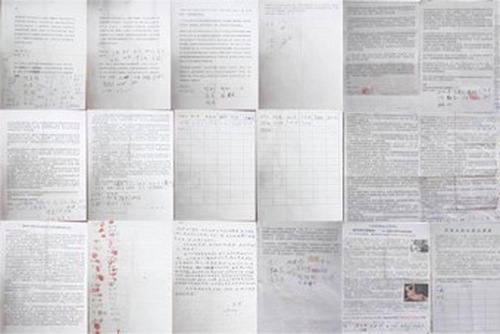 Signatures and fingerprints of people from Wuhan on petition to sue Jiang Zemin
Signatures and fingerprints of people from Tieling on petition to sue Jiang Zemin
Signatures and fingerprints of people from Laizhou on petition to sue Jiang Zemin
These lawsuits and petitions are mailed or submitted online to the Supreme People's Court and Supreme People's Procuratorate.
Among those who have sought to bring Jiang to justice are veteran practitioners who have been tortured personally by the CCP, new practitioners, relatives of practitioners, and regular people who are justifiably angered after hearing about the crimes Jiang has committed.
One practitioner sued Jiang Zemin for "mobilizing the state to launch the severe persecution of Falun Gong, carrying out the self-immolation hoax on Tiananmen Square, and ordering the harvesting of organs from living practitioners to sell for profit on the international market."
Mr. Xiao Tianming, who started practicing after the persecution began and hasn't been directly targeted by the CCP, wrote, "I used to have heart disease, high blood pressure, and stomach disease. I had to stay in the hospital for treatment at least three times every year. When the diseases hit me, it felt like the sky was falling. I had no strength. I shook all over, and my head felt like a hammer was hitting it non-stop. I could not eat or sleep.
"Some kind people told me that Falun Gong could heal me. I decided to try it. A few days after I did the Falun Gong exercises, I improved dramatically. I then knew that the propaganda on TV was all just lies. I feel younger and haven't been sick since I started to practice Falun Gong seven years ago. … That is why I am reporting Jiang Zemin and including an adamant request to the Supreme People's Procuratorate to prosecute him and to restore the good name of Falun Gong and its founder."
Qiu Yun doesn't practice Falun Gong, but her elder brother and uncle used to. "My elder brother had a blood disease: once he started bleeding, it wouldn't stop unless he gave himself a special shot. The problem disappeared in 1996 after he started to practice Falun Gong. After Jiang Zemin started the persecution, the hospital where my brother worked demoted him to work at a local clinic. He passed away in 2003.
"My uncle had his high blood pressure and back pain cured after practicing Falun Gong in 1998. The CCP persecuted him severely, causing his old health problems to return. He passed away in 2007. Jiang has taken two lives in my family."
A young man around 30 who signed the petition after hearing the truth about Falun Gong and the persecution and said, "I have read many things about Falun Gong. What they say is all true. Jiang Zemin is evil incarnate. He hasn't done a single good thing for the Chinese people."
Another person said, "Jiang Zemin has committed terrible crimes. He gave our territory to other countries. I knew he persecuted Falun Gong; that was very bad. He also fostered many corrupt officials. He should have already been sued and taken to court."
Background
In 1999, Jiang Zemin, as head of the Chinese Communist Party, overrode other Politburo standing committee members and launched the violent suppression of Falun Gong.
The persecution has led to the deaths of many Falun Gong practitioners over the past 17 years. More have been tortured for their belief and even killed for their organs. Jiang Zemin is directly responsible for the inception and continuation of the brutal persecution.
Under his personal direction, the Chinese Communist Party established an extralegal security organ, the "610 Office," on June 10, 1999. The organization overrides police forces and the judicial system in carrying out Jiang's directive regarding Falun Gong: to ruin their reputations, cut off their financial resources, and destroy them physically.
Chinese law allows for citizens to be plaintiffs in criminal cases, and many practitioners are now exercising that right to file criminal complaints against the former dictator.
Related articles in Chinese:
http://www.minghui.org/mh/articles/2016/5/23/山东省莱州市2707人举报元凶江泽民-328986.html
http://www.minghui.org/mh/articles/2016/5/20/湖南省岳阳市已有7484人签名声援诉江、举报江泽民-328988.html
http://www.minghui.org/mh/articles/2016/5/21/安徽省临泉县1522人控告和举报江泽民-329033.htmlhttp://www.minghui.org/mh/articles/2016/5/22/辽宁省铁岭市1488人联名起诉江泽民-328987.html