Boston, Massachusetts: Ancient Meditation Brings Peace and Harmony to Oldest City Park
May 24, 2016 | By Minghui correspondent Cheng De
(Minghui.org) Boston Common, a central public park in downtown Boston, Massachusetts, has a history of over 350 years, and is the oldest city park in the United States. During the recent World Falun Dafa Day celebration on May 21, 2016, many passersby found peace and harmony in a meditation rooted in traditional Chinese culture.
"The World Falun Dafa Day celebration is held in many countries around the world to commemorate the introduction of Falun Dafa to the public in May 1992," explained Phil, an organizer of the event. "At least 100 million people have joined the practice since then and benefited from it, both physically and spiritually."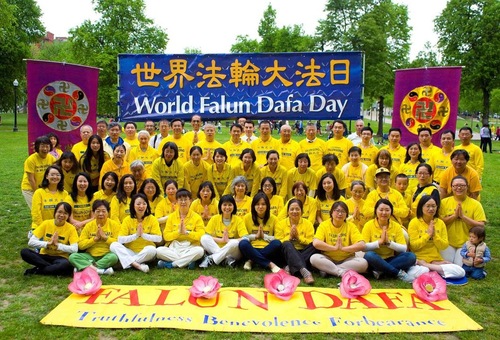 Falun Dafa practitioners celebrated World Falun Dafa Day on May 21, 2016.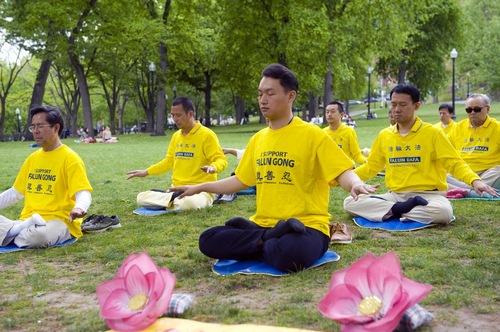 Group practice at Boston Common, a city park that has existed for over 350 years.
Strong Energy Field
One lady, who specialized in alternative medicine, read the posters displayed by practitioners, and took photos of the exercise movements. With a practitioner's help, she also learned the sitting meditation exercise, and said she felt a strong energy field from the exercises. She said she would visit Falun Dafa's website after returning home to learn more.
Drawn by the serene music and gentle exercises, one middle-aged couple stayed a long time with practitioners. The wife, who had been practicing Yoga for a long time, was especially interested. She said, "After returning to Iceland, I will visit your website, download the music, and start learning the exercises."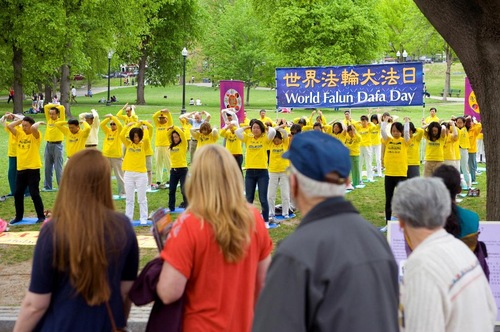 Many people were drawn by the gentle exercises.
A tourist from Sweden said he had been doing meditation for many years, "I have also read lots of books on meditation. But somehow I am still unable to calm down." He was curious how Falun Dafa practitioners could maintain a pure mind. One practitioner shared his own experience, and recommended that he read Zhuan Falun, the main teachings of Falun Dafa, for further enlightenment. The tourist agreed, and said he would try the exercises.
Upon seeing the peaceful exercises of practitioners, one native Peruvian said she liked the practice very much, and especially the principles of Truthfulness-Compassion-Forbearance. She also expressed hope that the suppression in China would end soon.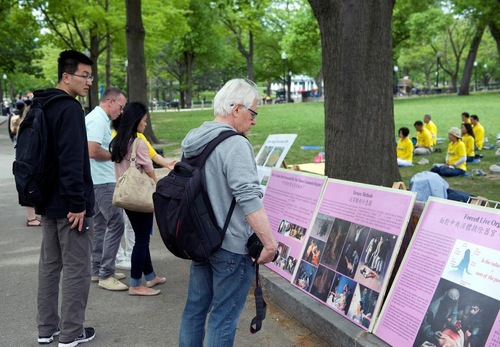 Passersby read posters to learn about the practice and persecution in China.
Chinese Tourists Learn the Facts
One young tourist from suburban Beijing did not believe the severity of the persecution in the China at first. But after a practitioner told him the experiences of her friends and relatives, as well as how the Chinese Communist Party (CCP) systematically deceived people in previous political campaigns, he nodded and accepted materials from the practitioner.
A woman from Inner Mongolia, who was in the United States visiting her relatives, was surprised to see so many Falun Dafa practitioners in Boston. Upon hearing that Falun Dafa was well accepted in more than 100 countries, and that the CCP had made up many lies to defame Falun Dafa, she said she would no longer believe the hate propaganda from the regime.
After hearing that more than 230 million Chinese had renounced the CCP organizations, she said she too would like to join the efforts. "I want to live a safe and happy life," she said.