1,095 in Shandong Call to Prosecute Former Chinese Leader
May 21, 2016 | By a Minghui correspondent
(Minghui.org) Between November 2015 and April 2016, 1095 people in Shengli Oil Field, Dongying, Shandong signed criminal reports against Jiang Zemin, the former head of the Chinese Communist Party (CCP) who initiated the brutal persecution of Falun Gong in 1999.
More than 200,000 Falun Gong practitioners and their family members have filed criminal complaints against Jiang with China's highest court and prosecution office since May 2015. Over one million people in countries worldwide have signed to show their support.
The signatures were uploaded online to the Supreme People's Procuratorate and the Supreme People's Court in two batches–one with 303 signatures and the other with 792. The statement requests that Jiang Zemin's crimes be investigated and that he be brought to justice.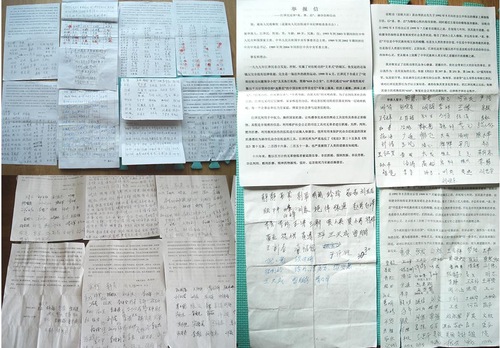 Signatures from people in Dongying, Shandong, China.
People from all walks of life are signing the petitions, from elders in their 80s to teenage students.
When a practitioner's neighbor heard of the criminal complaints against Jiang, he said, "I support it. Jiang has brutally persecuted Falun Gong practitioners."
One shop owner said, "I support practitioners' efforts, whatever they do." She immediately signed the petition.
A supermarket clerk said, "Jiang is disgusting. He shouted abusive language in front of several reporters in a press conference in Hong Kong. He embarrassed us and damaged China's reputation. I support the lawsuits against him!" A woman who was listening said, "I support the lawsuit too."
Background
In 1999, Jiang Zemin, as head of the Chinese Communist Party, overrode other Politburo standing committee members and launched the violent suppression of Falun Gong.
The persecution has led to the deaths of many Falun Gong practitioners in the past 16 years. More have been tortured for their belief and even killed for their organs. Jiang Zemin is directly responsible for the inception and continuation of the brutal persecution.
Under his personal direction, the Chinese Communist Party established an extralegal security organ, the "610 Office," on June 10, 1999. The organization overrides police forces and the judicial system in carrying out Jiang's directive regarding Falun Gong: to ruin their reputations, cut off their financial resources, and destroy them physically.
Chinese law allows for citizens to be plaintiffs in criminal cases, and many practitioners are now exercising that right to file criminal complaints against the former dictator.