1,529 More People Sign Petition Supporting Lawsuits Against Former Dictator Jiang Zemin
May 19, 2016 | By a Minghui correspondent from China
(Minghui.org) Since May 2015, more than 200,000 Falun Gong practitioners have exercised their legal rights to seek justice against former dictator Jiang Zemin for persecuting Falun Gong and causing them tremendous suffering over the past 16 years.
Falun Gong practitioners have also worked hard to publicize the lawsuits against Jiang. Many non-practitioners have lent their support by signing petitions calling for prosecuting Jiang.
It has been learned that 1,529 more people from two cities in China have signed petitions, and they include 400 residents from Tongcheng County, Hubei Province and 1,129 from Guangzhou, Guangdong Province.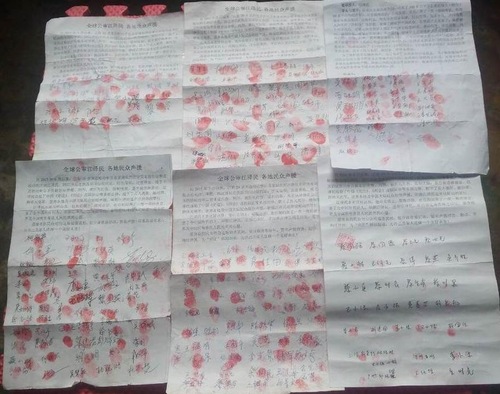 Signed petitions supporting the lawsuits against Jiang Zemin
The Guangzhou residents signed their petitions between October 2015 and April 2016. Among them, 219 people mailed the petition to the Supreme People's Court and Supreme People's Procuratorate. The remaining 910 signed it online.
A street cleaner praised the practitioner who told her about Falun Gong. She quit the Chinese Communist Party and signed the petition.
A middle school student said to the practitioner: "I really appreciate your effort!" An elementary student spoke out as well, "We should sue Jiang. My grandmother is a Falun Gong practitioner. She has been terribly wronged by his regime."
Background
In 1999, Jiang Zemin, as head of the Chinese Communist Party, overrode other Politburo standing committee members and launched the violent suppression of Falun Gong.
The persecution has led to the deaths of many Falun Gong practitioners over the past 16 years. More have been tortured for their belief and even killed for their organs. Jiang Zemin is directly responsible for the inception and continuation of the brutal persecution.
Under his personal direction, the Chinese Communist Party established an extralegal security organ, the "610 Office," on June 10, 1999. The organization overrides police forces and the judicial system in carrying out Jiang's directive regarding Falun Gong: to ruin their reputations, cut off their financial resources, and destroy them physically.
Chinese law now allows for citizens to be plaintiffs in criminal cases, and many practitioners are exercising that right to file criminal complaints against the former dictator.