'You're an Adult, So We Don't Need to Notify Your Family of Your Trial'
April 09, 2016 | By a Minghui correspondent in Heilongjiang Province, China
(Minghui.org) A Qiqihar resident was tried on March 4, 2016, for "using a cult organization to undermine law enforcement," a standard pretext used by the Chinese communist regime to frame Falun Gong practitioners.
The trial of Ms. Li Erying in the Longsha District Court was held without her family's knowledge. She didn't even know about the trial until she was taken to the courthouse.
She protested the court's violations of legal procedures, but judge Liang Fengfeng said, "You are an adult so we don't need to notify your family of your trial," an erroneous statement.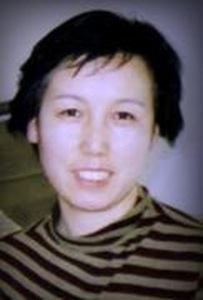 Ms. Li Erying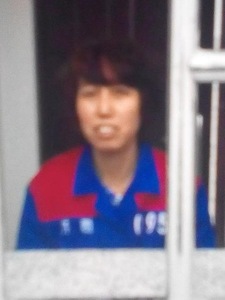 Ms. Li held in detention center
The hearing lasted less than 30 minutes, during which Ms. Li was forbidden to testify on her own behalf. Prosecutor Wang Bin suggested a sentence of four to six years in prison, and Ms. Li wrote: "I am innocent" on the court record when asked to sign her name. She insisted on her innocence, that practicing Falun Gong is her constitutional right, and that there is no law that criminalizes the practice.
Ms. Li remains detained since her latest arrest on November 14, 2015.
Family Threatened for Protesting
Three days later, Ms. Li's siblings went to the court and asked to see judge Liang. Security told them that the judge was in a hearing and told them to go home.
When they returned two days later, security attempted to send them away again. This time, they refused to leave without seeing the judge. The judge came downstairs later and appeared furious when she saw Ms. Li's family members.
"What are you doing here?" Liang said.
One sibling said, "We want to know about our sister's case."
"The trial is over."
"When was the trial? Why were we not notified?"
"Because your sister is in a cult!" the judge said, raising her voice.
"Really? Who decided that?" Ms. Li's brother asked.
The judge and her staff stepped toward him, pointing their fingers at his nose. "How dare you talk like that? We have surveillance cameras here."
"You did not comply with the legal process. We, the family, have the right to attend the hearing," Ms. Li's sister said.
"We can do whatever we like. Besides, she is an adult and we do not have to notify family," the judge said.
First Arrest
On September 27, 2013, Jiangan Police Station officers arrested Ms. Li in front of her home. She was tortured in the police station—they jabbed a stick into her mouth repeatedly. She became nauseous and vomited blood. She was later transferred to Qiqihar No. 1 Detention Center.
At the detention center, a guard with the last name of Han beat her in front of everyone. Han kicked Ms. Li's back so hard that the skin broke. Ms. Li was handcuffed and chained with 50-pound shackles before she was carried to her cell.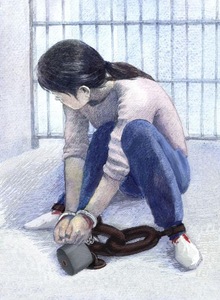 Torture illustration: Handcuffed and shackled
Two days later, the Jiangan police interrogated her in the detention center. Since Ms. Li could not walk because of her back injury and the heavy shackles, the guards told criminal inmates to drag her to the interrogation room. Her trousers and underwear were torn during the process.
Ms. Li could not eat or drink after her injuries, and she vomited repeatedly. After the severe beating in the detention center, her health went downhill. The prison doctor gave her some kind of fluid through an IV, which inflamed her stomach. She then vomited blood.
She was emaciated and lost a lot of weight over the course of 20 days.
On October 24, 2013, Ms. Li had become critically ill. Not wanting her to die in the detention center, Jiangan Police Station and the detention center officials released her to her family on medical parole.
Her family was forced to pay 10,000 yuan. Ms. Li was told to report daily to the police station when she recovered.
After a period of practicing Falun Gong, she got better. When she did not report to the police station daily, the local authorities fined her family another 10,000 yuan.
Latest Arrest
On November 4, 2015, around midnight, officers from the Jianhua District Criminal Police Brigade came to her home. They used a master key to break in and took her away.
They would not let her to dress before they took her to Dongsi Police Station. Later she was transferred to the Jiangan Police Station and eventually held in Qiqihar No. 1 Detention Center. This time, her family no longer had any money for them.
Shortly after that, Jiangan Police Station and Jianghua Police Department officials sent her case to the Longsha District Procuratorate.
When Ms. Li's family inquired about her case, the staff at the procuratorate refused to tell them anything. "All Falun Gong cases will be handled confidentially and no information can be released."
Her family had no idea what was going on or what would happen to their loved one.
For contact information on the perpetrators, see the link in Chinese.