Torture and Sexual Violence in China Are Focus of CECC Hearing in US Congress
April 17, 2016 | By Minghui correspondent Li Jingfei
(Minghui.org) The Congressional Executive Commission on China (CECC) convened a hearing titled "China's Pervasive Use of Torture" on Capitol Hill the afternoon of April 14. The hearing was to examine China's systemic use of torture and maltreatment in the criminal justice system. Several witnesses provided testimony.
Yin Liping, a Falun Gong practitioner who was rescued to the United Sates from China, narrated her shocking experience as a witness to the hearing. She suffered torture and group sexual violence at the notorious Masanjia Labor Camp, Liaoning Province. She was tortured to the verge of death on several occasions while incarcerated in forced labor camps or detention centers for her belief in Falun Gong.
Practitioner Yin Liping shows photo of Masanjia Labor Camp to Congressional Representatives
Ms. Yin showed photos in the hearing. Tears began to run down her face while narrating her experiences. She had seen fellow practitioners suffer torture and pass away as a result. She said, "We promised one another that any one of us who survives will expose the persecution to the world. Today I am speaking up for them, the forever voiceless victims."
She submitted a list of main culprits who are responsible for her persecution to the CECC, which will copy the list to US Department of State. The list of 41 people included Jiang Zemin, Bo Xilai, Wang Lijun, Wen Shizhen, and the police at Masanjia and other places.
The CECC is comprised of 22 US officials, including 9 senators, 8 House Representatives, and 5 officials from the Executive Branch.
US Congressional Representatives Commend the Courage of Falun Gong Practitioners in Exposing the Persecution
US Congressional Representatives who attended the hearing commended the courage of Falun Gong practitioners in exposing the inhumane persecution. They indicated that the culprit Jiang Zemin and his followers must be brought to justice.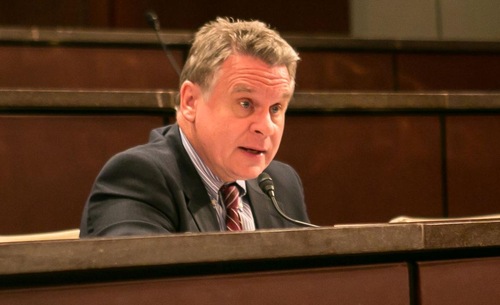 Rep. Chris Smith, Chairman of CECC
Rep. Chris Smith, Chairman of CECC, indicated in the hearing that Chinese government perpetrators who committed sexual violence must be investigated, not allowed to continue their abuse of Falun Gong practitioners and others.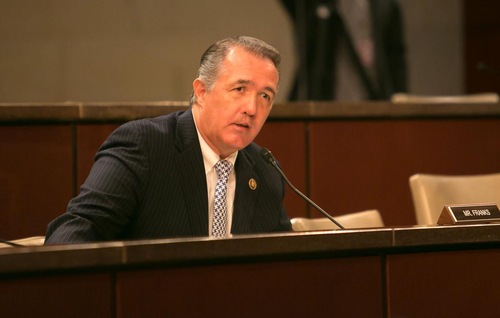 Rep. Trent Franks, Chairman of Subcommittee on the Constitution and Civil Justice
Rep. Trent Franks, Chairman of Subcommittee on the Constitution and Civil Justice, said, "Your efforts are not wasted here. Only God knows what fruits will come from what you talk here. You are being responsible, let your compassion and commitment to humanity prevail in this forum."
Rep. Tim Walz thanks the witnesses for describing their painful experiences.
Rep. Tim Walz said, "Thank you all for sharing your painful stories. It is important for people to know the torture. I would have never imagined in my life that as a United States Congressman, that I would have to defend the United States position that torture is unacceptable in all forms in any situations."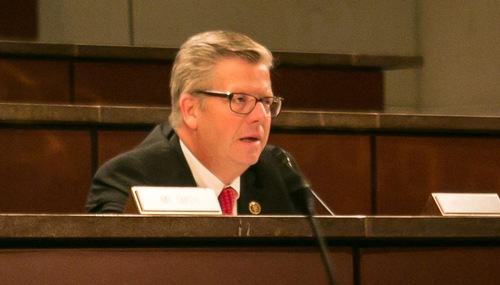 Rep. Randy Hultgren appreciates practitioner Yin for her courage.
Rep. Randy Hultgren asked practitioner Yin in the hearing, "Is Masanjia still in operation today? Is it used to detain Falun Gong practitioners? Do you know if Falun Gong practitioners are currently detained there and suffer the same kind torture and abuse as you did?"
Practitioner Yin answered, "Yes. Falun Gong practitioner Li Zhongyuan from my hometown was sentenced to seven and half years in prison for filing a criminal complaint against Jiang Zemin half a month ago. My sister-in-law Liu Qingxiang was sentenced to three years in prison for raising awareness of the persecution by Qinghe District Court on April 10, 2014. Many practitioners I know suffer persecution in Masanjia Prison."
Tortured to the Verge of Death
Practitioner Yin was arrested seven times. She was tortured to the verge of death six of the seven times. She was incarcerated in labor camps three of those times.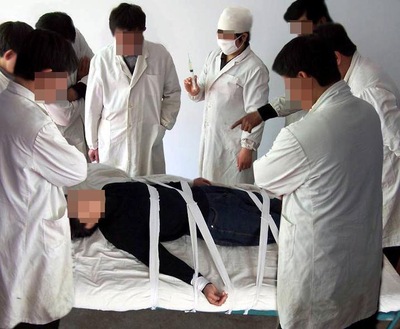 Torture re-enactment: injection of toxic drugs
She said, "In Masanjia, I was tied to a bed and injected with unknown drugs for over two months. As a result, I could not see for a short period. I was force-fed many times, leading to the verge of death."
"I was detained at Liaoyang Forced Labor Camp for nine months from January to September 2000. After three days of forced labor, my hair turned grey. My menstrual period stopped within three months of detention."
"We had to load eight tons of steel bars onto trucks in a team of four. I also paved railroads and worked with asbestos and cement bags without a face mask. In the evening, we were not allowed to rest. We bound flowers until 2 am. My hands were so badly injured that my fingerprints disappeared. My entire body was in so much pain that I couldn't even climb up into bed at night."
Suffered Group Sexual Violence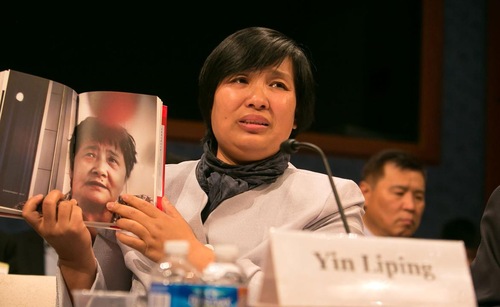 Practitioner Yin Liping narrated her shocking experience of group sexual violence in Shenyang "Black jail".
Practitioner Yin said, "I and other eight Falun Gong practitioners were escorted from Masanjia Labor Camp to a black jail on April 19, 2001. I will never forget that day. The black jail was specially for male inmates. We nine ladies were assigned to nine rooms separately. I was locked up in the first room. There was one big bed and a floor hanger. Four men were waiting in the room."
"The four men threw me on bed and held my limbs. One man in his 30s sat on me and beat my head fiercely. I became dizzy and passed out. When I regained consciousness, three men were lying beside me. I realized that I had been videotaped while I was sexually attacked and humiliated by those gangster-like inmates."
Ten Practitioners Known to Yin Personally Died From the Persecution
Practitioner Yin Liping said in the hearing, "Among the Falun Gong practitioners whom I know personally, ten were persecuted to death. Thirty developed mental disorders from the torture. Ms. Wang Jie was one of them. She died in my arms on April 21, 2012."
She showed the photo of Ms. Wang Jie, "She was arrested and accused of collecting evidence of the persecution of Falun Gong, and was sentenced to seven years in prison on March 5, 2003. Her case was documented by the United Nations Commission on Human Rights. She had bladder cancer as a result of the torture she suffered in the 7-year jail term. The day before she died, it was her daughter's birthday. Her sister kept calling her and saying, 'Wang Jie, please don't die today. It is your daughter's birthday. How can she live on if you die today?' I don't know if it was heaven's will or hers, but she died around 9 a.m. the next morning in my arms."
Lawsuit Against Jiang Zemin and His Followers
Practitioner Yin said, "Jiang Zemin conducted genocide policy against Falun Gong. For those not giving up their belief, being beaten to death is counted as suicide. Jiang abused his power in initiating and continuing the brutal persecution."
She handed over a list of perpetrators involved in persecuting her to the CECC. She said, "All perpetrators involved must be brought to justice." She has mailed a criminal complaint against Jiang to the Supreme People's Procuratorate in Beijing.
Background
In 1999, Jiang Zemin, as head of the Chinese Communist Party, overrode other Politburo standing committee members and launched the violent suppression of Falun Gong.
The persecution has led to the deaths of many Falun Gong practitioners in the past 16 years. More have been tortured for their belief and even killed for their organs. Jiang Zemin is directly responsible for the inception and continuation of the brutal persecution.
Under his personal direction, the Chinese Communist Party established an extralegal security organ, the "610 Office," on June 10, 1999. The organization overrides police forces and the judicial system in carrying out Jiang's directive regarding Falun Gong: to ruin their reputations, cut off their financial resources, and destroy them physically.
Chinese law allows for citizens to be plaintiffs in criminal cases, and many practitioners are now exercising that right to file criminal complaints against the former dictator.