Over 2,400 in Sichuan Participate in Reporting Jiang Zemin's Crimes
March 02, 2016 | By a Falun Gong practitioner in Sichuan, China
(Minghui.org) More people in China are becoming aware of the persecution of Falun Gong and supporting practitioners' efforts to bring it to an end and to prosecute Jiang Zemin, the former Chinese leader who initiated the violent suppression of the spiritual practice.
In Meishan, Sichuan Province, 2,476 people have signed forms reporting Jiang Zemin's crimes to the Supreme People's Procuratorate and Supreme People's Court between November 2015 and the end of January 2016.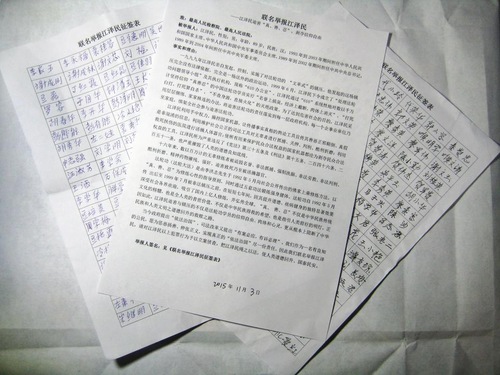 Signatures of 240 people in Meishan reporting Jiang Zemin's crimes (November to mid-December 2015)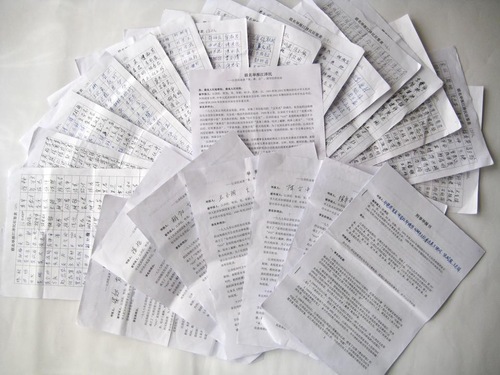 Signatures of 1,867 people in Meishan reporting Jiang Zemin's crimes (late December 2015 to mid-January 2016)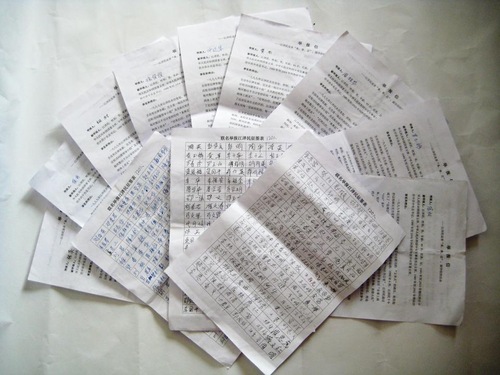 Signatures of 369 people in Meishan reporting Jiang Zemin's crimes (late January 2016)
In collecting these signatures, practitioners met many people who were eager to support their effort.
A farmer selling vegetables in a market even took a copy of the petition form to a tea shop in his town to let more people sign it.
A local resident said, "Jiang Zemin will get retribution for his crimes!" He said he visited Taiwan before and saw people collecting signatures to report Jiang's crimes at tourist hotspots. When asked if he would participate, he said right away, "Sure! Use my real name."
Background
In 1999, Jiang Zemin, as head of the Chinese Communist Party, overrode other Politburo standing committee members and launched the violent suppression of Falun Gong.
The persecution has led to the deaths of many Falun Gong practitioners in the past 16 years. More have been tortured for their belief and even killed for their organs. Jiang Zemin is directly responsible for the inception and continuation of the brutal persecution.
Under his personal direction, the Chinese Communist Party established an extralegal security organ, the "610 Office," on June 10, 1999. The organization overrides police forces and the judicial system in carrying out Jiang's directive regarding Falun Gong: to ruin their reputations, cut off their financial resources, and destroy them physically.
Chinese law allows for citizens to be plaintiffs in criminal cases, and many practitioners are now exercising that right to file criminal complaints against the former dictator. The law also allows people to file reporting criminal cases without need of using true names. Many practitioners encourage people to join the effort to report Jiang's crimes and stop the persecution.