Newsweek Article Exposes China's State-Sanctioned Organ Harvesting from Prisoners of Conscience
(Minghui.org) An opinion article published in Newsweek magazine on February 1 pointed out that "leaders in the international medical community, government officials and organizations" believe the existence of state-sanctioned organ harvesting from prisoners of conscience in China.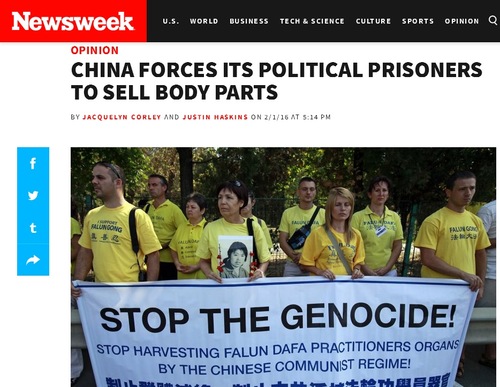 Newsweek publishes opinion article on illegal organ trade in China
The article says that many religious and spiritual groups in China, including Christians, Tibetans, and "especially followers of Falun Gong...have made allegations of extreme abuse against the Chinese government, including forced organ harvesting, since the 1990s."
The article introduced the independent investigations by author Ethan Gutmann, documentarian Ken Stone, and human right activist and former member of the Canadian House of Commons David Kilgour, which all reveal that the claims made by Chinese dissident groups were true.
These investigations have led to several books, including The Slaughter: Mass Killings, Organ Harvesting, and China's Secret Solution to Its Dissident Problem by Ethan Gutmann, and Bloody Harvest: The Killing of Falun Gong for Their Organs, and film documentary Hard to Believe.
The article says, "In December 2014, the Chinese government announced it would no longer harvest organs from prisoners who have been executed, but Doctors Against Forced Organ Harvesting says data show organ donations in China have actually increased, which seems extremely unlikely if the practice has truly ceased, and it says China still refuses to commit to ending organ harvesting from prisoners of conscience, such as some Christians and Falun Gong."
The article quotes Professor Katrina Bramstedt from Bond University in Australia, who said, "It is known that Chinese surgeons perform the removal procedure [on political prisoners] and sometimes the 'donor' has still been alive during this process—the organ-removal process is what actually kills them."
Jacquelyn Corley, the author of the article and a neurological surgery resident at Duke University Medical Center, believes that "U.S. leaders must make it clear to Chinese officials prisoner organ harvesting, as it is currently practiced, is unethical and must not be tolerated under any circumstances."
"Without consistent pressure from the United States and other nations and international governing bodies, it's unlikely this humanitarian crisis will end," the author concluded.