Over 1,000 People in Sanhe City Sign Petition Supporting Prosecution of Jiang Zemin
February 26, 2016 | By a Minghui correspondent in Hebei Province, China
(Minghui.org) More than 200,000 Falun Gong practitioners and their family members have filed criminal complaints against Jiang Zemin with the Supreme People's Procuratorate and the Supreme People's Court since the end of May 2015.
Jiang is the former head of the Chinese communist regime who launched the violent persecution of Falun Gong in China in 1999. Since last May, many Chinese citizens have joined the effort to report Jiang's crimes and are actively supporting Falun Gong practitioners' efforts to bring Jiang to justice.
Over a Thousand People in Sanhe City Sign Petition
After Sanhe City residents were told the facts about Falun Gong and of the brutal 16-year persecution of the practice, many expressed their support for suing the former dictator. By early February 2016, a total of 1,121 people in Sanhe City, Hebei Province, had signed or put their fingerprints on the petition to show their support for the lawsuits.
Most importantly, these people urged the court and the Procuratorate to look into the deaths of practitioners Liu Shujuan and Zhang Yushu, as well as the injuries to practitioner Jia Xueyun, which Jia sustained due to persecution. They demand that the courts punish Jiang Zemin and immediately stop the persecution of Falun Gong.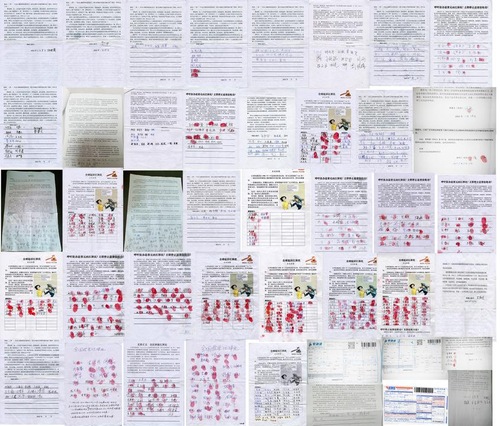 Petition bearing signatures and fingerprints of Sanhe City residents, calling to bring former dictator Jiang Zemin to justice
People Voice Their Opinions
Many who signed the petition expressed their feelings for bringing Jiang to justice:
"We have wanted to sue Jiang for a long time. Everything he did was morally corrupt. We lost our jobs because of him," said a laid-off worker.
"I want to sue him for his giving away the nation's territory," said a retired worker.
"I want to sue Jiang. He persecuted so many people and caused their deaths. He is just evil," said a 70-year-old farmer.
"Jiang harmed China and the Chinese people. He is truly a traitor," said another person who signed the petition.
"You Falun Gong people did well. Suing him is great. He will be known in history as a criminal," said a clothing merchant.
"Jiang Zemin is without shame. It is a good idea to sue him. Falun Gong practitioners are remarkable for steadfastly upholding their belief," said a laborer.
"If everyone acts like Falun Gong practitioners do and discipline themselves, the society will have no need for police. Let's sue Jiang. The whole nation should sue him. The terrible situation in China today is all his fault," said another worker.
Background
In 1999, Jiang Zemin, as head of the Chinese Communist Party, overrode other Politburo standing committee members and launched the violent suppression of Falun Gong.
The persecution has led to the deaths of many Falun Gong practitioners in the past 16 years. More have been tortured for their belief and even killed for their organs. Jiang Zemin is directly responsible for the inception and continuation of the brutal persecution.
Under his personal direction, the Chinese Communist Party established an extralegal security organ, the "610 Office," on June 10, 1999. The organization overrides police forces and the judicial system in carrying out Jiang's directive regarding Falun Gong: to ruin their reputations, cut off their financial resources, and destroy them physically.
Chinese law now allows for citizens to be plaintiffs in criminal cases, and many practitioners are exercising that right to file criminal complaints against the former dictator.
The movement to bring Jiang to justice has been widely applauded throughout the world. In Asia,1.23 million people from seven countries and/or regions, including Taiwan, Korea, Japan, Hong Kong and Macaw, Malaysia, Indonesia, and Singapore signed the petition to show their support.