Hundreds Gather in Hong Kong to Wish Master Li Hongzhi a Happy New Year
(Minghui.org) On the first day of the Chinese New Year, hundreds of Falun Gong practitioners gathered at Edinburgh Place, Hong Kong, to send greetings to the founder of Falun Gong, Master Li Hongzhi. Later that day, practitioners set up booths at tourist spots throughout the area, to introduce Falun Gong to more people, especially visitors from mainland China.
The banners read "We wish Master Li Hongzhi a Happy New Year" and "Thank you, Master"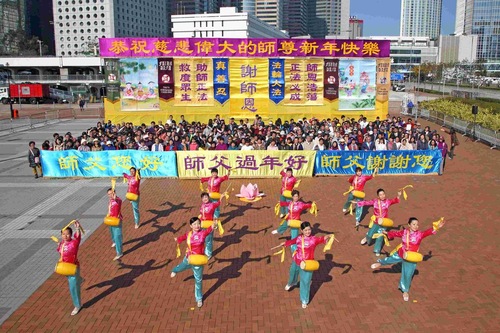 Waist drum performance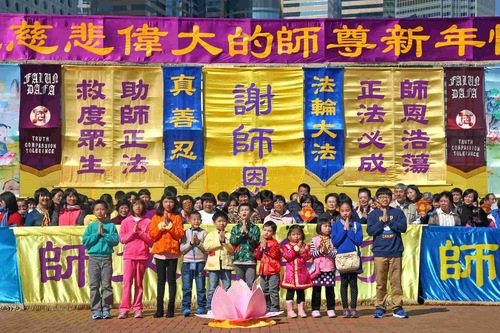 Young practitioners wish Master Li a Happy New Year
The New Year's greeting card to Master Li from Hong Kong practitioners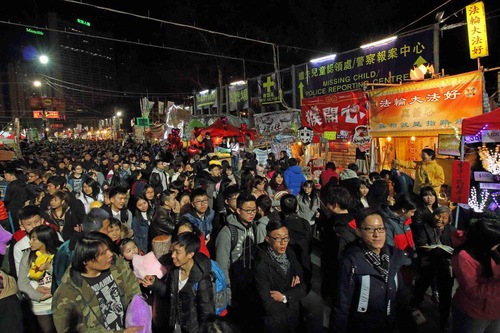 Practitioners' booth in the well attended New Year's celebration in Victoria Park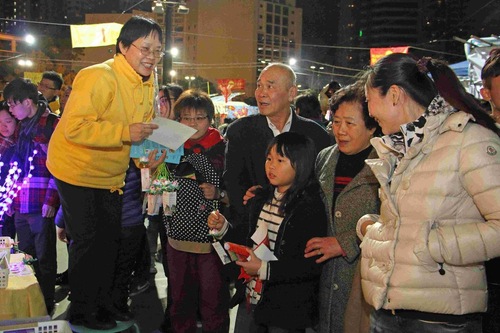 A family of several generations is happy to receive information about Falun Gong at the Victoria Park New Year's celebration
Since 2009, practitioners have had a booth at the several-days-long New Year celebration in Victoria Park every year. While most of the practitioners at this year's event are from Hong Kong, some came all the way from Taiwan and even mainland China to participate in the New Year's celebration.
Ms. Hu, in charge of the Falun Gong booth, remarked that many more Chinese tourists this year are taking the initiative to approach practitioners, eager to ask questions and to read Falun Gong materials.
"People really appreciated our handmade paper lotus flowers," Ms. Hu noted. "Some people from China also ask us for additional information about Falun Gong and the persecution. Quite a few tourists wanted to learn the exercises, and bought Falun Gong books and the video with the exercise instructions. Within one day, we sold 10,000 Hong Kong dollars worth of materials (roughly 1,500 U.S. dollars). One Chinese man bought four copies of Zhuan Falun from us," Ms. Hu said.
She added, "In previous years, some Chinese tourists would try to avoid us. Obviously they were deceived by the Chinese government's propaganda against Falun Gong. But this year, large numbers of people came to our booth. They stopped by and picked up souvenirs, many of which display the words, "Falun Dafa is good."
Practitioner Xiao Hong said that many young people stopped at the booth and encouraged practitioners to keep up the good job of peaceful resistance against the 16-year-plus persecution in China. One young man even shouted in front of the booth: "I love Falun Gong!"
There were so many people wanting information that Xiao Hong handed out Falun Gong flyers all night until 5:30 a.m. the next morning!
Practitioner Arong helped man the booth two hours a day for three days of the New Year's celebration, passing out countless flyers over the course of the festival. What encouraged her the most is that she successfully convinced more than 400 tourists from China to quit the Communist Party and its associated organizations.
"Many Chinese have recognized the evil nature of the Party. They are glad to have an opportunity to publish their announcement of quitting the Party, with our help. People want a bright future for China without the Communist Party," Arong said.
Practitioner Mr. Chou has also observed significant changes in people's attitude toward Falun Gong.
"It has become much easier to pass out our Falun Gong newspaper now. And we can hand out a couple of thousand copies of Minghui Weekly every week," remarked Mr. Chou.