Seattle, Washington: Falun Dafa in Macy's Holiday Parade
December 01, 2016 | By a Falun Dafa practitioner in Seattle, Washington
(Minghui.org) Falun Dafa practitioners' Tian Guo Marching Band was invited to participate in the 26th annual My Macy's Holiday Parade in Seattle on November 25, 2016. The band was the only group composed mainly of ethnic Chinese. Their performance was very well received, bringing Dafa's message of Truthfulness, Compassion and Forbearance to an enthusiastic audience.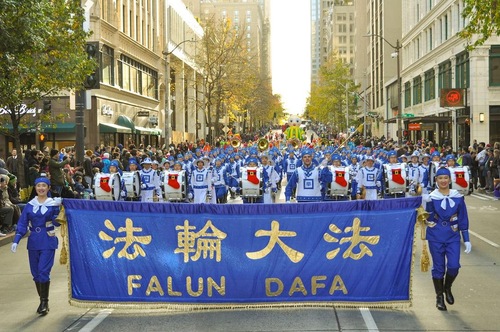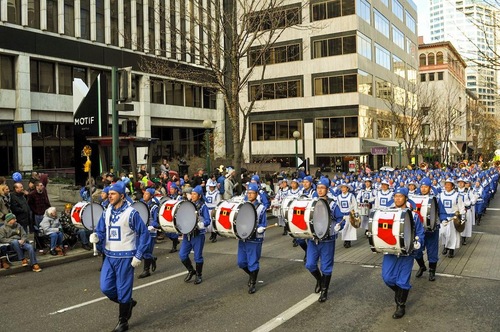 The Tian Guo Marching Band, with 130 Falun Dafa practitioners from Seattle, San Francisco, New York and Vancouver, march in the 26th My Macy's Holiday Parade in Seattle.
The grand parade, with nearly 60 groups participating, wound through 20 streets lined with spectators and decorated in colorful holiday themes. Dressed in blue and white traditional Chinese costumes, the Tian Guo Marching Band played their resonant, spirited music to enthusiastic cheers and applause from the spectators.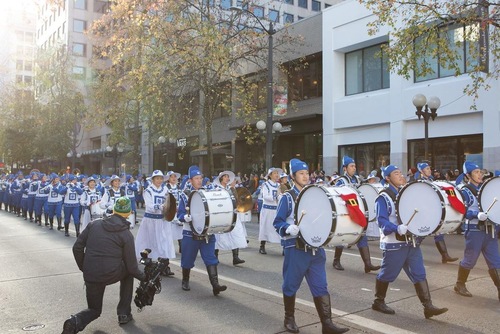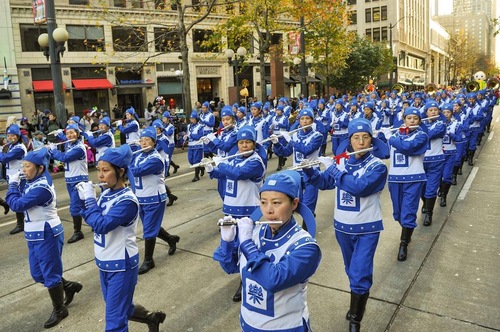 Spectators were thrilled by the Tian Guo Marching Band.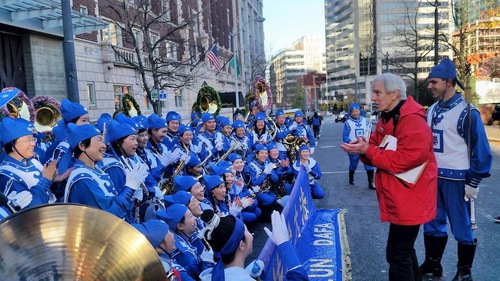 Mr. Todd Knaeble, Productions Manager for the parade, told the members of the Tian Guo Marching Band, "You're great! Marvelous! Thank you for your outstanding performance! We hope you will come again next year!"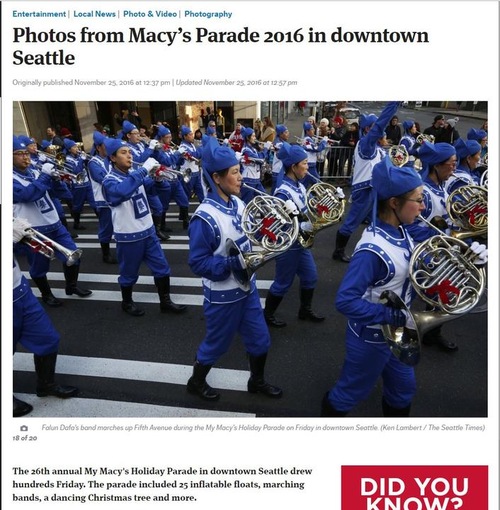 Seattle Times photo: "Falun Dafa's band marches up Fifth Avenue during the My Macy's Holiday Parade on Friday in downtown Seattle"
Tony, a spectator, told a reporter, "Falun Dafa's marching band is great! I have been watching Macy's Parade for the past 26 years. This is the best band I have ever seen."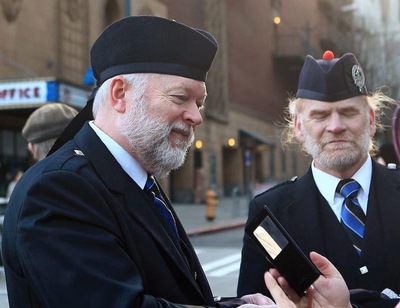 Mr. Michael Piper (left) said he has participated in the parade for years, but has never seen such a unique band. "Their performance is very professional! I love it! I'm happy to see them here!" Mr. Piper was sorry to learn that Falun Dafa practitioners are persecuted for their beliefs in China.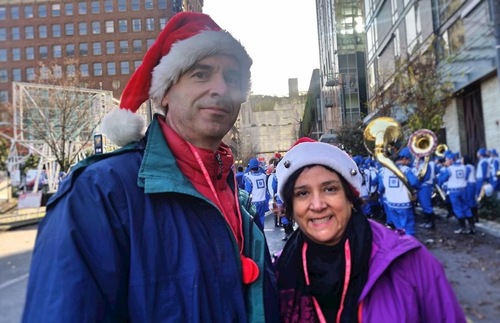 Loretta and her husband said the persecution in China shouldn't have happened. They thanked Falun Dafa practitioners for their great performance in the parade.
Dr. Wu Shuhan, a Chinese immigrant and medical doctor, was excited to see the band. She said, "I have been living here for years. This is the first time I have come to see the parade. Falun Dafa's band is excellent! It has exceeded expectations and brought joy to Thanksgiving!"
A Chinese tourist learned more about the persecution in China and decided to quit the communist organizations.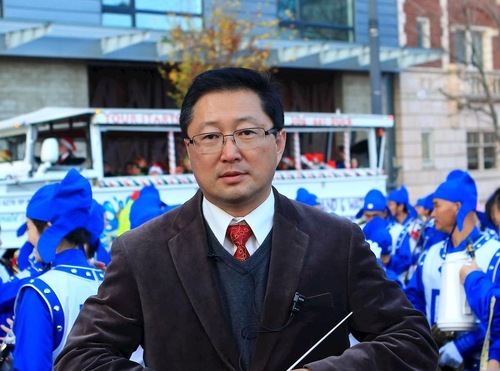 Mr. Chen Rui, director of the Tian Guo Marching Band
Mr. Chen Rui, director of the Tian Guo Marching Band, said he used to be sickly and weak, and would never have been able to be part of a band. He said that Falun Dafa brought him great health and uplifted his spirit. He now plays trombone in the band. He said, "Good music can improve one's physical and spiritual health. In ancient Chinese culture, music and medicine have much in common. Both can treat illness. We hope to bring health and healing to society and people's hearts with our original and traditional music."
Ms. Chen Zhiping, coordinator of the Falun Dafa Association of the Northwest U.S.A., said, "The My Macy's Parade is the best among all holiday parades in Seattle. It's very selective in who they ask to participate. The Tian Guo Marching Band has received many awards and favorable comments in recent years. It's one of the very few large Chinese-American bands with a great quality performance. That's why it has been selected, and had the opportunity to present the beauty of Falun Dafa today."