Practitioners Encouraged by Speeches at 2016 Taiwan Falun Dafa Experience Sharing Conference
November 30, 2016 | By Xia Yun, a Minghui correspondent in Taiwan
(Minghui.org) Over 7,000 Falun Dafa practitioners from the Asia-Pacific region gathered on November 27 for the 2016 Annual Falun Dafa Experience Sharing Conference in Taipei, Taiwan. Hearing practitioners' stories and how they cultivated their hearts and minds in the face of challenges provided encouragement to those in the audience, who were fellow practitioners from all walks of life.
"Our Hearts Are at Ease"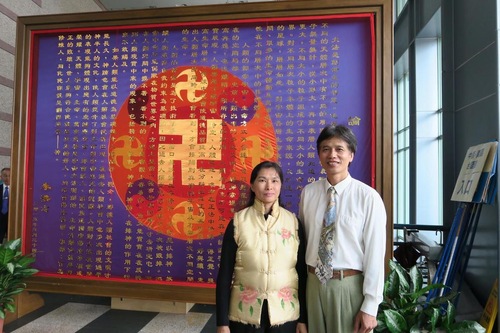 Mr. Huang Jiaren and Ms. Li Xuezhen say they get along much better since learning Falun Dafa.
Mr. Huang Jiaren and Ms. Li Xuezhen, practitioners for 14 years, were happy to attend this year's conference. Three of their family members are also practitioners.
Ms. Li, 55, used to be riddled with health problems, including migraines, stomach pain, shoulder pain, low blood pressure, hypoglycemia, eczema, and gynecological diseases. She once suggested that her husband leave her, worried that she would become too much of a burden for him. A friend of hers who practiced Chinese medicine once indicated that she looked like she was dying.
A month after she began practicing Falun Dafa, her children asked her, "Why haven't you asked us to give you a massage for a long time?" It was then that she realized her health had improved. "In about three months, all of my symptoms were gone, and I have been a different person ever since," she said.
The couple also fought a lot before they became practitioners, as they were facing a lot of pressure from each other's family. After learning the practice, their attitudes changed. "I stopped judging and questioning others when things didn't go my way," said Ms. Li. "I tried to be considerate and understanding of others. I became rational and positive. My interaction with my children is wonderful now, and my husband and I stopped fighting. We respect each other. When a conflict arises, we look for a good time to talk it through calmly and reasonably." She said she couldn't be happier.
Mr. Huang is a perfectionist and his friends all thought that he was stern. Since becoming a practitioner, his wife says, "He is much more approachable. Our hearts are assured and at ease."
Severe Asthma Suddenly Disappears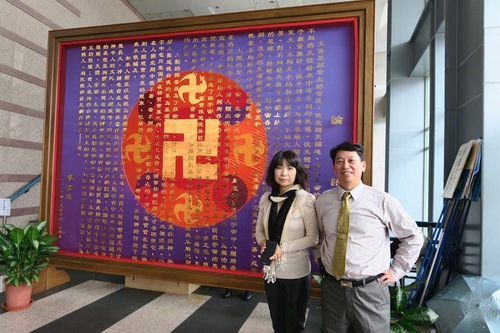 Mr. Zhuang Zhaoren has been a practitioner for 14 years. He and his wife attended the conference on November 27.
Mr. Zhuang Zhaoren became a practitioner in 2002, after a friend gave him a copy of the book Zhuan Falun. At the time he had very severe asthma and had to carry an inhaler with him at all times. It was so bad that at one point he had to use the inhaler at four times the suggested dosage. His father is a doctor but couldn't do anything to help him. He often felt desperate, thinking, "The air is right there, yet I cannot get it, and no one can do anything to help me."
He decided to join other practitioners at an outdoor exercise site on a day in February. He was amazed to find that the cold air didn't trigger his asthma that day, and he has not needed his inhaler since. His wife and child eventually joined him in the practice.
When Mr. Zhuang heard fellow practitioners share at the conference about memorizing Zhuan Falun, he realized he was lagging behind in this regard. He had once tried to memorize the book, but couldn't keep it up. He blamed his poor memory and was resigned to reading the book repeatedly instead. After the conference, he realized that his human notions had been blocking him.
Mr. Zhuang said he shed tears of gratitude when he heard Master Li Hongzhi's congratulatory message to the conference. It made him feel determined to make greater strides on the path ahead.