Imprisoned Woman Abused and in Dire Condition, Family and Lawyers Given Runaround on Appeal
Oct. 29, 2016 | By a Minghui correspondent in Heilongjiang Province, China
(Minghui.org) "I could die any time. My headache is the worst at night, and I often pass out due to the pain. My chest hurts so much when I swallow that I just can't eat or drink."
Above is what Ms. Li Erying told her family during a recent visit on October 24.

Ms. Li Erying
The Qiqihar City resident is serving four years in prison for refusing to renounce Falun Gong, a spiritual discipline being persecuted by the Chinese communist regime.
Ms. Li's family was only allowed to see her four times since her admission to Heilongjiang Women's Prison on June 8, 2016. In the meantime, the prison had used various excuses to keep her lawyers from meeting with her.
Her family and lawyers were given the run-around when they complained about the prison's violation of legal procedures. Their requests to hold her perpetrators responsible and to grant her medical parole have also been repeatedly denied.
Ms. Li is now held at the prison hospital, where she is punitively force fed every day.
Brutally Tortured
Ms. Li was last arrested for her belief on November 4, 2015 and secretly tried without her family's knowledge on March 4, 2016, for "using a cult organization to undermine law enforcement," a common accusation employed by the Chinese communist regime.
Because she refused to renounce her faith, Ms. Li was once tied with rope and hung up in the air for two straight days. Her hands swelled terribly.
She was also frequently beaten by inmates assigned to monitor her. Her chest and abdomen hurt from the endless beating. The pain was worse when she ate, so she could not eat normally and was force fed frequently.
Only 4 Family Visits Allowed in 4+ Months
As of today, Ms. Li was only granted four family visits since her prison admission on June 8.
Ms. Li needed support to walk when her family saw her in prison for the first time on August 1. She told them about how she was beaten, but when her family sought justice for her, the prison guards claimed that she had hurt herself while fighting with other inmates.
The prison also denied her family's visit requests in the next few weeks. It wasn't until August 25 that her family was able to see her again. Ms. Li pointed to an inmate named Fan Xiumei and said, "She beat me all the time." Fan replied, "I had no choice but beat you; otherwise the guards would punish me."
Ms. Li's family kept appealing to the prison to hold responsible her perpetrators, but without any success. When they were finally allowed to see her for the third time on September 26, the guards played loud music to drown out the conversation. Though her family couldn't hear well what Ms. Li had to tell them, they nonetheless noticed she was in a dire condition.
When her family saw her most recently on October 24, guard Ge Xuehong admitted that Ms. Li has been diagnosed with high blood pressure and heart problems. Ge, however, denied Ms. Li was ever tortured and blamed Ms. Li for her own health problems.
Lawyers Denied Meetings with Client
Ms. Li's lawyers have been turned away from meeting with her.
She initially hired only one lawyer, who was denied a meeting with her on September 19, when he visited the prison.
The guards claimed that the simultaneous presence of two lawyers is required under prison law. The Prison Administration Bureau (PAB) sided with the prison when the attorney called to complain.
Ms. Li's family got her another lawyer, but the prison turned down the meeting request with an excuse that they needed 48 hours to approve the new lawyer. The two lawyers returned two days later, but the person in charge of approving visits lied and said that she had just quit her job.
To bring the perpetrators to justice and seek medical attention for Ms. Li, her brother, and sister, as well as her lawyers, appealed to various departments. But they were given the run-around.
Prison Administration Bureau Is Indifferent
On September 23, the attorneys reported the legal procedure violations by the prison to the PAB, which pushed the case to the Procuratorate's liaison office at the prison.
The lawyers called the PAB on September 26 and were told, "If the prison prohibits meetings with your client, we trust that it is following the law in doing so." Yet the law protects defense attorneys' right to meet with their clients.
In the morning of September 27, Ms. Li's sister, brother and lawyers sent the problem to the PAB again. A receptionist pushed the issue to the prison 610 Office when he saw the 610 Office director Yang Libin emerge after a meeting at the PAB.
Ms. Li's family was surprised since Yang was the same person who told the lawyers that she had quit her job. Yang claimed she had another meeting to catch and left.
Ms. Li's sister was overcome by what her family went through and passed out. She didn't come to until more than one hour later. Instead of calling for emergency services, the staff had a police officer videotape the sister.
Just then, more than two dozen policemen finished a meeting and walked downstairs to the lobby. They passed by the sister as if they saw nothing.
The lawyers called 911 and a doctor resuscitated her.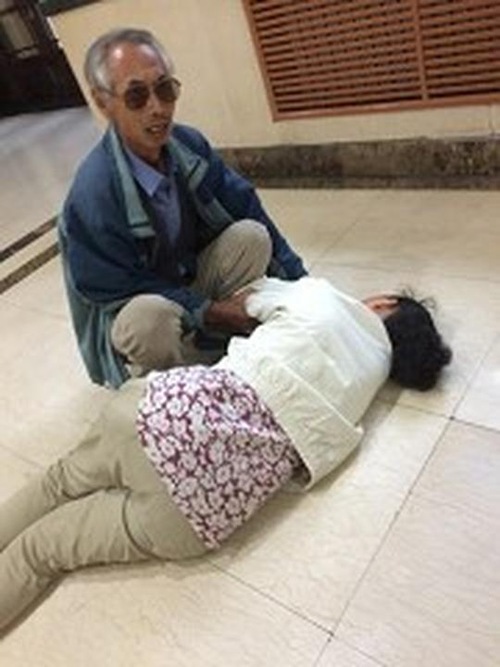 Ms. Li's sister passed out on the floor
Justice Department Apathetic
Ms. Li's family and her lawyers then went to the Justice Department that same afternoon to appeal for their sister's release. But security guards stopped them at the door. After arguing, they were sent to the Visitors' Office.
The person in charge there told the lawyers that they were prohibited from representing Falun Gong practitioners. He thrust them out of the office, saying, "I don't want to talk to lawyers. You can sue me if you want!"
He told the family: "We don't care about you. You can file lawsuits against the 610 Office anywhere you like."
The family was stunned. They did not expect such a response from the Department of Justice.
Persons Responsible for the Persecution of Ms. Li
Shi Genghui: deputy warden, +86-451-80639066Ge Xuehong: deputy chief of No. 11th Monitoring Area, +86-451-86639041Yang Libin: director, prison 610 Office, +86-451-86639028
Related Reports:
'You're an Adult, So We Don't Need to Notify Your Family of Your Trial'
Falun Gong Practitioner Abused in Heilongjiang Women's Prison