Macau: Falun Gong Rally Sets the Stage for Visit by China's Premier
October 12, 2016 | By a Falun Gong practitioner in Macau
(Minghui.org) Falun Gong practitioners in Macau held a rally in front of Saint Dominic's Church on the afternoon of October 9. China's Premier Li Keqiang begins a three-day visit October 10.
Rally participants called for an end to the persecution of Falun Gong and for former Chinese leader Jiang Zemin to be brought to justice for initiating and directing the campaign of persecution that has continued for over 17 years.
Many locals supported practitioners' efforts, and many Chinese tourists stopped to take a close look at the display boards, as they are unable to get access to uncensored information in mainland China.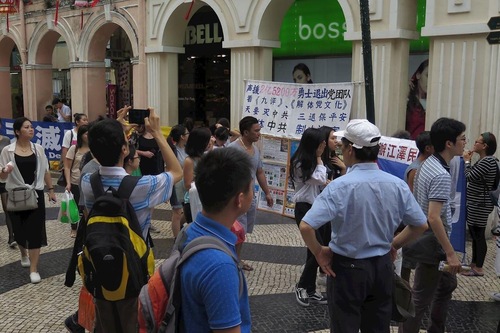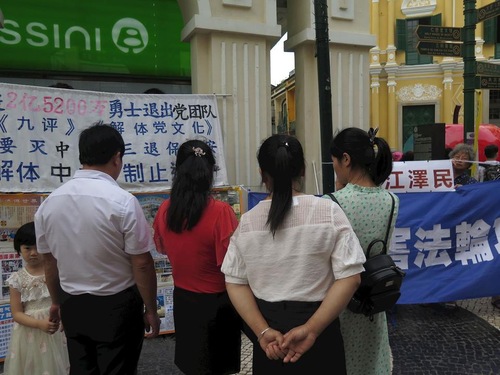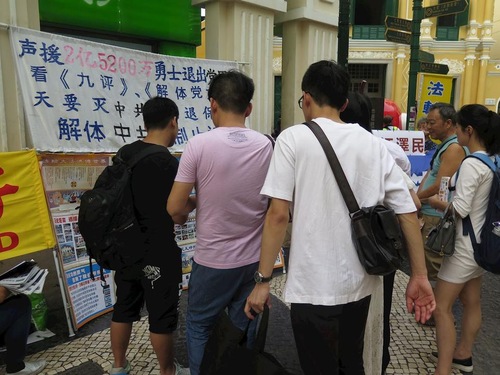 Local residents and Chinese tourists learn about Falun Gong and the persecution in China
Mr. Huang, a local resident, has paid attention to the persecution of Falun Gong for a period of time. He said that he strongly supports bringing Jiang Zemin to justice, because Jiang persecutes good people.
He was echoed by another resident, Mr. Chen, who also supports bringing Jiang to justice. Mr. Chen also said that he saw police officers in the United States protect Falun Gong practitioners from being assaulted by thugs likely hired by the Chinese Consulate to raise trouble.
Both residents signed petitions calling for bringing Jiang to justice to be mailed to China's Supreme Court and Procuratorate.