Minghui Human Rights Reports 2015: Illegal Sentencing and Imprisonment
(Minghui.org) The persecution of Falun Gong in China continued in 2015. Having dismantled its system of forced labor (also known as "reeducation through labor") in 2013, the regime has compensated by sentencing more practitioners to prison.
Summary
Based on reports published on Minghui.org, 878 Falun Gong practitioners were sentenced to prison in China in 2015. Among them, 252 were men, 536 were women, and the genders of the remaining 90 are unknown.
These practitioners are from 29 provinces and provincial-level cities: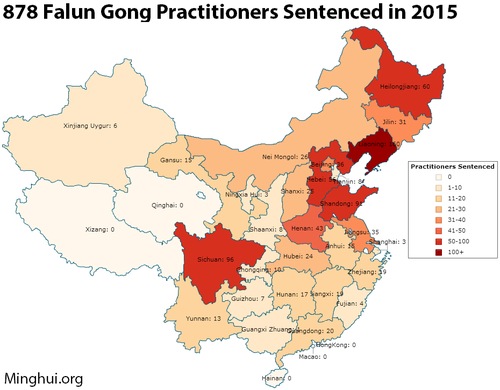 Note: Of these 878 cases, 27 did not have province information.
Among these sentenced practitioners, the ages of 356 are known. They ranged from Bian Xiaohui (age 23) and Wang Jiaguo (age 81). Below is the age distribution: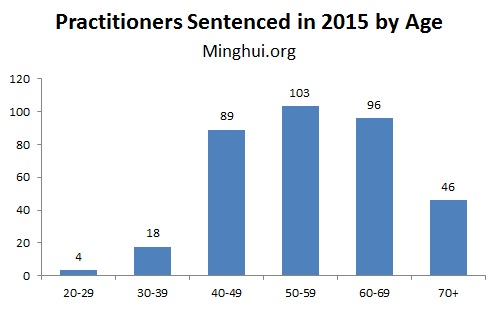 The lengths of sentence ranged from four months to twelve years, with an average term of three years and eleven months.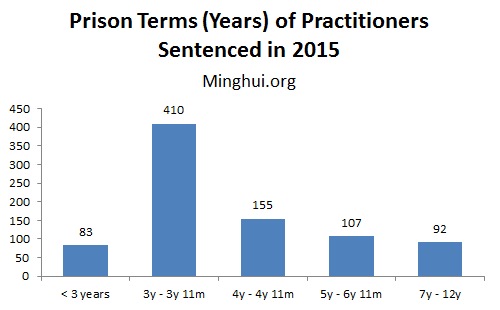 The entire process consists of many steps: arrest, interrogation (often involving torture), searches of homes, trial, sentencing, appeal, and imprisonment. Below, we overview how practitioners were detained and tortured for their belief, abuses carried out by the justice system, the practitioners' suffering in prisons, and how we can end this brutality.
Part I: Suppressed for Their Belief
Despite their contributions to society in their various occupations in academia, law, engineering, business, law enforcement, and so on–these practitioners were detained for their belief in the principles taught by Falun Gong: "Truthfulness-Compassion-Forbearance."
One example is Xiong Huifeng, 77, former deputy director of the 835 Institute in the Ministry of Aerospace Industry. As a board member of the Chinese Astronautics Society, he played an instrumental role in China's aerospace field. In addition, he began to provide financial support in 1995 to help children finish their educations.
Nonetheless, Xiong was sentenced to 7.5 years of imprisonment by Nankai Court in Tianjin in December 2015. His appeal has not yet been heard by a higher court.
Zhu Yujun, a procuratorial officer in Jilin City of Jilin Province, was sentenced to five years and imprisoned in December.
Cui Huifang, 52, herself worked at Jiamusi Labor Camp before retiring in January 2015. After working as a police officer for many years, Cui learned about Falun Gong through interaction with detained practitioners. Curiosity led her to read Falun Gong books, which she said improved her mental and physical health.
Cui was later arrested, held at the Jiamusi Detention Center, and sentenced to two years of imprisonment.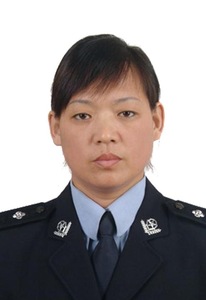 Cui Huifang, a former police officer, learned Falun Gong after interacting with practitioners who were held in the labor camp where she worked.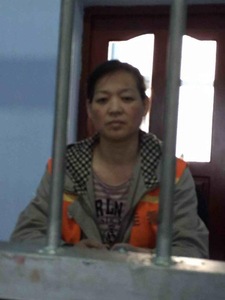 Cui Huifang, held at the Jiamusi Detention Center.
Causes of Arrest and Detention
When practitioners tell others about the persecution of Falun Gong in general, they are sometimes arrested and detained.
These arrests violate the Chinese Constitution, which states,
"Citizens of the People's Republic of China enjoy freedom of speech, of the press, of assembly, of association, of procession, and of demonstration." (Article 35)
"Citizens of the People's Republic of China enjoy freedom of religious belief." (Article 36)
Another reason many practitioners were arrested in recent months is their filing of criminal complaints against Jiang Zemin, the former Chinese Communist Party leader who started the persecution of Falun Gong in July 1999. Nearly 200,000 criminal complaints have been filed with the Supreme People's Court and Procuratorate since May 2015.
The criminal complaints are permitted by Article 41 of the Chinese Constitution: "Citizens of the People's Republic of China have the right to criticize and make suggestions regarding any State organ or functionary. Citizens have the right to make to relevant State organs complaints or charges against, or exposures of, any State organ or functionary for violation of law or dereliction of duty."
Nonetheless, a large number of practitioners were arrested in retaliation for filing charges against Jiang. In Chaoyang City of Liaoning Province alone, more than 30 were detained for this reason. Cao Qicai, a resident of Harbin, Heilongjiang Province, was arrested in July and sentenced in a secret trial to four years of imprisonment.
Tortured in Detention
Police routinely torture practitioners during interrogation for detailed information, or to force them to turn in other practitioners.
A common torture method is the "iron chair," which was applied to Deng Lijuan and Chen Xiuyun, two practitioners who were arrested on August 4 for distributing flyers about Falun Gong and the persecution. Dunhua City police officers deprived them of sleep and tied them to "iron chairs." Whenever they closed their eyes, officers poured cold water on them, slapped them in the face, and pulled hard on their hair.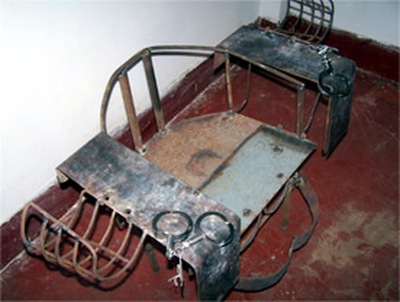 The "iron chair" is one torture device often applied to detained practitioners.
Another method, used by Zibo police in Shandong Province against practitioner Dai Dongwu, involves covering the victim's head with a heavy metal bucket and repeatedly hitting the bucket with metal rods. Dai suffered hearing loss as a result. Officers also struck him in the face and other areas, denied him toilet use, and force-fed him dirty water.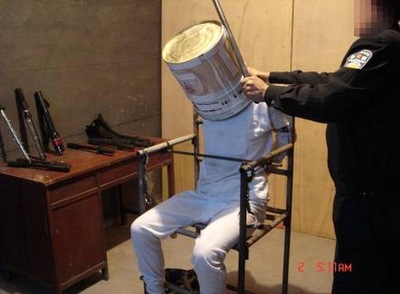 Torture illustration: Covering the victim's head with a metal bucket and hitting it with a metal rod to make excruciating noise.
Part II: Justice System Used as Tool in Party's Campaign
In most criminal trials of practitioners, the verdicts are predetermined by the 610 Office or its supervising agency, the Political and Legal Affairs Committee (PLAC). Created by the Communist Party's central leadership in 1999, the 610 Office reaches all levels of government and is tasked with eradicating Falun Gong.
When Wang Aihua and five other practitioners were tried on April 28 by the Youyang Court in Chongqing City, their lawyers found that the case had not been filed with the Procuratorate. That evening, the 610 Office provided a "supplementary letter." The defense lawyers were infuriated and asked, "What exactly is the 610 Office? Does it have any legal authority to accept a case and indict anyone, and trump the established legal process?"
In another example, practitioner Wu Hongwei was tried by the Yuancheng Court in Guangdong Province on November 27. Zhang Zanning, a well-known lawyer and a professor at Southeast University, defended him and argued, "The '610 Office' created by the former Chinese dictator to carry out the persecution of Falun Gong is an extralegal organization that overrides China's judicial system. The '610 Office' lacks legal basis and should have long been disbanded."
Secret Trials
Because laws are often bypassed or ignored for Falun Gong cases, trials are often held secretly at detention centers instead of courtrooms, and without notifying lawyers or family members. The verdicts are not provided to family members, either.
When Li Kai from Qinhuangdao City of Hebei Province had a hearing on September 7, and a trial on September 21, presiding judge Liu Yong did not notify his family members. After his family learned of his 3.5-year sentence and asked Judge Liu about the trial, Liu told them, "There was no need to inform you."
Che Pingping, an instructor from Jilin Institute of Physical Education, was arrested in October 2013. Her family and two lawyers contacted Judge Li Zhongcheng many times for a meeting, but they were always denied. In the end, Li met them on November 9, 2015 and said to them, "The trial is over. It is four years [of imprisonment]."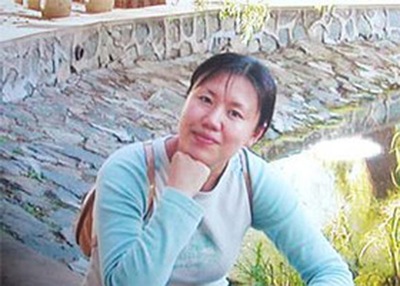 A court tried Che Pingping without notifying her lawyers or family members.
Violence in Court
In cases where lawyers and family members were present, officials occasionally threatened or even arrested them.
Three Falun Gong practitioners, Li Dongxu, Gao Jingqun, and Yu Ming, were tried by the Shenhe Court in Liaoning Province on April 22, 2015. After one practitioner was physically restrained, officials removed two lawyers from the hearing and choked one of them to unconsciousness.
After the lawyer regained consciousness, a bailiff shouted, "What we did to you is called law enforcement!"
When Mo Weiqiu was on trial at the Ninghe Court in Tianjin on December 2, her husband Li Guangyuan defended her. After the 30-minute trial concluded, however, Li was immediately arrested.
Similarly, when Li Yaping was tried by Jin'an Court in Fujian Province on September 8, officials prearranged some bystanders, but blocked Li's relatives from attending the trial, and arrested several other practitioners present, including 88-year-old Dong Shilin. Li was sentenced to 4.5 years.
Lawyers Threatened, Appeals Glossed Over
Outside the courtroom, officials also blocked and harassed practitioners' lawyers in many ways. For example, since lawyers from other cities often pleaded not guilty, officials often discouraged defendants from doing so and forced them to hire local lawyers instead.
After practitioner Xu Yongfan from Qinglong County in Hebei Province was arrested in November 2014, his family members hired a human rights lawyer who agreed to plead not guilty for him. The Qinglong 610 Office and other officials demanded that they replace him with a local, designated lawyer, promising a shorter sentence or probation in exchange.
After Xu's family agreed, the officials and the designated lawyer did not follow through with the arrangement. Xu was sentenced to seven years of imprisonment.
Even when practitioners appealed their sentences, their cases were either ignored, or a second trial was held hastily. After Yan Hong and eight other practitioners were tried on December 8, the presiding judge repeatedly interrupted defendants and did not allow them to read their prepared statements. The appeals hearing for these eight practitioners lasted only one hour, and all the original verdicts were sustained.
Part III: Nightmare Continues
After practitioners are sent to prisons, they are usually first kept in a temporary group for newcomers, where guards attempt to force them to renounce their faith. Later, they are divided into other divisions for forced labor. For steadfast practitioners, guards also assign inmates to monitor them at all times.
Prison officials often covered up such abuses. After practitioners were released, many revealed the mistreatment they had suffered to Minghui.org. For example, Meng Xianguang, Chen Xiu, and other practitioners were shocked with electric batons for three days on November 20. They had wounds and bruises all over their bodies, and were unable to walk or care for themselves.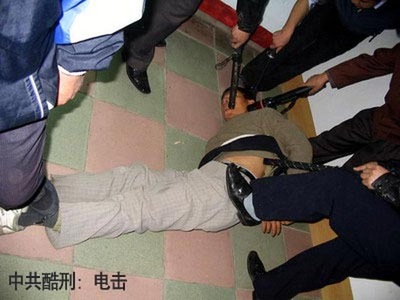 Torture illustration: Shocking with electric batons.
Repeated Detention and Torture
In January, Wang Jianfu and two other practitioners from Pinggu District in Beijing were arrested for distributing calendars containing information about Falun Gong and the persecution. Wang was sentenced to 7.5 years, while the other two were each sentenced to two years.
For telling others about Falun Gong, Wang was sentenced to eight years of imprisonment in 2002 and later released in 2009. The other two practitioners had also previously been held in labor camps and prisons for practicing Falun Gong.
Zhang Hongru, a software developer, was arrested in 2002 and released in 2011. However, he was arrested again in July and tried in November.
Software developer Zhang Hongru
The Pain of Family Members
Families of detained or imprisoned practitioners also suffer tremendously.
When Lu Yunfei and five other practitioners were tried in Lanzhou City, Gansu Province in October, their family members were in tears upon seeing them. Many of them had not seen the practitioners for over a year because their visitation requests had been continually denied.
Li Ying, an elementary school teacher in Binhai District of Tianjin, was detained for more than six months before her trial on November 5. During that time, her 80-year-old father died under the stress and terror. Her daughter was also left unattended.
Part IV: Ending the Atrocity
Imprisonment is just one of many forms of mistreatment facing practitioners in China. The list also includes forced labor, brainwashing, forced injection of psychiatric drugs, and others.
Although the forced labor camps have been closed, the 16-year-long suppression of Falun Gong still continues. However, more and more people have learned about the persecution and become supportive of practitioners.
When Cui, the retired labor camp officer, was sentenced for practicing Falun Gong, and many local residents signed petitions urging her release.
Signatures collected to support Cui Huifang.
In Tianjin and Cangzhou City, Hebei Province, about 5,000 people signed their names in support of nine practitioners who had been detained since August 2014.
The movement to prosecute Jiang Zemin and 200,000 criminal complaints filed against him in China have received support from citizens in other countries. In South Korea alone, 380,000 have signed petitions calling to bring Jiang to justice for initiating and directing the persecution.