Shen Yun Presents Stories of Hope and Inspiration across the United States
January 16, 2016 | By Minghui correspondent Xu Jing
(Minghui.org) Shen Yun Performing Arts opened its 2016 season with four touring companies criss-crossing the United States, performing in four cities and three states simultaneously. Audiences from San Jose to San Francisco and Detroit to Dallas have resonated with the show's profound messages and beautiful traditional culture presented through each masterful production.
From January 1-10, Shen Yun performed 26 shows in San Jose, California, Detroit, Michigan, Dallas, Texas, and San Francisco, California, often to sold-out houses.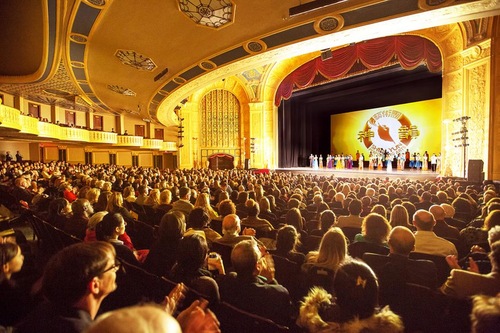 Shen Yun performance at the Detroit Opera House on January 2, 2016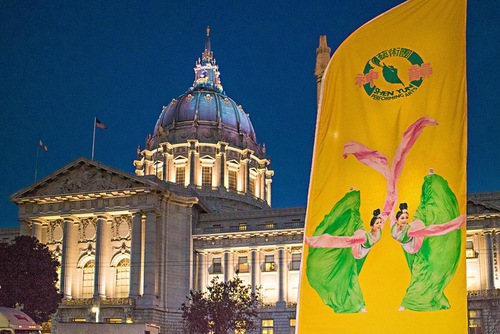 Shen Yun banner outside the War Memorial Opera House in San Francisco, CA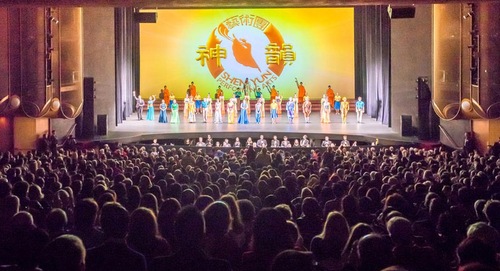 Curtain call at the San Jose Center for the Performing Arts in California
"An Exquisite Spiritual Initiation"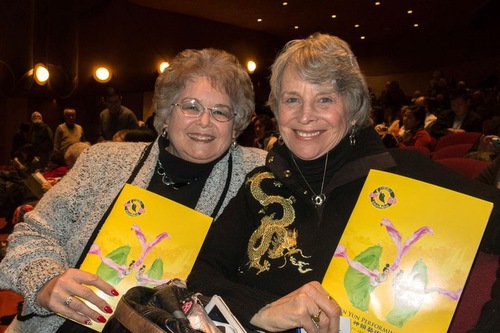 Sisters Lynn Pentz, event producer (right), and Rene Besold (left), former director of human resources and training
"Deeply inspiring...Exquisite. Just a magnificent piece of art," said event producer Lynn Pentz, who attended the performance with her sister Rene Besold.
"It speaks to the highest in us. Here is the heart and the soul being uplifted in the art," Ms. Pentz said.
Her sister Rene, a former director of human resources and training, also thoroughly enjoyed the show. "It was deep and profound. It is really a remarkable experience," she said. "That's probably the finest overall performance in its totality that I've ever seen."
"It was really what I would call an exquisite spiritual initiation. This is totally aligned with my heart and soul," she added.
"A Healing for Anyone"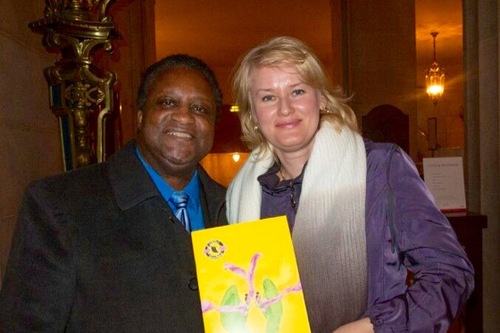 Computer technician Harold Pernell and wife Lana at War Memorial Opera House in San Francisco on January 9

"It's like a healing for anyone," said Harold Pernell, a computer technician. For Mr. Pernell, Shen Yun came "just in time to make you happy, to enlighten you."
His wife Lana Pernell would like to say to the performers and producers, "We appreciate it and we really needed it in our times. Thank you."
"We are living in difficult times and hard times, and we need to grow spiritually to survive in this world," she added.
Mr. Pernell believes that Shen Yun does not represent only one culture. For him, the show's message is "good for all cultures, because we are all a part of mankind."
Presenting Messages Pertinent to This Time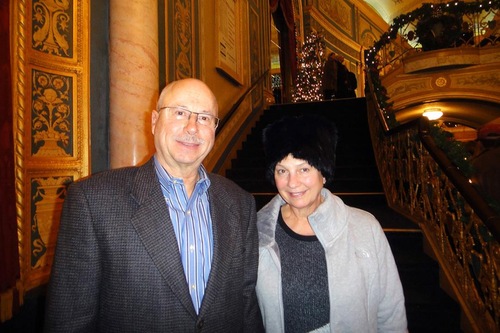 Automotive efficiency expert Roberta Hammond and husband Richard at the Detroit Opera House on January 3
"I was breathless. What a way to start the New Year! I want to remember everything in the show and apply it to my own life," said Roberta Hammond, an automotive efficiency expert.
Shen Yun's messages had a special appeal to her. "It's okay to believe in something bigger than ourselves. What a great message for right now—the times we live in. Just try to understand and go within and be strong, and sometimes the right things will come along to help you," she said.
"I'm going to come back every year," Mrs. Hammond added.
"Powerful" and "Hopeful"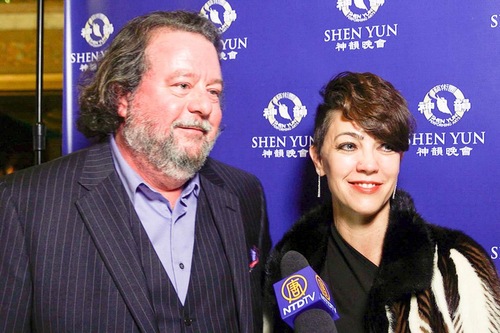 John Gwynne Prosser II, President of NeuroTrauma Association, and Sofia Bong, a physical therapist
"Awesome...I love it. It touches my heart. I recommend that everybody come see this show," said John Gwynne Prosser II, President of NeuroTrauma Association.
Mr. Prosser was especially touched by the inner meaning of the performance. "The message is powerful. It's a beautiful message. I love that it's hopeful," he said.
"Highest Aspects of the Beauty of the Chinese Culture"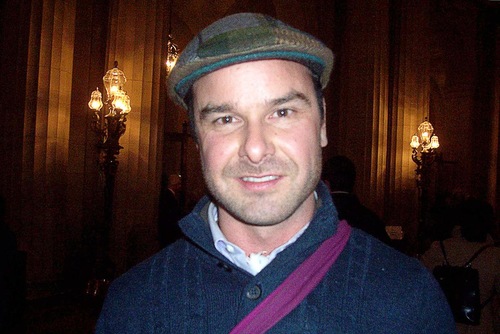 Architect Michael Barrette
For architect Michael Barrette, Shen Yun is "an ancient art form brought into today's world," and it "represents the higher aspects of the beauty of the Chinese culture."
"It's an experience that connects me to something higher. There's almost a connection between the heavenly realm and the audience throughout the show. And the dancers were really bringing their beautiful divine dance and nature," Mr. Barrette explained.
He also shared his inspiration from the show, "It's actually possible to bring our divine nature into our human experience. And that's what's happening right now. And that's the future that we're all co-creating together. Not alone, but with the help of the beings in the heavenly realms as well."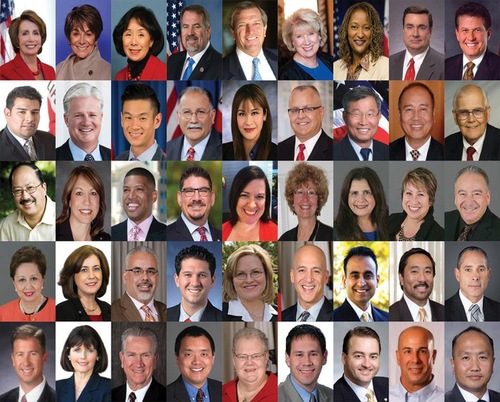 Shen Yun received welcome letters from 46 elected officials in California, including five congressmen, ten state representatives and senators, and 31 city-level officials.
Shen Yun will continue its United States tour with performances in New York City on January 14-17, Atlanta, Georgia on January 15-17, Fresno, California on January 16-17, and Jacksonville, Florida on January 16-17. For more information on tickets and dates, please visit http://shenyun.com.