As Xi Jinping Visits Washington D.C., Locals Support Legal Action Against Former Chinese Leader
September 26, 2015 | By Xia Yanchu, Minghui Correspondent in Washington D.C.
(Minghui.org) As Chinese president Xi Jinping arrived in Washington D.C. on September 24, 2015, Falun Gong practitioners unfolded banners near his hotel on Connecticut Avenue, stating "Falun Dafa Is Good," "Bring Jiang to Justice," "Stop Persecution of Falun Gong," and others.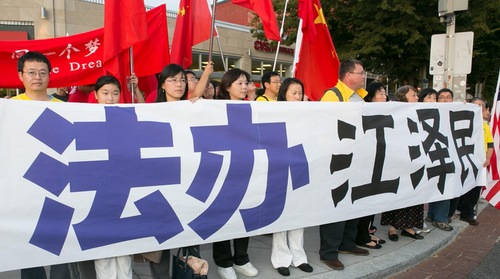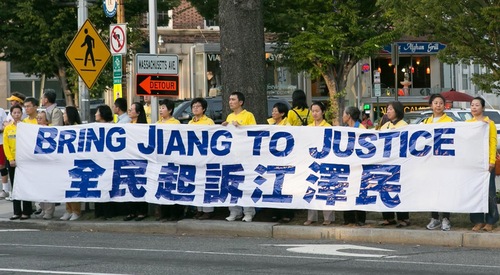 Falun Gong practitioners call for bringing Jiang Zemin to justice near Xi's hotel in Washington D.C.
After learning how Falun Gong is still persecuted by the communist regime in China, local residents and tourists showed their support for the practitioners' peaceful resistance.
Mr. Chris Sherlock, a photographer in the D.C. area, observed the practitioners' petition for a long time. He said, "I fully support you and your practice. I think it's a beautiful, peaceful, non-violent form of exercise. It is very beneficial. And I can see it in the practitioners of Falun Gong, how peaceful and radiant they look. I'm interested in learning more about Falun Gong and actually doing the exercises."
Having lived in Taiwan before, Chris is familiar with the persecution going on in mainland China. "The persecution of Falun Gong members is a great tragedy. I believe it has been done out of fear by the government. They believe that when the people come together and practice this, it's a threat to them whenever people assemble together, even if it is a non-violent, peaceful type of thing," he said.
Chris commented on the lawsuits against Jiang Zemin: "It's obvious that the people who have tortured and killed should be brought to justice. They should be brought to justice for their crimes against humanity. These are barbaric acts. Killing of innocent people, killing of anyone for any matter."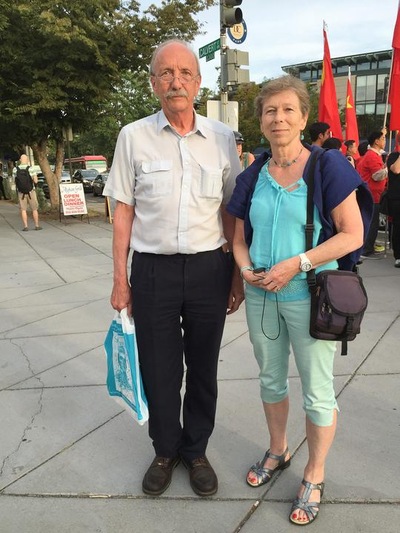 Dr. Peter Huijing and wife Trudi
Dr. Peter Huijing, a professor of physiology, was visiting Washington D.C. from the Netherlands. After hearing about the petition to prosecute Jiang, he realized why the Chinese Embassy had arranged for a "welcome team" to block the Falun Gong banners. He commented, "This [blocking] itself is rather telling."
Dr. Huijing had heard about the persecution of Falun Gong from media in the Netherlands. He said, "They [the Chinese Communist Party] should take into account that there should be freedom for their citizens as well. Particularly if they come to other countries, then the freedom of those people in other countries should be respected."
Dr. Huijing told the young people blocking Falun Gong banners while holding red flags that their actions are wrong. He stayed for almost two hours, trying to make sure Falun Gong practitioners had their freedom of speech.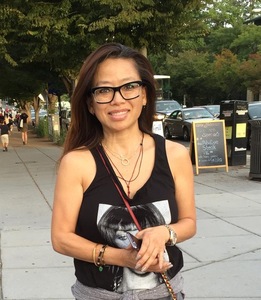 Ms. Dannette Koyano
Ms. Dannette Koyano had heard about the persecution and harvesting of organs from living Falun Gong practitioners in China. She said her mother had to escape from mainland China in 1949 after the communist takeover. Hearing of the flood of lawsuits against Jiang Zemin, she said she wants to tell the plaintiffs: "Be strong and vigilant. Even though we are miles, miles, and oceans apart, people still hear you."
Local resident Ms. Nina Teette said she absolutely support Falun Gong's lawsuits against Jiang Zemin, stating that "He [Jiang Zemin] should be prosecuted." Nina is an immigrant from the former Soviet Union and recalled how large numbers of Russians had died under communist rule.