San Francisco: Divine Land Marching Band Members Look Back on Their Ten-Year Journey
September 10, 2015 | By Minghui correspondent Wang Ying
(Minghui.org) At the many community parades the Falun Gong group has participated in over the past decade, its Divine Land Marching Band has often been the main attraction. For the 10th anniversary of the Western U.S. Divine Land Marching Band, Falun Gong practitioners who are members of the band came together for an experience-sharing conference on September 6 in San Francisco. Many of the conference speakers talked about how they overcame various difficulties to make the band's performances successful.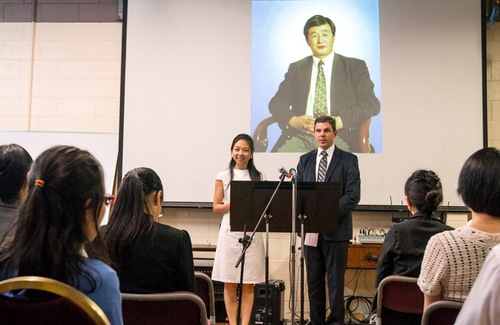 Experience-sharing conference of the Western U.S. Divine Land Marching Band on September 6, 2015.
"Miracles Happen When We Treat Everything as Cultivation"
While sharing her article, band member Ms. Deng said she still remembered receiving the band hat from Teacher Li Hongzhi, the founder of Falun Gong. "Teacher also told us how to use and maintain the instruments. He also led the introductory training," she recalled.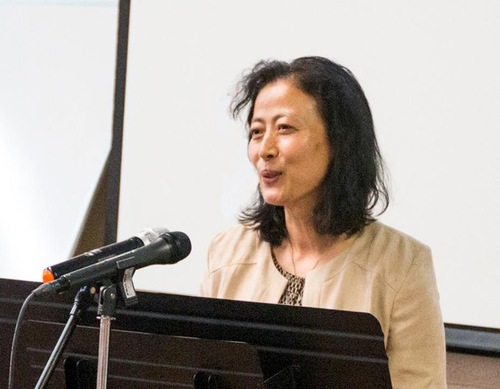 A band member shares her experience
Ms. Deng was one of many who had no background in playing an instrument before joining the band. Her choice was clarinet, but she was unable to get it to make a sound after several attempts. She thought about quitting, but, with encouragement from a coordinator, she decided to stay.
She developed blisters on her lips after several days of intensive practice. In the end, she decided to let go of all human notions and instead concentrate on the basic skills. Then she made great progress and joined nearly 200 practitioners for the debut in Chinatown one month later.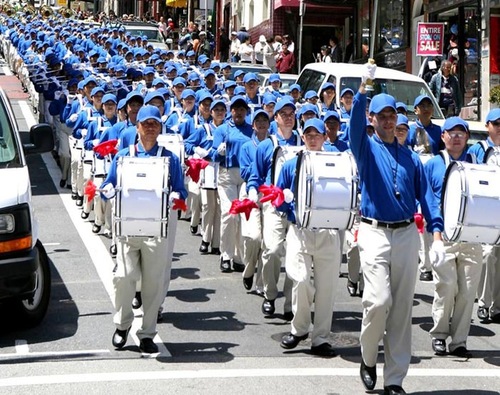 The Western U.S. Divine Land Marching Band gave its first performance in San Francisco's Chinatown on May 13, 2006.
"Miracles happen when we treat everything as cultivation," said Ms. Deng.
Playing the Horn While Improving Xinxing
Falun Gong practitioners adhere to the principles of Truthfulness-Compassion-Forbearance. Playing in a marching band offers many chances to put these principles into practice.
Ms. Liu Cui joined the band two years after she came to the US. "I did not have any training in music. But I knew this is something I could do and something I should do." When asked what instrument she would play, she said she would go for whichever one that needed players. That turned out be baritone and she learned how to play it quickly.
As her progress slowed down, Ms. Liu found herself anxious about the upcoming parade, and she could not concentrate. "I had the attachment of competing, showing-off, and jealousy." Knowing such thoughts were not right as a Falun Gong practitioner, she adjusted her mentality and considered instrument playing part of her cultivation.
"Every time I improved my xinxing, I found my skills would improve, too. I know Teacher has helped me a lot on this," Ms. Liu said gratefully. "Now I know that when we really put our heart into something, we can make real progress. I am so happy to be a member of the band."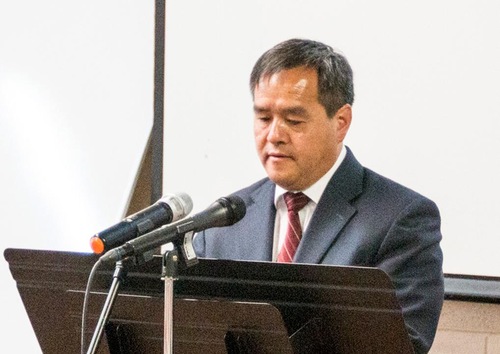 A band member shares his experience
Showing-Off and Physical Pain
Flutist Ms. Zhang said her cultivation ran into bottleneck when she started as a band member. "When receiving the band hat from Teacher, I was ashamed of myself for not being diligent in cultivation and did not dare to look at him," she said.
With help from other practitioners in the team environment, she improved in her cultivation. Her skills also improved dramatically and later she became the lead flutist. "By then I found that showing-off, like low self-esteem, is also a hurdle on my cultivation path that I needed to overcome."
When Ms. Han joined the band she was determined to do well. But after some training on the snare drum, her index fingers were severely swollen. It was so painful that she could hardly bend them after practice. Upon discussing with other band members and the instructor, she found she was not holding the drum sticks correctly.
"This happened because my pursuit of playing like a professional right away. Now I have learned that music playing—just like our cultivation practice—requires solid effort. And there are no other ways around it."
Overcoming Ego
Ms. Qu said she chose trumpet because she liked its joyful sound. But after she began learning it, she found it was not easy to achieve that. With persistent practice and help from other band members, her techniques improved and she was very pleased.
As Ms. Qu's zealotry increased, she gradually eased up in practicing. Noticing this change, she looked within and found her motivation in the past was to validate herself. "From that incident I came to understand that our purpose is to bring beautiful melodies to the audience, not to show off," she said.
With that change in mindset, Ms. Qu found her skills improved further and she could play several notes that she was unable to in the past.
Huang Yun, the band's conductor, said, "We are glad to bring happiness and hope to the community."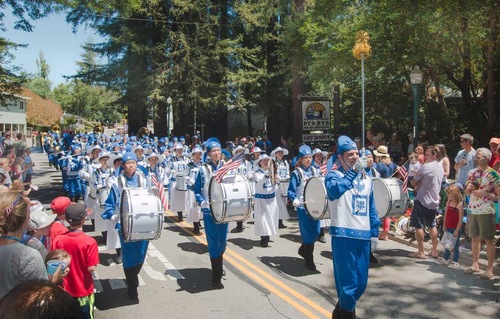 The Divine Land Marching Band performs in the Independence Day parade in Larkspur, California, on July 4, 2015.