Falun Dafa Association in Los Angeles: "We Look Forward to More People Reporting Jiang's Crimes"
August 13, 2015 | By Falun Gong practitioners in Los Angeles
(Minghui.org) "When we first heard about live organ harvesting 9 years ago here in Los Angeles, we didn't dare believe it. With more evidence identified and confirmed, nowadays few people can deny that such brutality is being carried out against detained Falun Gong practitioners," said Li Youfu, coordinator of the US Southwestern Falun Dafa Association, in a rally in front the Chinese consulate on August 8 to support the effort to sue Jiang Zemin.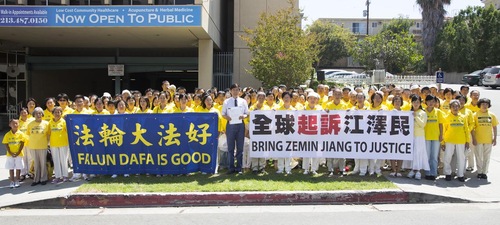 Press conference in front of the Chinese Consulate on August 8, 2015, calling attention to the lawsuits being filed against Jiang Zemin.
65,000 Killed for Their Organs
The Chinese communist regime mistreats detained Falun gong practitioners in many ways, including physical and mental torture and forced labor. But the evidence of organ harvesting from living practitioners, first reported in March 2006, attracted special attention due to its gruesomeness.
"Increasing numbers of testimonies, thirty-party investigations, and other evidence have all pointed to the existence of live organ harvesting," said Dana Churchill, spokesperson for Doctors Against Forced Organ Harvesting (DAFOH) on the west coast.
One of the latest reports came from Ethan Gutmann, who estimated at least 65,000 Falun Gong practitioners were killed between 2000 and 2008 for their organs. The award-winning China analyst and human-rights investigator documented the investigation in his book, The Slaughter: Mass Killings, Organ Harvesting, and China's Secret Solution to Its Dissident Problem.
More Than 300 Local Residents File Complaints Against Jiang
Although the suppression primarily occurs in China, it affects many who live outside that country.
Among family members of Falun Gong practitioners who live in the Lost Angeles area, 10 died due to torture in police custody in China, 18 were imprisoned for up to 11 years, 39 were tortured, 38 sent to forced labor, and 161 detained in police stations, detention centers, or brainwashing facilities.
Three of these practitioners' families were incarcerated in mental hospitals because of their belief. Some were forced to stay away from home and their family for up to 12 years.
Anyone who dares to speak up for Falun Gong often meets with retaliation from Chinese authorities, even outside of China. At least 8 practitioners were denied passport extensions by the Chinese Consulate in Los Angeles.
As a result, 300 people in Los Angeles have filed over 70 criminal complaints against Jiang Zemin for persecuting Falun Gong.
"We look forward to more people reporting Jiang's crimes," Li said. "The more plaintiffs and evidence we have, the sooner this brutality will end."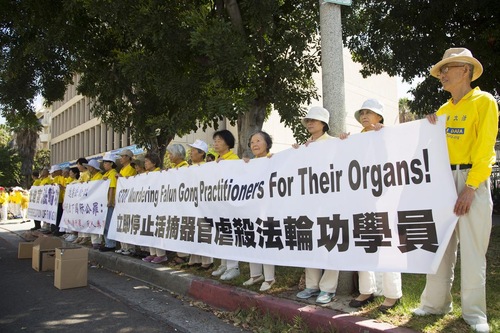 One banner at the rally read, "Stop Murdering Falun Gong Practitioners for Their Organs."
Shocked with Electric Batons for Five Days
Three practitioners gave testimonies during the rally, describing what they suffered in China for their belief.
Veteran Chen Jin was detained for more than 8 years for his belief.
Mr. Chen Jin, a 58-year-old veteran, was detained several times after 2000, for a total of over 8 years. "In December 2001, Fuzhou police in Fujian Province handcuffed me and hung me up. Guards took turns interrogating me day and night, beating me and shocking me with electric batons all the while. This nightmare lasted five days. The handcuffing and hanging injured my arm. The scar is still visible 14 years later."
Because Mr. Li Jun, a former insurance agent from Jilin Province, refused to work in a forced labor camp in Shanghai, officials and four guards tied him up in April 2001 and shocked him with electric batons. "They shocked my armpits, thighs, chest, head, and other sensitive areas. Four guards shocked me with four batons at the same time. Whenever a baton ran out of electricity, they would get a new one..."
In addition, the guards often beat him at night or forced to sit on a small stool for a long time without moving. His memory was impaired and his ear disfigured.
More than 134,000 criminal complaints have been filed against Jiang as of August 6, 2015. The US Congress has recently initiated House Resolution 343 calling for an end to live organ harvesting in China.
Former insurance agent Mr. Li Jun was tortured during detention, leaving his memory impaired and his left ear disfigured.