Chicago: The Art of Zhen, Shan, Ren International Exhibition Held at the Thompson Center Government Building
(Minghui.org) The Art of Zhen, Shan, Ren (Truth, Compassion, Tolerance) International Exhibition was held at the James R. Thompson Center, which houses offices of the Illinois state government, from July 8 to 14, 2015.
Through over 30 oil paintings created by artists who practiced Falun Gong, residents of Illinois took in the stories of Falun Gong through vividly realistic paintings depicting a striking contrast between the beauty of the ancient meditation and the brutality of the persecution.
More than one hundred citizens signed petitions to their congressional representatives requesting their support for House Resolution 343, a newly introduced resolution demanding the Chinese regime to stop forced organ harvesting from Falun Gong practitioners and other dissidents.
The Art of Zhen, Shan, Ren (Truth, Compassion, Tolerance) International Exhibition on display at the Thompson Center from July 8 to 14, 2015.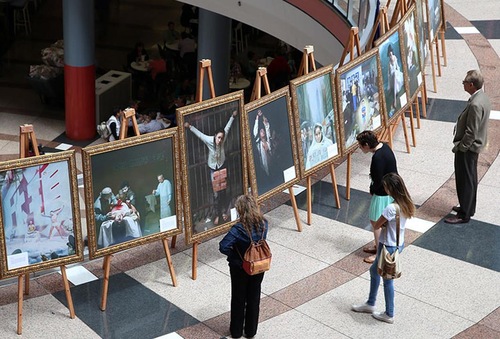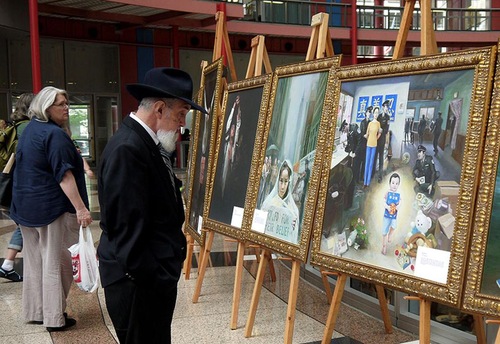 Visitors view the artwork and read about the background stories behind the paintings.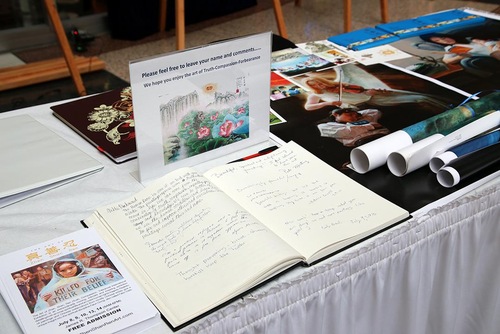 Many people commented in the guestbook to show their support for Falun Gong and ending the persecution.
"Beautiful, spiritual and inspiring artworks! They let me feel the blessings of God," wrote Pati Marting, one of several supporters who offered words of encouragement in the guestbook.
An artist who signed the guestbook, R. Sal., wrote: "The paintings are beautiful and moving. I have never been touched so deeply by the aesthetic and spirit. Being an artist myself, I am amazed at the emotions and details depicted in them. Being a human, I am moved by their actions. I see hope with those who are persistent in adversity. May God bless you! Hang on!"
Many others shared their thoughts with the volunteer staff at the exhibit.
Ms. Kothyn Alexander, a retired high school principal, said that she was "sad and encouraged" by the exhibition. She was sad because there should be no persecution in the world. She felt encouraged because many of the paintings showed the courage and faith that resonated with her.
She said she hoped to have a chance to introduce the exhibition to her students for this was an important lesson on understanding the real China.
James, a resident of Chicago, said that the exhibition inspired his interest in Falun Gong and he was going to buy some Falun Gong books to read during the rest of the summer.
Ms. Roberta Valdes works for the Department of Children and Family Services. She was shocked to learn that the Chinese regime has a state-sanctioned operation to harvest organs from living Falun Gong practitioners for sale to the transplant industry. "It is terrible. How can they treat their own people like this!" said Ms. Valdes. "The crime must be stopped immediately!"