Bratislava, Slovakia: Raising Awareness of the 16-Year Persecution of Falun Gong
(Minghui.org) Falun Gong practitioners held activities on Hviezdoslav Square, a favorite tourist destination in Bratislava, the capital of Slovak, on July 22, 2015. The purpose was to raise awareness of the persecution of Falun Gong in China. Begun on July 20, 1999, the brutal persecution has lasted for 16 years.
The practitioners' banners caught the attention of passers-by, including Bratislava residents and tourists. Many paused and expressed an interest in the events taking place in China. A number of tourists from China took pictures next to the practitioners demonstrating the exercises, or next to the banner worded "Bring Jiang Zemin to Justice." Some of them had the courage to ask for more information.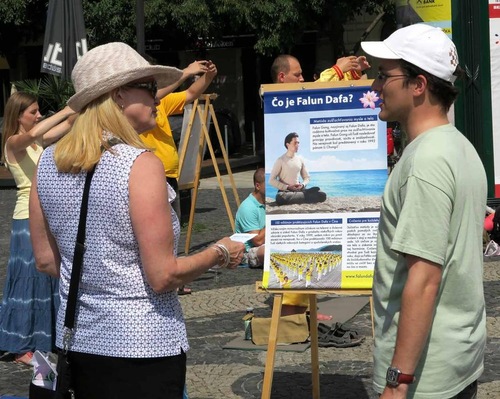 Talking about the persecution to tourists.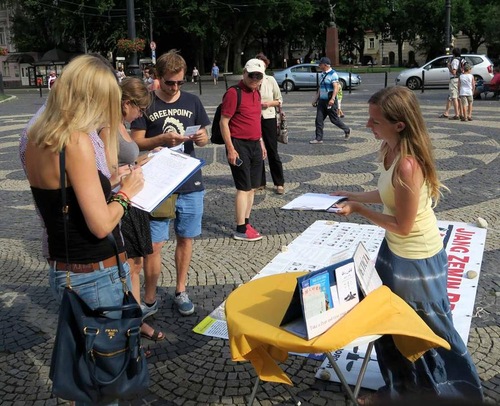 People sign the petition calling for an end to the persecution.
Tourists from the USA, Canada, Spain, Portugal, Brazil, the Netherlands and the United Kingdom signed the petition calling for a stop to the persecution. A local police officer was very interested in the facts of the persecution. He signed the petition after he learned that Jiang Zemin, former head of the Chinese Communist Party, who ordered the persecution of Falun Gong in China, is facing criminal complaints abroad and in China.
A tourist from the Netherlands said, "I am surprised at how little information there is about this persecution. In the Netherlands there are seldom any media reports about it. What is happening in China is horrific. I wish you good luck with your efforts!"
A woman passing by asked, "Can you give me information in Chinese? My colleague is Chinese and I would like to give this to him to read."
A tourist from Vancouver, Canada said that he knew quite a lot about this persecution, because he often saw similar activities in Canada, including protests in front of the Chinese Consulate in Vancouver. He wished the practitioners good luck in bringing about an end to the persecution.