Iranian Girl: "I've Found the Meaning of Life."
(Minghui.org) "In 2011, when I was almost 18, I read the book Zhuan Falun, and decided to cultivate Falun Gong. It was the best birthday gift ever," Ghazal Tavanaiei, an Iranian girl, said to the Minghui correspondent.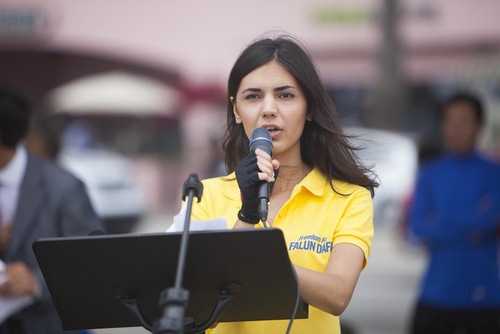 Ghazal Tavanaiei, an Iranian Falun Gong practitioner
Ghazal lives in Dubai with her parents and sister. In 2007, her father obtained a copy of Zhuan Falun, the main book of Falun Gong, and started his journey of cultivating Falun Gong.
Ghazal said, "Perhaps a lot of outsiders thought that Iranians live in a closed society. But actually many Iranians are open to practices like Falun Gong, which improve one's mind and body. Many people in Iran believe that the teaching of Falun Gong, Truthfulness-Compassion-Forbearance, is great."
She told the Minghui correspondent about the great changes she experienced after she started practicing Falun Gong.
"I've become less greedy, and more considerate for others," she said, "I've found the meaning of life."
"I often had fights with my sister. Now, she sometimes asks me how come I don't fight with her anymore."
"Many peers of mine in college smoke, drink, and get crazy at parties. People can tell that I am different. I keep away from cigarettes and alcohol, and I obey moral principles. When people ask for the reason, I tell them that I cultivate Falun Dafa."
In May 2015, Ghazal came to New York City for a Falun Gong cultivation experience sharing conference, where she heard about the project "Ride to Freedom." A group of young Falun Gong practitioners, ranging in ages from 13 to 25, planned to ride bicycles from Los Angeles to Washington DC, to raise public awareness of the persecution of Falun Gong in China, and call for help in rescuing the Chinese orphans whose parents have been tortured to death during the persecution.
Ghazal decided to join the riders. Last week, she and 20-some fellow practitioners from multiple countries finished the 3000-mile journey in 45 days.
"What touched me the most during the ride was the support we got from the American society," Ghazal said, "I remember that an assistant to the mayor of an American town cried after we told her about the persecution."
"It was also a great chance for me to cultivate," she said.
Ghazal is not athletic, nor had she any training in bicycling. But she and her fellows encouraged each other, and persisted despite the storms and hot weather.
"We rode during the daytime, and camped outside at night. If it wasn't for the principle of Truthfulness-Compassion-Forbearance, which encourages us to be selfless and consider others, it would be really difficult for 20 some youths from different cultural backgrounds to finish the 'Ride to Freedom.'"
When asked about her future plans, 21-year old Ghazal said that her dream was to make a documentary to tell people what Falun Gong really is. Film making is her major in college.