Finland: Falun Gong Practitioners Commemorate 16 Years of Resistance to Persecution
July 21, 2015 | By a Minghui correspondent in Finland
(Minghui.org) Falun Gong practitioners in Finland held activities on July 15, 2015, to commemorate fellow Chinese practitioners who died as a result of the persecution launched 16 years ago by the Chinese Communist Party (CCP).
They held a memorial in front of the Chinese Consulate in Helsinki and talked about the recent lawsuits against Jiang Zemin, former head of the CCP. They also held a candlelight vigil in Seaside Park.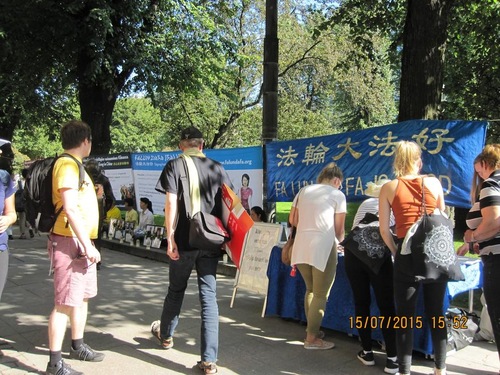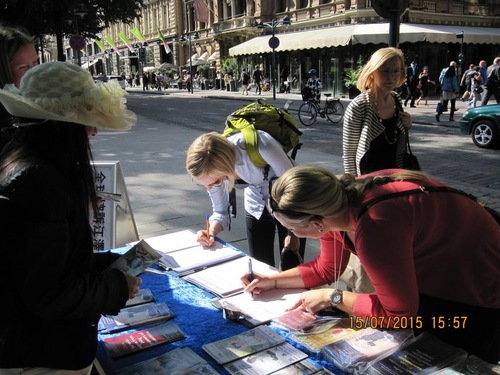 People from different countries sign to show their support of Falun Gong.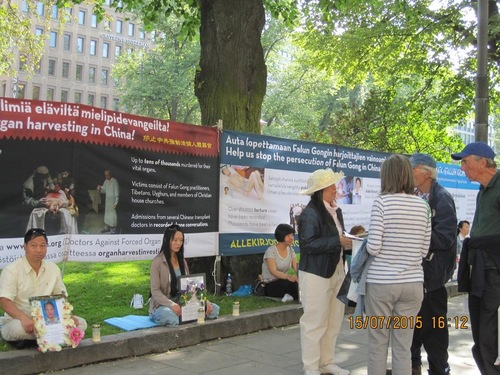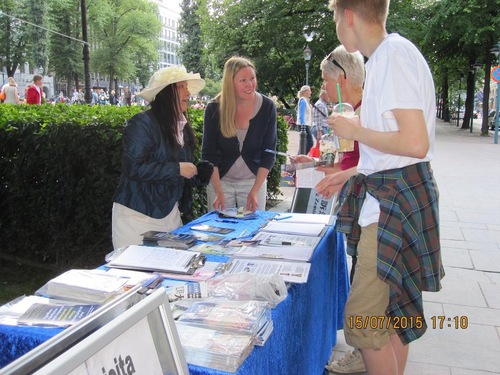 Falun Gong practitioners inform passersby about the persecution in China.
According the Minghui website, 3,770 Falun Gong practitioners have died as a direct result of being persecuted. More than 60,000 people have been killed because of forced organ harvesting. Over 60,000 Chinese have filed lawsuits against Jiang Zemin, the former head of CCP who is responsible for the persecution.
Peaceful Protest in Front of Chinese Consulate
Practitioners Anna and Ms. Wang read an announcement about the flood of lawsuits being filed in China to bring Jiang to justice. They urged consulate employees not to follow the persecution policy.
Practitioner Ms. Liu Yumei recounted how she was tortured and injected with nerve destroying drugs while she was detained in China.
Informing People about the Persecution in China at Seaside Park
Practitioners talked to people about the persecution taking place in China at Seaside Park, a popular tourist destination in Helsinki. Many tourists from all different countries signed to show their support.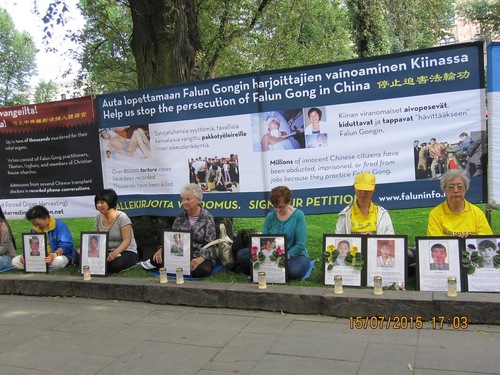 Candlelight vigil in Seaside Park
One of the things the practitioners informed people about was a new resolution initiated in the US House of Representatives on June 25. The resolution, HR343, condemns and calls for an end to the persecution, as well as the practice of state-sanctioned forced organ harvesting in China. It calls for a credible, transparent, and independent investigation into organ transplant abuses.
Magnus, an architectural engineer from Sweden, said the 16-year-long persecution should end immediately. Ms. Heinz and Mr. Lemke from Germany praised Falun Gong practitioners for doing a great job. All of them signed the petition condemning the persecution.
A group of students from Brazil listened to practitioners tell them about Falun Gong. The teachers signed the petition and said the organ harvesting should be widely exposed.
Tourists from Norway, Japan, and other countries also enthusiastically expressed their support.
"Please Help Me Quit."
An elderly Chinese couple stopped in front of a picture of Chinese police stepping on a female Falun Gong practitioner's head. When a practitioner asked if they had heard about the persecution, they appeared to be indifferent at first. After hearing about the forced organ harvesting, their attitudes changed.
The practitioner told them how more than 60,000 Chinese practitioners have filed lawsuits against Jiang in the last two months. The Chinese woman said, "Really?"
The practitioner asked her, "Have you ever joined the CCP, the Youth League, or the Young Pioneers? People are quitting these organizations for their own safety. If you joined any of these organizations, take this opportunity to quit today with a nickname."
The lady said, "My last name is Fan. I joined the Youth League and the Young Pioneers. Please help me quit them." Her husband said, "My name is Xu. Help me quit, too." They left with informational materials.