Singapore: Falun Gong Rally Draws Public Support
July 20, 2015 | By a Falun Gong practitioner in Singapore
(Minghui.org) "Incredible! This is the first time I have heard of this persecution," said Daniel, one of three young men who stopped at a Falun Gong rally in Singapore's Hong Lin Park on July 14, 2015.
The rally was held to support the tens of thousands of Falun Gong practitioners who have recently filed criminal complaints against former Chinese leader Jiang Zemin, who single-handedly launched the persecution of Falun Gong. A candlelight vigil was held after the rally, commemorating the thousands of practitioners who have lost their lives as a result of 16 years of brutal suppression.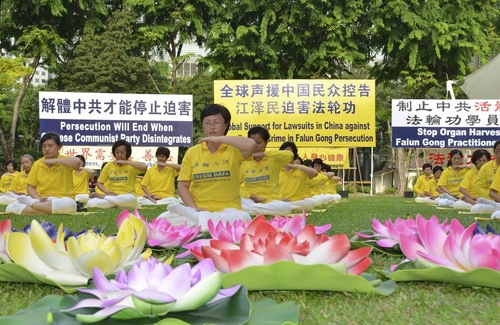 Practitioners demonstrate the Falun Gong exercises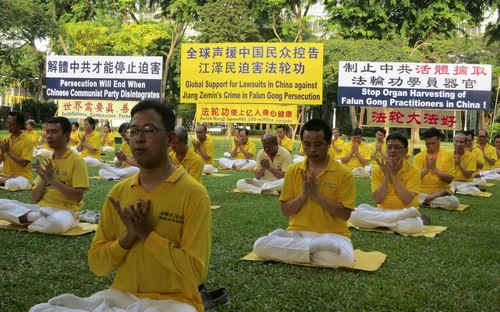 Practitioners meditate peacefully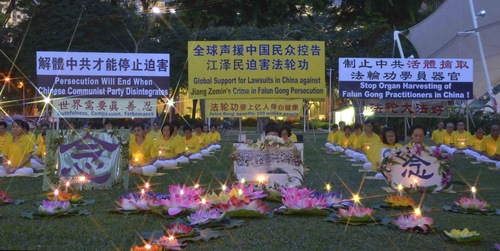 Candlelight vigil to commemorate practitioners in China who lost their lives as a result of the persecution
Singapore Practitioners File Criminal Complaints Against Jiang
"My father was imprisoned in brainwashing centers, detention centers and forced labor camps again and again, from 1999 to 2010," said Ms. Pan, one of the speakers at the rally. "Our immediate family, grandmother, mother, my elder sister and I had to leave our home in 2010."
Ms. Pan has recently filed a criminal complaint against Jiang Zemin, holding him responsible for her family's years of suffering.
Joining over 80,000 Falun Gong practitioners inside and outside of China who are exercising their legal right to bring Jiang Zemin to justice, practitioners residing in Singapore are also mailing complaints against Jiang to Beijing's Supreme People's Procuratorate and the Supreme People's Court of China.
The practitioners are charging Jiang with abuse of power, unlawful imprisonment, and depriving citizens of their constitutional right to freedom of belief, among many other crimes. In the complaints they urge the judicial bodies to bring Jiang to justice.
The movement to file complaints against Jiang has accelerated exponentially since May of this year. According to a recent report on the Minghui website, from the end of May to July 16, 2015, 82,226 people have filed 66,528 criminal complaints against Jiang.
Rally and Candlelight Vigil Draw Public Support
Many passers-by stopped to watch the rally and the candlelight vigil. Information about the persecution made a big impact on many people.
Daniel and his friends were deeply disturbed after learning about the brutal persecution of Falun Gong practitioners in China. "I think this is a big problem, especially because the media tends to censor and keep silent about these goings-ons. Ignorance and hiding these victims is easy, but such acts have a bad impact on society, which is lasting. This is a horrible thing," he said.
"Everyone has freedom of belief and should be able to meditate," added Murali Raj from India. "No government should persecute such a peaceful group for political reasons. I hope that this peaceful practice spreads widely."
A couple from Australia condemned the persecution and praised the practitioners' courage. Jenny, the wife, said, "This persecution is brutal and against humanity. Falun Gong practitioners are so courageous and steadfast!"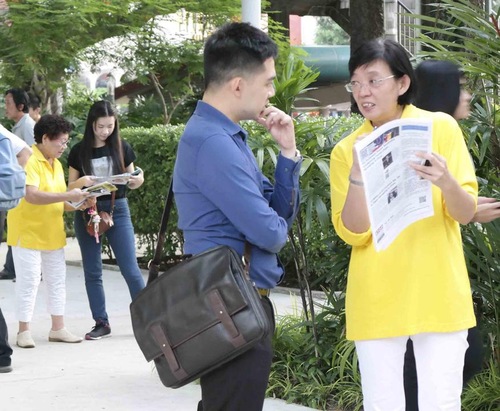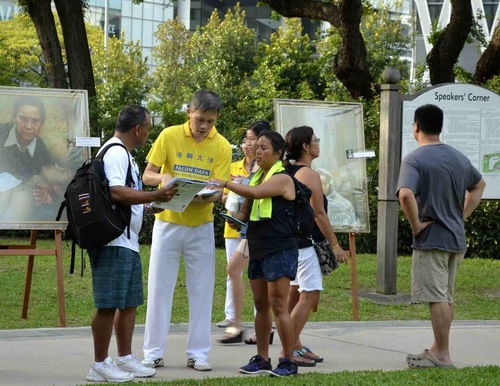 Talking to passers-by about Falun Gong and the persecution
Ms. Pan Recounts the Persecution Experienced by Her Family
"My parents went to Beijing to appeal for Falun Gong in 1999 and were arrested upon returning home," said Ms. Pan. "They were imprisoned again and again. The police arrested and detained my father for two weeks, ransacked our home and confiscated our Falun Gong books and informational materials. They even pocketed over 3,000 yuan in cash. They extorted an additional 3,000 yuan from us, which they claimed was for my father's living expenses in the detention center. Yet, he was given only one meal a day and his weight dropped from 200 pounds to 132 pounds within a short time.
"A year after his prior arrest, my father was reported to the police for talking to people about Falun Gong. They arrested my parents and ransacked our home again. My mother was released, but Father was sentenced to forced labor in Qingdao, Shandong Province. The labor camp would not accept him because of high blood sugar levels and high blood pressure, so he was released. However, we were frequently harassed by the police and local officials.
"A kind local official warned my father that the 610 Office had given orders to force him to give up Falun Gong using any means. He told him that it would be in his best interest to leave home. My father took all of us, including grandmother, in her 70s, and we left our home on a cold winter night. Three years later, my father passed away from the physical and mental suffering of the persecution."
Ms. Pan said that her elder sister and mother, who still live in China, have also filed criminal complaints against Jiang.