Over 80,000 File Charges Against Jiang Zemin Despite Difficulties
July 19, 2015 | By a Minghui correspondent
(Minghui.org) To date, 82,226 people have filed 66,528 criminal complaints against Jiang Zemin, former head of the Chinese Communist Party, between the end of May and July 16, 2015. They urge the Supreme People's Procuratorate and the Supreme People's Court to bring Jiang to justice for his abuses of power in orchestrating the violent persecution of Falun Gong in China.
The complaints charge Jiang with unlawful imprisonment, depriving citizens of their constitutional freedom of belief, abuse of power, and many other crimes. Jiang initiated the persecution of Falun Gong on July 20, 1999, and created the 610 Office, giving it the power to override the police and judicial system to carry out his directive.
Over the past 16 years, more than 3,800 Falun Gong practitioners have been confirmed tortured to death. The actual toll is likely higher, because such information is tightly censored in China.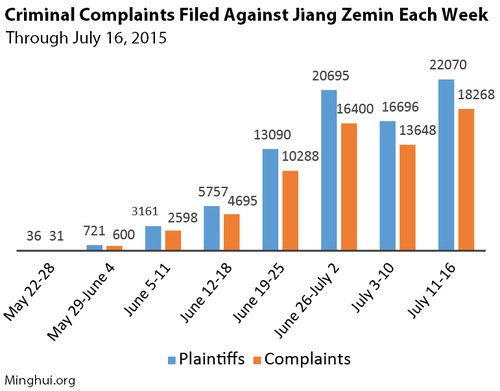 Complaints and plaintiffs filed per week between the end of May and July 16.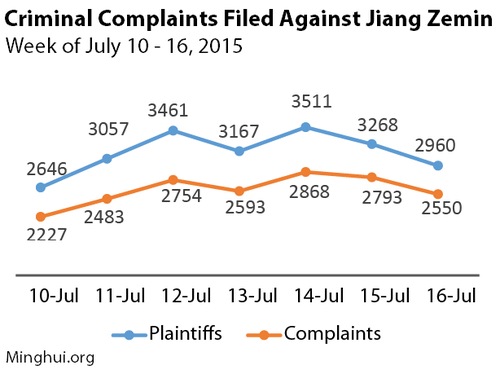 Complaints and plaintiffs filed per day for the week of July 10 to 16.
Copies of 18,268 complaints from 22,070 people were submitted to the Minghui website during the week of July 10 to July 16.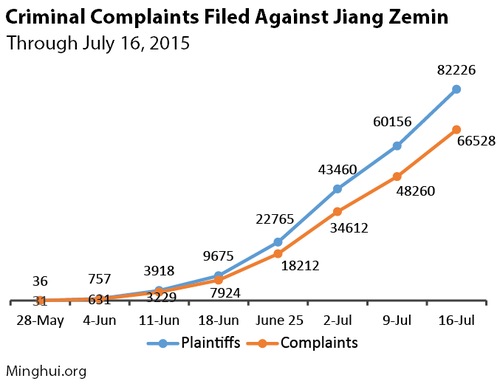 Lawsuits against Jiang Zemin have grown significantly since the end of May 2015.
In total, copies of 66,528 complaints from 82,226 Falun Gong practitioners and their family members have been received by the Minghui website.
Since July 1, all mail destined for the Supreme People's Procuratorate and the Supreme People's Court has been subjected to "security checks," and processing of the mail has slowed down. Postal staff indicate that the State Security Bureau is dealing with the issue.
Among the 18,268 complaints mailed during the past week, 6,461 have been confirmed delivered by the courier company or a signature from the Supreme People's Procuratorate and the Supreme People's Court. Tracking information indicates that many envelopes remained in the Beijing Postal Express Sorting Center for a "security check."
Falun Gong practitioners are filing complaints by other means, including the Internet, electronic delivery, voice mail, and fax. Practitioners have filed complaints on the Supreme People's Procuratorate's website and obtained case numbers. Based on Chinese law, electronic filing of complaints is as valid as submitting them by mail.
Official Responses Vary
Personnel working in local judicial departments, neighborhood administrations, and police substations in Benxi, Liaoning Province; Tonghua, Jilin Province; Jiaozhou and Laixi, Shandong Province; Jiamusi, Heilongjiang Province; and Shijiazhuang, Hebei Province have visited or called plaintiffs about the complaints they filed.
The plaintiffs were asked questions such as "Have you filed a complaint?" "Why are you charging Jiang?" and "Are you reporting facts in your complaint?" Some police officers took notes and ordered the plaintiffs to sign and give their fingerprints.
Officers in a Tonghua police substation indicated that some police officials recently convened in Beijing and that the Supreme People's Procuratorate transferred complaints to their respective regions for verification.
Some community administrators in Jiamusi, Heilongjiang Province indicated that their superiors told them to verify the criminal complaints against Jiang with the plaintiffs, or the complaints would not be registered with the Supreme People's Procuratorate or the Supreme People's Court.
Most local officials were serious about verifying the complaints and behaved professionally. Officers with the Dongming Police Substation, Benxi, Liaoning Province, went to a plaintiff's home six times and finally escorted the plaintiff to the substation. Their verification conversation lasted three hours.
But some 610 Office staffers and police in some areas still harass and arrest Falun Gong practitioners who file complaints. In Harbin, Heilongjiang Province and Baoji, Shaanxi Province, 20 to 40 practitioners who filed complaints against Jiang were taken away to detention centers. A police officer in Harbin claimed that the practitioners were detained to assist in investigating the complaint.