Ms. Zuo Xiuyun Arrested Immediately Upon Her Release from Prison
July 10, 2015 | By a Minghui correspondent in Fujian Province, China
(Minghui.org) About a dozen local practitioners went to pick up Falun Gong practitioner Ms. Zuo Xiuyun at the Fujian Women's Prison on her release from prison. However, she was arrested immediately upon her release.
Local practitioners went to the prison on the early morning of June 15, 2015. The prison released a few prisoners at around 10 a.m., but Ms. Zuo was not among them.
The practitioners noticed the arrival of a black jeep, whose four passengers included the deputy director from the 610 Office of Yongan City and the residential committee. They arrested Ms. Zuo upon her being released.
Practitioners displayed a banner at the gate of the prison, "We are taking you home, Ms. Zuo Xiuyun." They told the prison guards about Falun Gong and the persecution, and how Ms. Zuo had been imprisoned for a total of 12 and a half years during the past 16 years, simply for her belief in Falun Gong. The guards listened and left.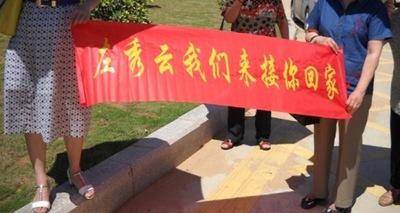 Banner: "Zuo Xiuyun, We are taking you home"
A police vehicle arrived with four officers from the Nanyu Police Station after 11:00 a.m.. They stopped the practitioners from showing the banners.
When the jeep left the prison compound, it was followed by many guards and police officers. Ms. Zuo was surrounded by the 610 Office staff and other agents. The practitioners went up to greet her, but she was immediately taken to the jeep before she could say anything.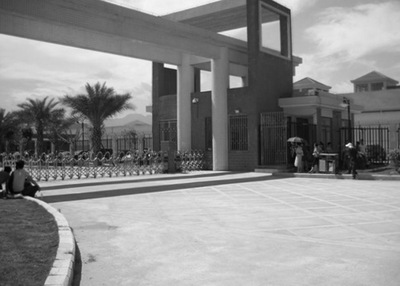 The gate of Fujian Women's Prison
Ms. Zuo was a kindergarten teacher in Yongan City in Fujian Province. Her brother was sentenced to six years in prison for practicing Falun Gong. She tried to gain his release. Instead she was arrested and sentenced to three and a half years at the Fujian Women's Prison in December 2011. She was released on June 15, 2015.
The extent of her persecution in prison is not known since she was deprived of visitation rights during her imprisonment However, it is known that her life was endangered during her hunger strikes and she was hospitalized for a long time. Prior to this, she had been imprisoned twice, once for three years, and the other for six years, for her cultivation in Falun Dafa.
Her mother passed away in April 2015 without having seen her son and daughter.