Young Cyclists Ride Across the Country to Rescue Orphans
June 06, 2015 | By a Falun Gong practitioner in Los Angeles
(Minghui.org) Young cyclists from several different countries are participating in the "Ride to Freedom," a human rights initiative whose mission is to rescue Chinese orphans whose parents were tortured to death for their belief in Falun Gong.
The participating youths are from China, the United States, Germany, France, Israel, Australia, India, South America, Russia, Iran, United Arab Emirates, Hungary, and Singapore.
After a rally at Santa Monica Pier near Los Angeles on May 31 that called for an end to the persecution of Falun Gong, they set out on their cross-country ride June 1.
The leader of the team is Annie Chen, 18 years old, from Michigan. She said, "We will bike from Los Angeles to Washington, DC, about 3000 miles. We are not professional cyclists. But we believe in freedom of belief and want to help to stop the persecution of Falun Gong in China."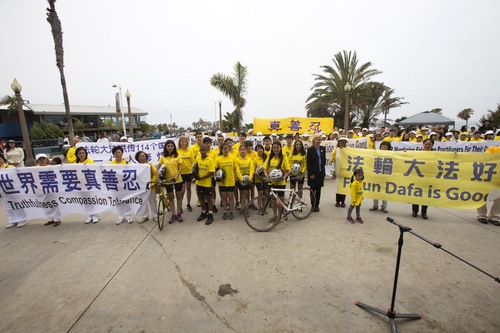 The Ride to Freedom cyclists' rally on Santa Monica Pier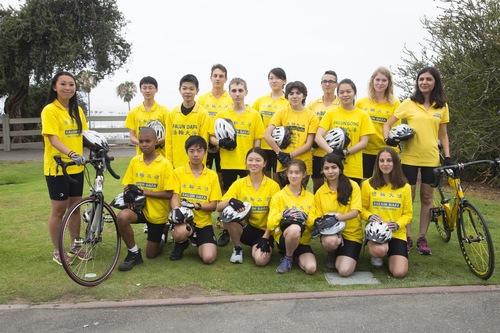 Group photo of the cyclists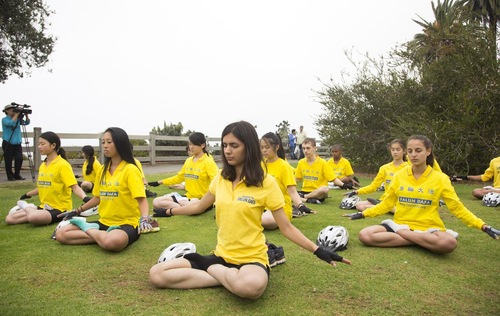 The young cyclists mediating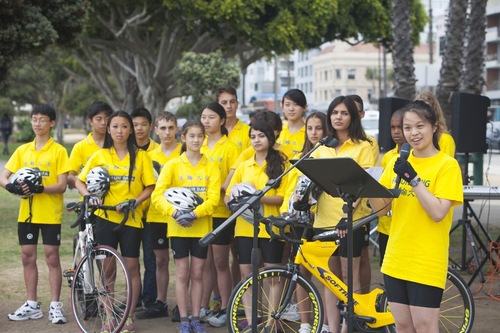 Leader Annie Chen (right) introduces the members of Ride to Freedom.
The cyclists, all in their teens or 20s, have practiced Falun Gong for years. Some of their family members or relatives have suffered in the persecution.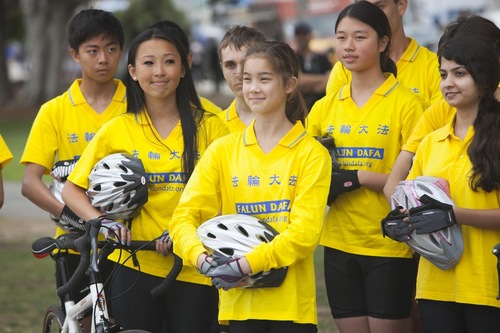 11-year-old Aila Verheijke (middle in front row) was born in Beijing. Her grandparents were persecuted for refusing to give up their belief in Falun Gong.
Eleven-year-old Aila Verheijke was born in Beijing. Her grandparents are Falun Gong practitioners and were jailed several times. Her grandmother was tortured until she was blind and deaf. She recovered after leaving China and continuing to practice Falun Gong.
Aila said, "On the journey, we will face challenges and difficulties. But they will be far less compared with the suffering of Falun Gong practitioners who have been persecuted."
Millions of Chinese children have been in difficulties since the Chinese Communist Party initiated the persecution on July 20, 1999. Some of them lost their parents. Some are in prison with their parents. Some have been expelled from their schools.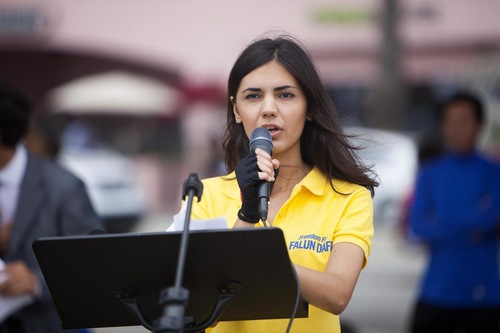 Ghazal Tavanaei, 21, from Dubai says that the rescue event has significant meaning for all people.
Congressman Alan Lowenthal (D-Calif., 47th District) issued a statement in support of Ride 2 Freedom:
"I want to express my support for the young riders of Ride 2 Freedom and their entire support team. Your concern for those who are fighting for human rights and religious freedom in China is commendable, and your concern has turned into action. I wish you success on your mission to fight for truth, justice and basic human rights for the young people in China, who have become orphans due to the persecution against Falun Gong practitioners in the country.
"Last year, I supported the H. Res. 281 as a cosponsor, which expressed the concerns from the U.S. Congress over the persistent and credible reports of systematic, state-sanctioned organ harvesting from non-consenting prisoners of conscience, in the People's Republic of China, including from large numbers of Falun Gong practitioners imprisoned for their religious beliefs, and members of other religious and ethnic minority groups."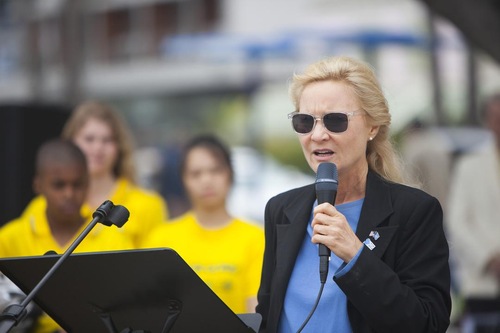 Joan Collins, Co-Chair of United Nations Associations of Pacific, Los Angeles Chapter, and senior producer at VFX, spoke in the rally.
Joan Collins is the co-chair of the United Nations Associations of Pacific, Los Angeles Chapter. The United Nations Associations is a non-governmental organization with more than 120 chapters around the world. When she spoke at the rally, she commented that no one can control another person's thoughts.
Keith Ware, one of the organizers of Ride to Freedom, has practiced Falun Gong for 16 years. His 12-year-old son is one of the cyclists. He said the Ride to Freedom was a continuation of a biking event held in 2004.
The cyclists will take turns riding in teams of about seven or eight. Three large vans will accompany them.
Each team plans to ride for two hours a day and avoid main highways. Their next stop after Los Angeles is Las Vegas. They plan to ride through 19 cities in over 40 days.
They plan to meet with President Barack Obama and ask him to help rescue the orphans in China.
They also plan to meet with UN Secretary General Ban Ki-moon and address the UN assembly.
A select number of riders and senior team leaders will travel to China to rescue five orphaned children.
For more information and progress, visit http://ride2freedom.us.