Nearly 10,000 Falun Gong Practitioners Press Criminal Charges against Former Dictator Jiang Zemin
June 22, 2015 | By a Minghui correspondent
(Minghui.org) With July 20 approaching – the day former Chinese dictator Jiang Zemin officially launched the violent suppression of Falun Gong – practitioners are peacefully counteracting the persecution by filing criminal charges with China's highest court, seeking to bring Jiang to justice.
The wave of lawsuits is growing by the day. Between May 27 and June 18, the Minghui website has received copies of criminal complaints sent in by 9,748 practitioners in China and other countries.
Within the week of June 12-18, 5,761 practitioners filed lawsuits against Jiang. Among them, 3,282 lawsuits have been received by the Supreme People's Court and the Supreme People's Procuratorate.
The 9,748 practitioners suing Jiang come from more than 1,400 counties and cities in 29 provinces, autonomous regions, and municipalities in China, as well as the United States, Canada, Australia, France, United Kingdom, Malaysia, Thailand, Japan, and South Korea.
The top five provinces where the persecution is most severe, including Hebei, Heilongjiang, Liaoning, Jilin and Shandong, also saw the most practitioners filing lawsuits against Jiang.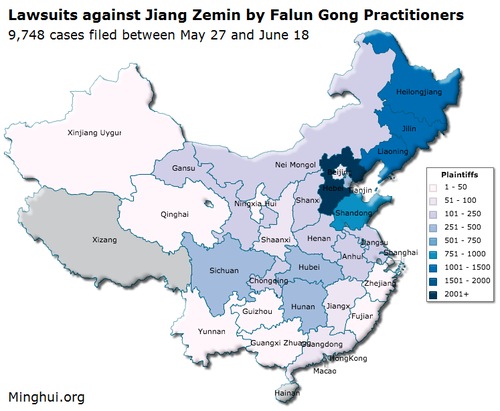 Background
In 1999, Jiang Zemin, as head of the Chinese Communist Party, overrode other Politburo standing committee members and launched the violent suppression of Falun Gong.
The persecution has led to the deaths of many Falun Gong practitioners in the past 16 years. More have been tortured for their belief and even killed for their organs. Jiang Zemin is directly responsible for the inception and continuation of the brutal persecution.
Under his personal direction, the Chinese Communist Party established an extralegal security organ, the "610 Office," on June 10, 1999. The organization overrides police forces and the judicial system in carrying out Jiang's directive regarding Falun Gong: to ruin their reputations, cut off their financial resources, and destroy them physically.
Chinese law allows for citizens to be plaintiffs in criminal cases, and many practitioners are now exercising that right to file criminal complaints against the former dictator.